Elizabeth Warren Would 'Clean House' at ICE, CBP, Relieving Agents Who Have 'Engaged in Misconduct' of Duty: Joaquin Castro
Massachusetts Sen. Elizabeth Warren would "clean house" at the U.S. Immigration and Customs Enforcement and U.S. Customs and Border Protection agencies, relieving agents who have "engaged in misconduct" of their duties, said Texas Rep. Joaquin Castro.
Representing Warren at an Amnesty International USA presidential forum on asylum and immigration on Thursday evening, Castro was asked by moderator Hamed Aleaziz, an immigration reporter for BuzzFeed News, whether he believed Warren should "abolish ICE," as many immigration advocates have demanded.
"I believe that she believes a few things should happen," Castro, whose brother Julián Castro recently dropped out of the Democratic presidential race and threw his support behind Warren, said of the Massachusetts senator.
"Number one, that ICE and CBP should be reformed from top to bottom…and that any agents who were discovered to have…engaged in misconduct should be relieved of duty. They should be gone, that where you have to, you should clean house."
Under Warren, Castro said, "There is going to be an enforcement function, right. [But] we believe that you should take those enforcement functions away from ICE, for example, and put them somewhere else that makes sense. Because they've demonstrated that they cannot do the job fairly and humanely and the way that it should be done and so you should take those functions away from ICE."
Asked what would happen to ICE officers who could be affected by reform, Castro said that ultimately agents are "doing their job according to the law."
Castro said that while he and Warren opposed aspects of immigration law, "for the agents who have followed the law, who have not abused anybody's human rights, then they will have an opportunity to stay [with] ICE."
"But, in terms of the functions of enforcement, that should be taken in place somewhere else, so there would still be immigration arrests. They just wouldn't come from ICE," Castro said. "There would still be enforcement, but it wouldn't come from an agency that has been fairly rogue, especially during the Trump administration."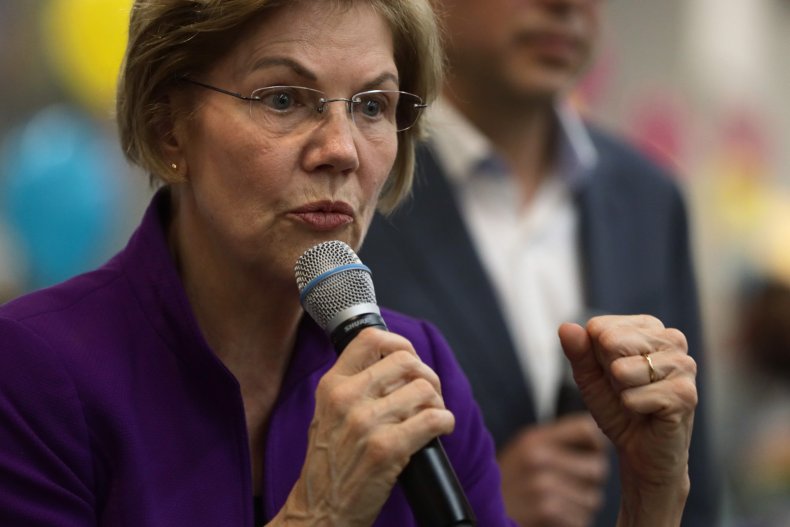 Castro was not the only one representing a Democratic presidential candidate at Amnesty International USA's forum, which was held in partnership with Progressive Leadership Alliance of Nevada (PLAN) and other Nevada based co-sponsoring organizations.
Minnesota State Sen. Melisa Franzen spoke at the event, representing Minnesota Sen. Amy Klobuchar. Vermont Sen. Bernie Sanders was represented by Faiz Shakir, his campaign's national manager. Nevada State Sen. Yvanna Cancela represented former Vice President Joe Biden. Tom Steyer represented himself.
Former New York City Mayor Mike Bloomberg and former South Bend, Indiana Mayor Pete Buttigieg were neither present nor represented at the event.
Newsweek has contacted their campaign teams for comment on why they were not represented.