Elizabeth Warren Co-Sponsoring Bernie Sanders's 'Medicare for All' Bill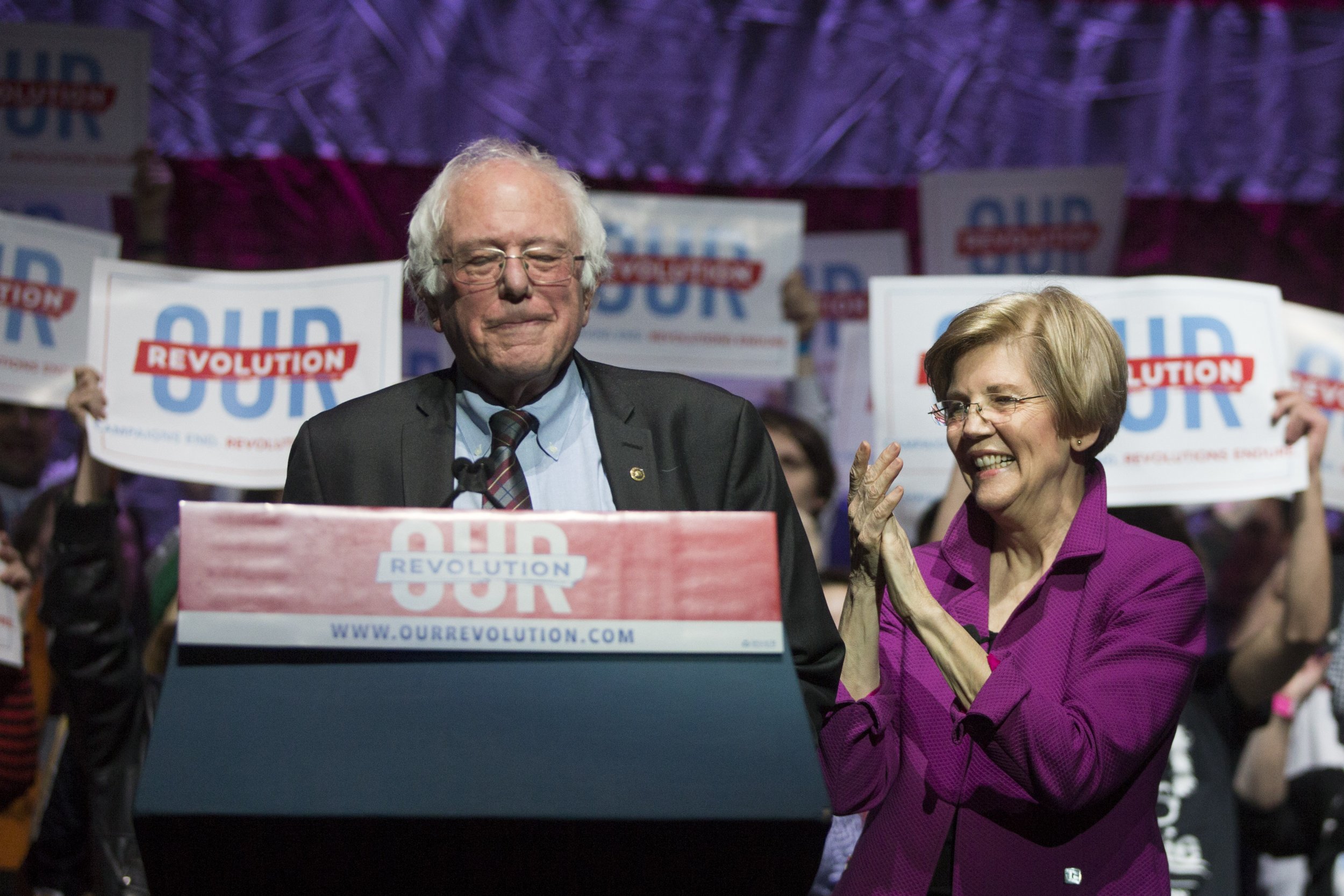 Senator Elizabeth Warren announced on Thursday she's co-sponsoring Senator Bernie Sanders's "Medicare for All" bill, which is set to be introduced next week in the Senate.
In a statement, Warren said, "There is something fundamentally wrong when one of the richest and most powerful countries on the planet can't make sure that a person can afford to see a doctor when they're sick. This isn't any way to live."
"I believe it's time to take a step back and ask: What is the best way to deliver high quality, low-cost health care to all Americans? Everything should be on the table—and that's why I'm co-sponsoring Bernie Sanders' 'Medicare for All' bill that will be introduced later this month," the senator added.
In her statement, Warren applauded the Affordable Care Act (Obamacare) and former President Barack Obama's efforts on health care, signifying a desire to build off of his accomplishments.
"We owe a huge debt to President Obama. Because of the Affordable Care Act, health care coverage is better—more people can get the treatment they need and families are less vulnerable to the financial fallout from a serious illness or accident," Warren said. "But there's so much more we could do right now to bring down the costs of quality health care for every American."
Warren tweeted her statement on Thursday morning, and Sanders promptly replied: "Thank you @elizabethforma. The momentum is on our side. Let's make health care a right."
As The Boston Globe highlights, Warren has frequently exhibited support for the notion of single-payer health care—a universal health care system financed by a single public source (such as the federal government) but privately run—so it's not a surprise she's decided to back Sanders's bill. But her support is significant, given she's one of the most recognizable Democrats in Congress (and could possibly be a candidate for president in 2020).
Warren is not the only Democrat to co-sponsor the "Medicare for All" bill. During a town hall in Oakland last week, Senator Kamala Harris announced she's co-sponsoring the bill. "I intend to co-sponsor the 'Medicare for All' bill because it's just the right thing to do. It's not just about what is morally and ethically right, it also makes sense just from a fiscal standpoint," she said.
Harris is a rising star in the Democratic Party and, like Warren, some hope she'll run for president in 2020. The junior senator from California has denied having any immediate presidential ambitions, however, recently laughing off the prospect of running during an interview with MSNBC's Lawrence O'Donnell.
When O'Donnell asked if she'd run in 2020, Harris replied, "Lawrence, I don't even know what I'm having for dinner."
Regardless of who ultimately ends up running in 2020, Sanders now has two popular Democrats co-sponsoring his single-payer bill. Whether this will inspire other Democrats to hop on board remains to be seen.
There are still many questions regarding the specific details of Sanders's health care bill, but as his website describes it, "Bernie's plan would create a federally administered single-payer health care program. Universal single-payer health care means comprehensive coverage for all Americans."