Elizabeth Warren Calls Healthcare a Basic Human Right, Setting Off Heated Medicare for All Debate
Senator Elizabeth Warren was just one of two 2020 candidates to say she supports Bernie Sanders' Medicare for All plan during the first Democratic primary debate on Tuesday night, which set off a heated argument on healthcare.
Warren explained from the stage that she supports the plan because she's studied "why people go broke" and, she said, it's often because of the high-cost of healthcare.
"Some politicians say Medicare for All isn't possible. What they're really saying is that they don't want to fight. Well, I do. Health care is a basic human right," Warren said to applause. "We fight for basic human rights, and that's why I'm fighting for Medicare for All."
The response set off a heated debate between candidates, and showed the significant divide between candidates on the issue of healthcare.
Beto O'Rourke attempted to explain why he would not end private insurance.
"No. I think the choice is fundamental to our ability..." he said before being cut off by New York City Mayor Bill de Blasio, who was the only other candidate along with Warren to say he would end private healthcare. "How do you defend a system that's not working?" he asked.
Former Congressman John Delaney, who ran two healthcare companies, then interjected.
"The party should keep what's working and fix what's broken," he explained. "Loo,k I want people to have healthcare, but we want to make sure we have a profit."
The debate over healthcare is a hot topic as the Trump administration has asked the courts to end the Affordable Care Act, introduced by the Obama administration, without a formal plan for its replacement.
Warren has advocated for a universal, single-payer, government-run healthcare plan.
"Our health care system is working great for companies making massive profits, but not for families who can't afford health care," said Warren on Wednesday night.
Elizabeth Warren was considered the frontrunner and candidate to beat in tonight's debate. A recent poll put the progressive Massachusetts Senator in third place with 13 percent of the vote, just behind Vermont Senator Bernie Sanders and former Vice President Joe Biden.
Her meteoric rise in the crowded 2020 democratic field marks a great improvement over the 4 percent she was polling at in March, when she was still facing controversy over taking a DNA test that she said showed she was part Native American, but it appears that the former law professor has moved past the stumble.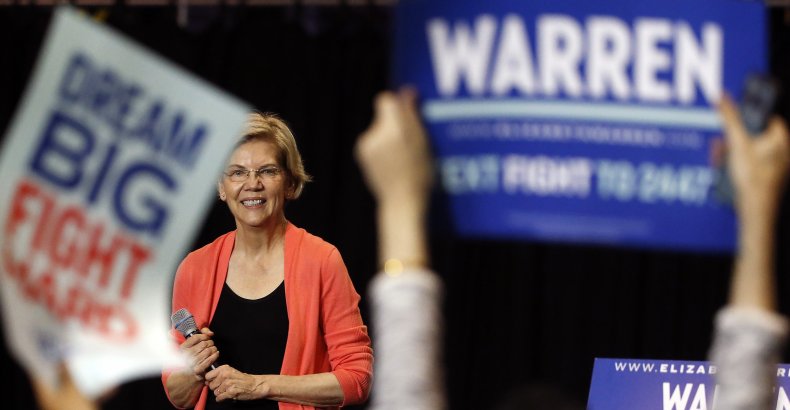 Expectations were high going into this debate, as Warren was a high school debate champion and won a college debate scholarship at the age of 16 to George Washington University in Washington, D.C.

"One of the things about debate that makes it so much fun, you can do as much work as you want; there is no stopping point," Warren said of the art of the debate in a recent interview with the Boston Globe. "You can read forever, right?"
Warren, a progressive Democrat, has made consumer protection, breaking up large banks and corporations and levying a tax on extreme wealth the linchpins of her 2020 candidacy.
If elected, Warren has said she will levy a two percent tax on households with a net worth over $50 million and a three percent tax on households with a net worth above $1 billion. The University of California, Berkeley, economists Warren worked with to come up with the plan, estimate that the plan would raise $212 billion in 2019, and $2.75 trillion over ten years.
Warren has said she will use the excess revenue to fund large, progressive bills like Medicare for All, a Green New Deal and the eradication of college debt for households earning less than $100,000.