Where Elizabeth Warren's Supporters May Go After She Drops Out of Presidential Race
Massachusetts Senator Elizabeth Warren suspended her campaign for president on Thursday.
Warren hung on to her 2020 Democratic primary race through Super Tuesday, after Minnesota Senator Amy Klobuchar, former South Bend, Indiana, Mayor Pete Buttigieg and billionaire Tom Steyer exited following last week's South Carolina primary. That election provided a rebound opportunity for former Vice President Joe Biden, who is now the front-runner.
The announcement by Warren, whose campaign was centered on rooting out big business and Wall Street corruption from politics, comes after her disappointing finish on Super Tuesday, including in her home state. Once an historic field of diversity, the race is down to two white men: Biden and Vermont Senator Bernie Sanders.
"One of the hardest parts of this is...all those little girls who are going to have to wait four more years," Warren told reporters. "That's gonna be hard."
Part of Biden's Super Tuesday surge was attributable to moderate voices rallying around him at the last minute. Buttigieg and Klobuchar were quick to endorse the former vice president after dropping out.
Warren's exit from the race is expected to have a similar impact for Sanders. However, she has so far declined to endorse her Senate colleague.
"Certainly would help, particularly with older voters," Nick Carter, Sanders' 2016 outreach director, told Newsweek. "I think her campaign should be clear-eyed by the Biden consolidation."
Public polling suggests that her supporters are among the most unified coalitions of any single candidate who ran in the race. A Morning Consult survey released Thursday, for example, indicated that 43 percent of her supporters would migrate to Sanders, who is locked in a fight with Biden for a first-ballot nomination. Thirty-six percent of respondents said they'd back Biden.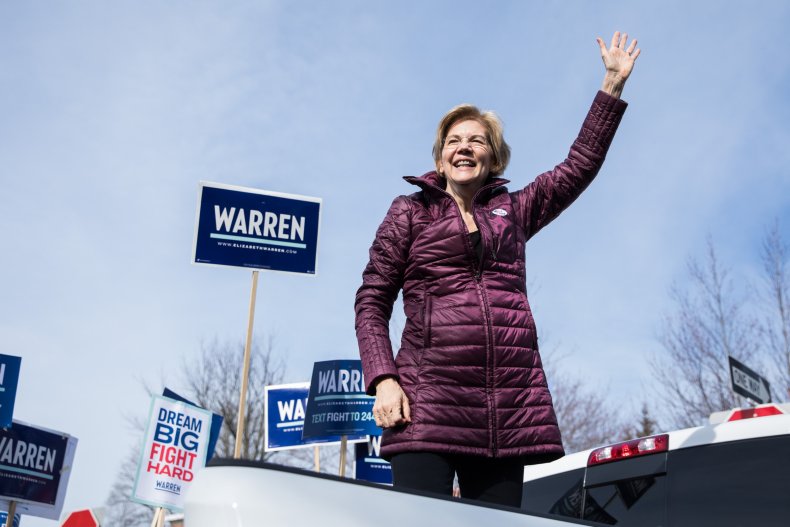 A Quinnipiac University poll from early February also found that 33 percent of her supporters would back Sanders. These numbers represent some of the most unified second-choice coalitions supporting any individual candidate. To compare, Quinnipiac showed that 37 percent of Sanders' supporters said they would migrate to Warren if the Vermont senator dropped out of the race.
While Warren may be most similarly aligned with the ideology of Sanders, polls showed that her base of support was not nearly as committed to backing her specifically. Only 51 percent of Warren supporters told Emerson College in a mid-February poll that they were "definitely" going to vote for her on Election Day, compared with 49 percent who said they were open to changing their minds.
However, 67 percent of Sanders supporters and 60 percent of Biden supporters said they were committed to their candidate.
Once candidates drop out of the race, delegates that have been selected to vote for them at the Democratic National Convention in Milwaukee become free agents—although they often support the wishes of their original candidate should he or she endorse someone else for the 2020 nomination.
Warren earned 65 delegates by Thursday, the Associated Press reported.