Warren Surges to Top of Democratic Favorability Ratings, Challenging Complaints About Electability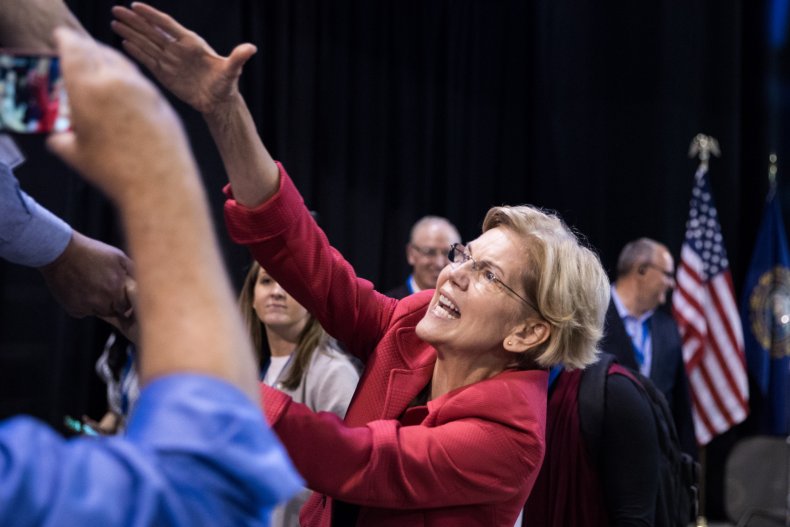 Senator Elizabeth Warren is fast becoming a favorite to win the Democratic nomination for president, and a new poll from NPR and the Marist Institute is providing new evidence for that surge: Warren is now the Democratic Party's most highly regarded candidate, and she earns the number two slot among all registered voters.
Seventy-five percent of Democrats have a favorable opinion of Warren, the highest favorability rating of any candidate in the field, according to the NPR/Marist poll. Former Vice President Joe Biden, who regularly leads candidate preference polls within the Democratic Party, trails Warren with a 71 percent favorability rating.
In January, Warren's favorability rating among Democrats stood at just 53 percent.
Only a handful of candidates were measured in NPR's general electorate favorability question, though a more complete roster was surveyed among self-identified Democrats.
Warren's primacy in the NPR poll, despite her second or third tier status in more common candidate preference polls, suggests that enthusiasm for her may be fractured among several other Democrats currently running for the nomination. Should others continue to drop out of the race, Warren may be able to further capitalize on her status as the most-liked Democratic candidate, elevating her position within the primary election polls.
"Elizabeth Warren seems to be on the verge of starting to make significant and serious inroads into this contest," Lee Miringoff, director of the Marist Institute for Public Opinion, told NPR. "Heading into the debate, she's very well positioned."
Notably, the credibility that the general electorate extends to Warren is not replicated with Senator Bernie Sanders, despite their similar approaches to public policy. Sanders earns only a 66 percent favorability rating within the Democratic Party, and has the highest unfavorable rating of any other Democratic candidate, at 27 percent.
Unlike nearly every other candidate, Biden and Sanders have very low rates of "unsure" responses, meaning that their widespread name recognition has, to some extent, solidified their current position in the public polling. Warren, while topping out the favorability charts, earned an "unsure" response from 15 percent of Democrats, suggesting that her candidacy has a continued margin for growth as her profile is raised during the campaign.
The other candidates trailing Warren, Biden and Sanders, while all receiving lower favorable ratings, had relatively high non-response rates, indicating that their inability to achieve ratings comparable to Biden and Warren may be, in part, due to their relative obscurity.
Many of these candidates may not get the chance to improve on their current standings, however, during Thursday's third Democratic primary debates. Just 10 candidates qualified for the debates, half the number that took to the stage in late July in Detroit.
Recognizing the uphill battle that overcoming an attention-divided debate stage presents, several candidates decided to fold their campaigns in recent weeks, including Washington Governor Jay Inslee and New York Senator Kirsten Gillibrand.