Former Democratic presidential candidate Elizabeth Warren has urged President-elect Joe Biden to pursue a progressive first-term agenda, and has also taken a swipe at the commitment of corporate America towards climate change.
A frontrunner for a Cabinet position in the Biden administration, the Massachusetts senator said in an op-ed for The Washington Post that the success of the campaign of Biden and Vice President-elect Kamala Harris was based on the "most progressive economic and racial justice platform of any general election nominee ever."
Referring to "explicit plans" to create clean energy jobs, boost Social Security benefits, increase healthcare provision and taxes, Warren said that Biden and Harris needed to live up to those promises, writing "now, Democrats also need to deliver for the American people."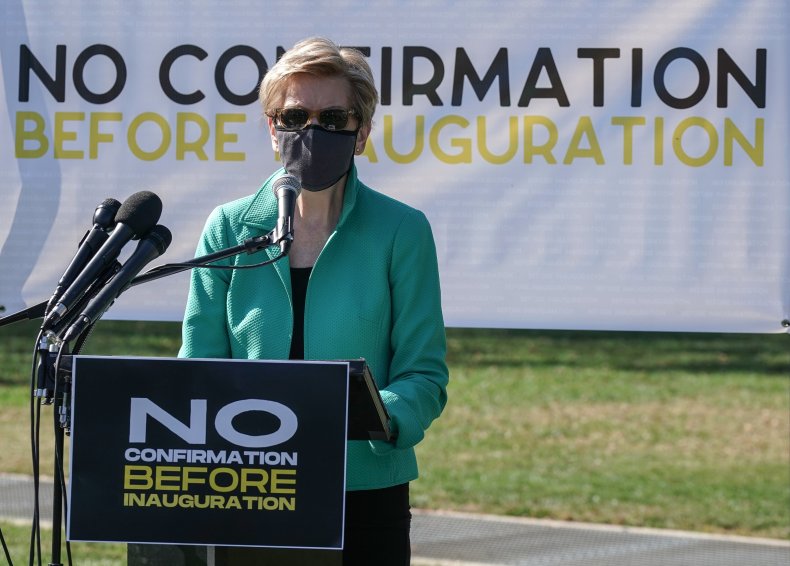 She called on the incoming administration to cancel billions of dollars in student loan debt, lower drug prices through the compulsory licensing authority that bypasses patents, raise the minimum wage for federal contractors to $15 an hour, and prioritize anti-monopoly protections.
"Acquiescing to an unpopular and timid agenda that further entrenches the wealthy and the well-connected will lead us to more division, more anger, more inequality and an even bigger hole to climb out of," she wrote.
She also said that the climate crisis should be declared "a national emergency" and resources dedicated to it should reflect that. It was also on this issue that she has separately taken to task a lobby group of CEOs plans to tackle climate change.
In a letter to the Business Roundtable, Warren criticized as lacking in detail the plans it had announced in September which called for market-based solutions to fight climate change.
The group urged cooperation between businesses and governments to limit the rise in temperatures but Warren said its report did not specify a climate pricing proposal and only suggested "voluntary" disclosures on climate emissions.
Addressed to the Business Roundtable chair, Walmart CEO Doug McMillon, Warren set out a November 23 deadline to hear from his group "concrete actions to require corporations to meet these demands." She also wanted updates on its member companies on how it was reaching climate goals.
"Failure to do so would indicate that the new statement is yet another empty press release by the BRT, designed to boost its public image without taking any action that would merit it," she wrote in the letter, obtained by CNN.
Warren has been touted as a potential Treasury Secretary which CNN reported would be feared by many in Corporate America and on Wall Street. However, hampering her chances is the prospect that if she were to join the Biden cabinet, it could tip the balance of power more towards the GOP in the Senate.
In Massachusetts, the governor has to appoint a temporary replacement when a congressional seat is vacated who would serve until Warren's term expires in 2024. Since Massachusetts Governor Charlie Baker is a Republican, his temporary replacement for Warren might be a member of his party.
The graphic below provided by Statista shows the countries participating the Paris Agreement on climate change.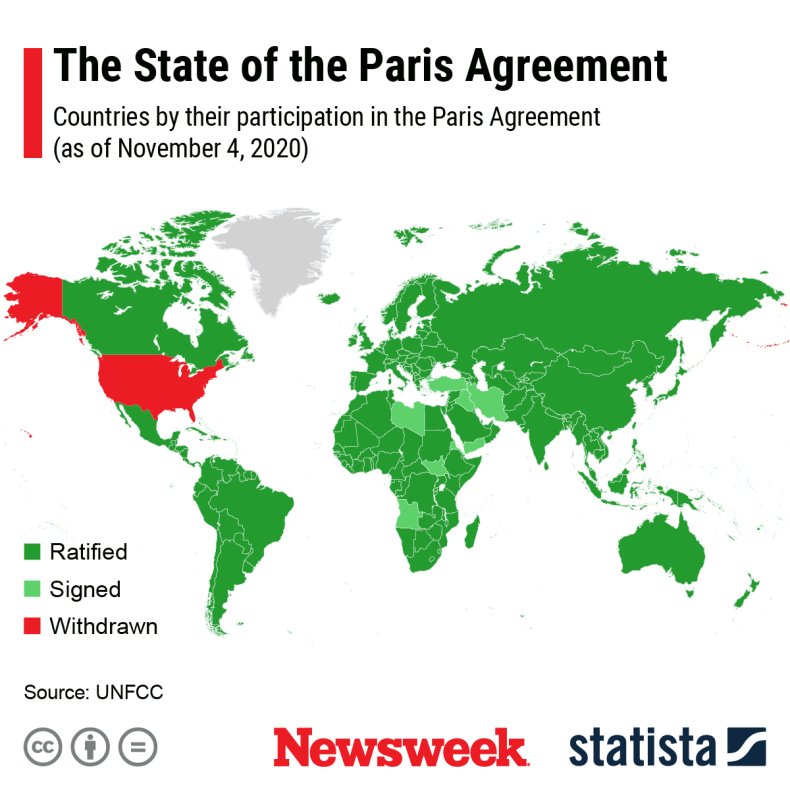 Update 11/12/20, 12:15 p.m. ET: The third paragraph of this report has been updated to include Elizabeth Warren's full quote.