Democratic presidential hopeful and Massachusetts Senator Elizabeth Warren has spoken out against a new ordinance backed by Las Vegas Mayor Carolyn Goodman that would levy hefty fines of $1,000 for each citation or six months in jail and misdemeanor charges against homeless individuals sleeping on Las Vegas sidewalk if beds are open at local shelters, according to KVVU-TV.
Joining fellow candidate and former U.S. Housing Secretary Julian Castro in speaking out against the ordinance, Senator Warren has said that "disproportionately harm communities of color and LGBTQ+ people" and added that it would "criminalize homelessness."
"We should be fighting back against measures that criminalize homelessness—not proposing ones that will only perpetuate it," said Senator Warren in a press statement. "I strongly oppose this proposed ordinance, which caters to the interests of business groups rather than our families and our communities."
Warren added that there should be a stronger focus on affordable housing and support programs.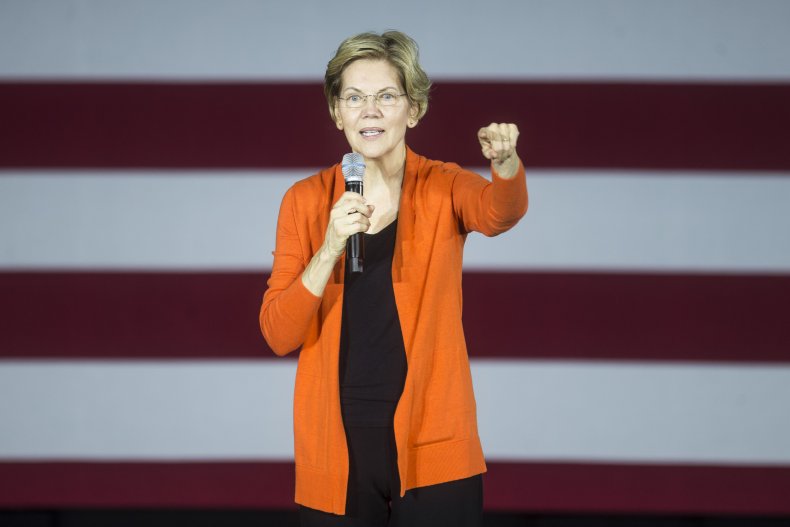 The ACLU and local advocacy groups have joined with local shelters to decry the proposed ordinance. Local shelters already site fears of overcrowding, with most of the city's shelters near 95 percent to 100 percent capacity on most days, according to KVVU.
"If we have capacity, it creates a security issue a lot of times if we try to put people in here that don't want to be here," said Steve Schmitt, COO of Catholic Charities of Southern Nevada. "Depending on whether they are dealing with an addiction issue and so forth—we just don't have the capacity with 525 other guys here to take somebody that doesn't want to be here and address that person individually."
"We are not in favor of the ordinance. If you're going to site people or not site people for a misdemeanor, all of us are almost always full all the time," he added, pointing out that the ordinance fails to take addiction or mental illness into account—both frequent causes of homelessness according to Schmitt.
"One of the things we commonly refer to as shelters is it's a life raft. We throw a lot of life rafts in the water. But at some point you have to go upstream and find out why there are so many people in the water."
Mayor Goodman counters that her intention is not to criminalize homelessness but to prevent individuals from sleeping on city streets.
"We've got to get people back to functioning and when they won't come in for help, how do you do it? So the ordinance is to make the effort to find a way to have the homeless get into the courtyard," she told KVVU.
The Las Vegas City Council will hear public arguments and discuss the ordinance in a November 9 meeting.
Update: 11/1/2019 12:21 a.m.: Steve Schmitt was accidentally identified as Catholic Charities of Southern Nevada's CEO. He is the COO. This has been changed to reflect that.