Will Elizabeth Warren Challenge Donald Trump in 2020? Massachusetts Senator Collects Funds and Political Alliances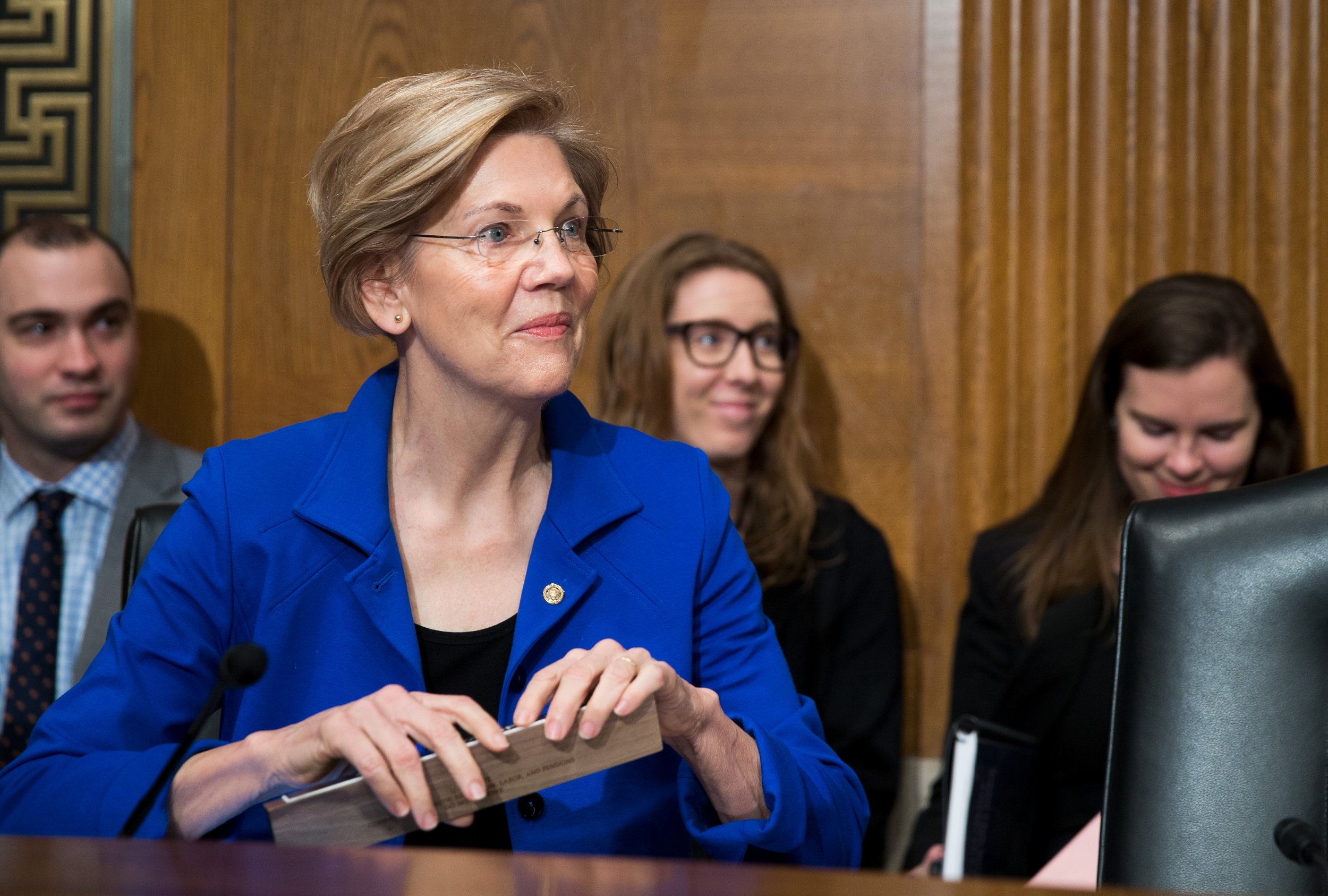 Nevertheless, she persisted—but will Senator Elizabeth Warren challenge President Donald Trump in 2020?
The Massachusetts Democrat is lining up bipartisan connections and collecting millions in campaign funds—something a Politico analysis indicates could be early moves to rival Trump. Warren will be 71 in 2020 and Trump will be 74, and the well-known senator could prove a formidable rival against the GOP president. Warren has criticized Trump as a "two-bit con man" while the president has pulled no punches with her—referencing her as "Pocahontas" and "a terrible Senator."
Warren has pulled in $12.8 million in campaign funds—more than nearly any other incumbent senator at this stage in a midterm election cycle. Despite a handful of Republican challengers, Warren is anticipated to have a straightforward 2018 re-election in Massachusetts, especially if her approval rating holds at around 57 percent. She held 17 town hall events in the state in 2017 and continues to take rivals' attack advertisements seriously, particularly those launched by Trump supporter Robert Mercer, who is financing a PAC designed to beat Warren.
In the closing hours of 2017, she made a final plea for campaign funds on Twitter: "We have a battle coming in Massachusetts in 2018. Billionaire Breitbart donor Robert Mercer started funding nasty attack ads against me months ago. @realDonaldTrump is tweeting his socks off to beat us next November. I'm not taking anything for granted."
The funds could go all-in for her midterm re-election—or they could be the start of her 2020 race. Politico noted that in addition to massive amounts of cash, the Democrat has added national political researchers and digital staffers to her team. She is slowly allowing more local reporters access to her political efforts and working on bipartisan legislation with high-level Republicans.
Warren has visited a handful of battleground states like Ohio and Wisconsin to support Democrats on the ground and is well-positioned to be a strong 2018 fundraiser. "We can't stop now. The 2018 elections are less than a year away. We must invest in campaigns across the country," Warren urged on Twitter after Democrat Doug Jones won the Alabama Senate race over Roy Moore.
If Warren is going to challenge Trump in 2020, she will need the support of other figureheads in the Democratic Party like former President Barack Obama, former Vice President Joe Biden, Senator Bernie Sanders and once-Trump-challenger Hillary Clinton, Politico reported. A few of those leaders, particularly Biden and Sanders, have been floated as 2020 candidates as well.
"She won the first time with a formidable grass-roots organization, and she should be doing the same thing again," former Massachusetts Governor Michael Dukakis told Politico. "There will be plenty of time after that to think about the national scene."