Elizabeth Warren's Economic Plan Will Lead to '100 Percent Recession,' Steven Mnuchin Claims
Ahead of Thursday night's Democratic debate where the economy will likely be a major focal point, Treasury Secretary Steve Mnuchin singled out 2020 Democratic hopeful and Massachusetts Senator Elizabeth Warren.
"I think if you listen to the Elizabeth Warren plan, it is 100 percent recession, if not worse," Mnuchin claimed to reporters. "It is perfectly clear that there are two different approaches to the economy. I think it's clear what our approach has been, and it's worked, whether it's our tax cuts, regulatory relief or trade."
"It's why the U.S. economy is outperforming everyone else in the world," the Trump appointee added, trying to quell recent fears that another recession could be just around the corner amidst a trade war with China.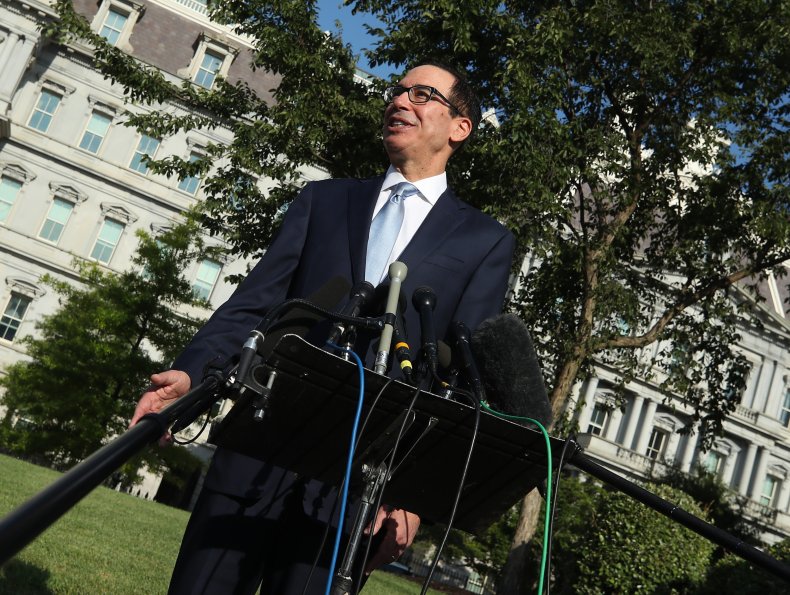 Mnuchin's remarks made it known who the White House will be keeping an eye on as Warren shares a debate stage with other top contenders. Warren has continued to climb the rungs in recent polls, gaining voters' confidence that she has the ability to defeat President Donald Trump in a head-to-head matchup.
In a recent Washington Post-ABC News survey, all of the top five Democratic candidates – Indiana Mayor Pete Buttigieg, California Kamala Harris, Vermont Senator Bernie Sanders, former Vice President Joe Biden and Warren – polled above Trump in individual matchups. In the past few months, Warren has consistently risen in primary polls, based on a Real Clear Politics average, while Biden and Sanders have fallen slightly.
Warren's new Social Security plan, which would raise benefits by levying a higher tax for the nation's wealthiest, is just one of a multi-faceted approach to address income inequality, the wealthy and Wall Street. The founder of the Consumer Finance Protection Bureau has a plan to take on Wall Street and private equity firms by reinstating the Glass-Steagall Act to separate investment and commercial banking, better align bank executives' pay with company performance and green manufacturing to climate change, among other things.
The economy has been on the rise in recent years and unemployment has remained low. However, as Americans feel the impacts of hundreds of billions of dollars in tariffs imposed on China by Trump — evidence by the billions of dollars the administration has doled out to struggling farmers — Mnuchin denied this week they were impacting the U.S. economy. It's been estimated that the trade war has cost 300,000 American jobs. On its current course, that number would triple by the end of 2020.
"It's fair to say it's impacted the Chinese economy," Mnuchin told Fox Business Network. "We have not yet seen any impact on the U.S. economy."
The Trump tax cuts that Mnuchin touted to reporters Thursday are projected to increase the federal deficit by more than previously thought, according to new projections by the non-partisan Congressional Budget Office.
The CBO now says the deficit will be $960 billion for 2019 and will average $1.2 trillion between 2020 and 2029.
"Over the coming decade, deficits fluctuate between 4.4 percent and 4.8 percent of gross domestic product (GDP), well above the average over the past 50 years," CBO states. "As a result of those deficits, federal debt held by the public is projected to grow steadily, from 79 percent of GDP in 2019 to 95 percent in 2029—its highest level since just after World War II."