Elizabeth Warren Mocks Elon Musk's 'Very Thin Skin' Over His Tax Affairs
Senator Elizabeth Warren has fired the latest salvo in a war of words with Elon Musk, saying that the amount of taxes the world's richest man pays showed how "the system is broken."
After he was named Time magazine's person of the year this week, the Massachusetts lawmaker expressed her disdain for the Tesla founder, tweeting that the "rigged tax code" should be changed so that Musk "will actually pay taxes and stop freeloading off everyone else."
Not one to take an insult lying down, Musk hit back by tweeting "you remind me of when I was a kid and my friend's angry Mom would just randomly yell at everyone for no reason." He then called her "Senator Karen," using the derogatory term to disparage someone perceived to be an entitled white woman.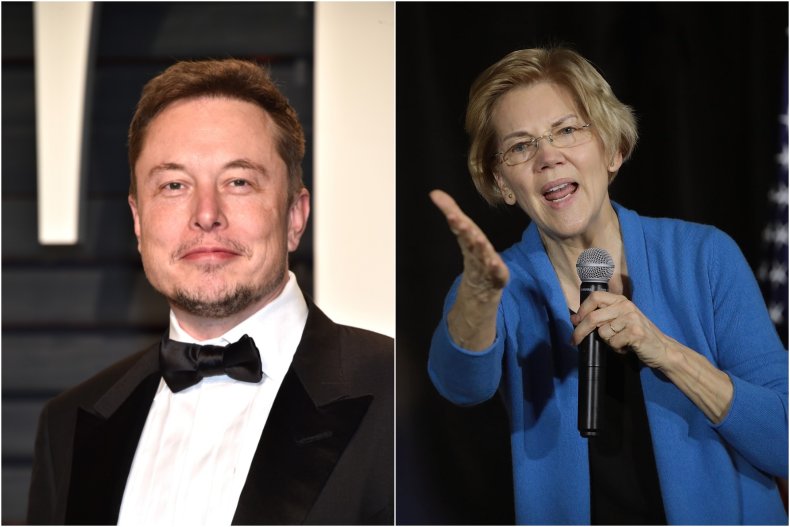 Warren tried to get her own back on MSNBC, saying on Wednesday, "the world's richest freeloader evidently has a very thin skin."
Reid had started the segment clearly showing who she was rooting for by declaring the South African-born billionaire "the absolute worst."
Her criticism included his opposition to the Biden administration's Build Back Better agenda and a ProPublica report about his taxation.
The report published in June said Musk paid $455 million in taxes between 2014 to 2018 when his wealth grew by $13.9 billion. This was 3.27 percent of his wealth increase. It found that in 2018, he paid no federal income taxes.
Warren continued: "The part that makes me angry about this? It's on behalf of every public school teacher, every waitress, every computer programmer, every street cleaner who actually paid taxes and that means they paid more than Elon Musk did in federal income taxes," she said.
"That's just not right and it means the system is broken."
She accused Musk of claiming that he achieved success on his own, when she believed in fact he had been "subsidized by the federal government and subsidized by every waitress and public school teacher who paid their taxes."
"This is wrong. And Elon Musk needs to eat a big dish of that," said Warren, who champions taxing the rich on their assets, rather than just their income.
However, in a riposte to Warren's earlier criticism, Musk said if "you opened your eyes for 2 seconds, you would realize I will pay more taxes than any American in history this year."
While that claim cannot be confirmed as the Internal Revenue Service (IRS) does not publicly disclose tax information of individuals, one estimate by Bloomberg has said that he could face a bill of $10 billion if he exercises all his options due to expire next year.
He has exercised almost 15 million of the 22.9 million Tesla stock options he was granted in 2012 following a Twitter poll where he asked his followers if he should sell 10 percent of his stake in the company. There are 7.9 million left before they expire in August 2022.
Musk has rejected the criticism of his tax payments, saying he does not draw a salary from either SpaceX or Tesla, and pays an effective tax rate of 53 percent on stock options he exercises. Musk is worth an estimated $255 billion, according to Forbes.
Newsweek has contacted Tesla for comment.