An Elizabeth Warren Endorsement Of Bernie Sanders No Longer Matters, Poll Shows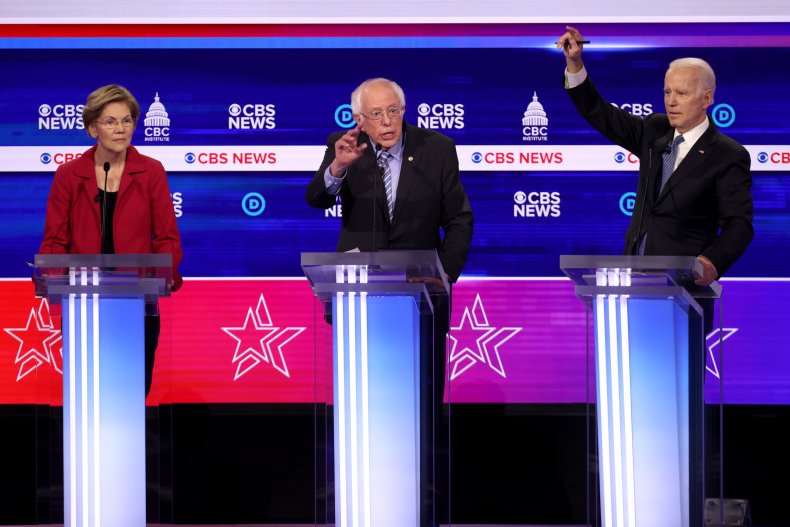 An endorsement by Massachusetts Senator Elizabeth Warren of Vermont Senator Bernie Sanders will no longer be effective raising support for Sanders, according to a new poll released Wednesday.
The Morning Consult poll found virtually no difference in who 940 Democratic primary voters would choose between Sanders and former Vice President Joe Biden if either candidate were to be endorsed by Warren.
Warren has yet to endorse either of the candidates that are still in the race. If Warren were to endorse Sanders, 37 percent of voters would back him compared to 53 percent that would back Biden. If Warren were to endorse Biden, Sanders would receive 34 percent of Democratic primary voter support, while Biden would get 56 percent. The survey's results fall within the margin of error of plus or minus 3 percent.
Biden racked up wins in four out of the six states that participated in the Democratic contests Tuesday. Michigan was the big take of the night with 125 delegates up for grabs. Biden won the state with 52.9 percent of the vote and has been allocated 71 delegates from the state thus far, according to The New York Times. Sanders got 36.4 percent of the vote and has so far received 51 delegates from the state.
With 89 delegates, Washington state had the second-largest number of delegates up for grabs Tuesday. The race is currently too close to call, but Sanders has a narrow lead over Biden with 67 percent of precincts reporting. In 2016, Sanders won the state by a landslide over Hillary Clinton with 72.7 percent of the vote.
Following his big wins, Biden took the stage at a rally in Pennsylvania, thanking Sanders and his supporters for "their tireless energy and their passion." He also mentioned the presidential candidates that have dropped out of the race who endorsed him—including former South Bend, Indiana Mayor Pete Buttigieg and Minnesota Senator Amy Klobuchar—as a sign that he is bringing the party together.
"Tonight we are a step closer to restoring decency, dignity and honor to the White House. That's our ultimate goal," Biden said. "At this moment when there is so much fear in this country...we need presidential leadership that is honest, trusted, truthful, and steady."
Biden and Sanders will meet in Arizona on March 15 for the next Democratic debate. The third candidate still in the race, Hawaii Representative Tulsi Gabbard, did not qualify for the March debate.
For the first time in this election cycle, Sunday's event will not have a live audience due to concerns over the novel coronavirus pandemic. According to the Centers for Disease Control, there are over 987 confirmed cases in the U.S. and 31 people have died from COVID-19, the illness caused by the coronavirus strain.
Biden currently leads with 846 delegates compared to Sanders' 684 delegates. To obtain the Democratic nomination during the party's national convention in July, a candidate needs at least 1,991 delegates. Four additional primaries will be held on March 17 with 577 delegates awarded.