Warren Announces Fake Facebook Campaign to See 'Just How Far' the Platform's Disinformation Policies Go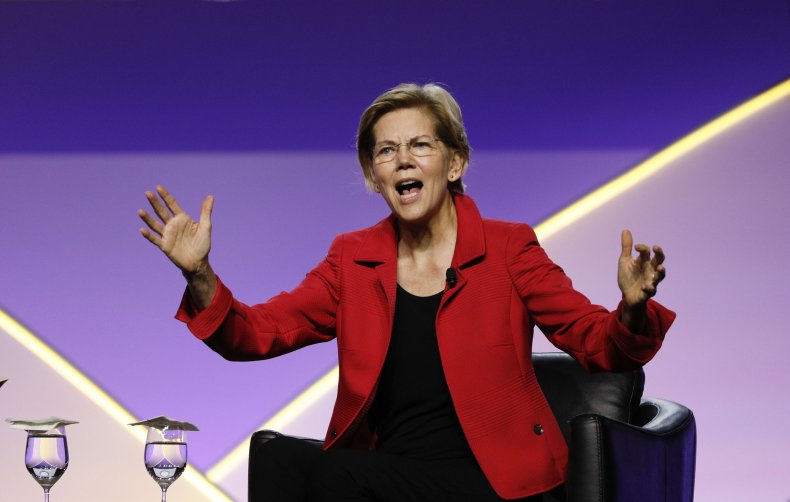 Senator Elizabeth Warren, who is a top contender in the Democratic Party's presidential primary, is challenging a key policy from Facebook, one of the largest purveyors of electoral information in the country.
A company executive recently confirmed that Facebook won't run speech from politicians by its third-party fact checkers, who normally police the volume of content propagating throughout the platform for falsehoods.
Get your unlimited Newsweek trial >
Democrats worry that such a policy will allow President Donald Trump to post false or misleading claims in Facebook advertisements without any consequence, allowing the wide reach of the platform to act as a conduit for disinformation ahead of the 2020 election.
Warren announced her campaign's attempt to expose the detriments of the policy Saturday morning, when she tweeted that she will endeavor to see "just how far it goes."
Recently, Warren purchased a Facebook advertisement that received over 100,000 impressions, claiming that Facebook CEO Mark Zuckerberg "just endorsed Donald Trump for re-election."
"Breaking news: Mark Zuckerberg and Facebook just endorsed Donald Trump for re-election," the ad states. "You're probably shocked, and you might be thinking, "how could this possibly be true?"
Get your unlimited Newsweek trial >
The gimmick is eventually revealed, and the ad explains the endorsement is fake before going on to delineate the Facebook policy allowing such claims to persist in the first place.
"If Trump tries to lie in a TV ad, most networks will refuse to air it," the ad says. "But Facebook just cashes Trump's checks."
Recently, CNN and MSNBC refused to allow a Trump campaign ad from continuing to air which made unfounded allegations against former Vice President Joe Biden, Trump's chief opponent in the 2020 race. Facebook, on the other hand, let the 30-second spot remain on its platform, in compliance with its laissez-faire approach to political speech.
"Facebook holds incredible power to affect elections and our national debate," Warren tweeted. "They've decided to let political figures lie to you—even about Facebook itself—while their executives and their investors get even richer off the ads containing these lies."
Warren is perhaps the most vociferous critic of big tech companies like Facebook, and has proposed breaking up tech giants including Amazon, Google and, notably, the world's largest social media platform.
In leaked audio obtained by The Verge, Zuckerberg said at a recent internal meeting that, should Warren seek to implement these plans, Facebook would "go to the mat and fight."
In response to a request for comment, a Facebook spokesperson told Newsweek that the company "believes political speech should be protected."
"If Senator Warren wants to say things she knows to be untrue, we believe Facebook should not be in the position of censoring that speech," the spokesperson added.
Warren Announces Fake Facebook Campaign to See 'Just How Far' the Platform's Disinformation Policies Go | Politics