Here's Every Plan Elizabeth Warren's Ultra-Millionaire Tax Will Pay For
2020 Democratic hopeful Elizabeth Warren has a plan for just about everything: affordable housing and child care, combating the opioid crisis, breaking up tech monopolies and erasing student debt. To help pay for them, she's proposed a small tax on America's top earners.
In January, the Massachusetts senator revealed her "ultra-millionaire tax" on the richest 0.1 percent of Americans. The proposal would place a two percent levy on households worth $50 million or more. For those making more than $1 billion, the tax would rise to three percent.
Warren's plan is estimated to bring in $2.75 trillion in tax revenue over a ten-year period. With that money, the senator argued she could help rebuild the nation's middle class and still have nearly $1 trillion left over.
"Here's the stunning part," she told the crowd during a CNN town hall in April. "If we put that two cent wealth tax in place on the 75,000 largest fortunes in this country — two cents — we can do universal child care for every baby, zero to five, universal pre-K, universal college and knock back the student loan burden for 95 percent of our students."
John Bivens, the director of research at the Economic Policy Institute Policy Center, told Newsweek that $2.75 trillion in tax revenue "would come really close to paying for her child care, free college and debt forgiveness proposals."
"The estimates on those are roughly $700 billion, $600 billion and $650 billion respectively," Bivens added. In total, those plans would cost about $1.95 trillion and still leave $800 billion left over for other policy ideas.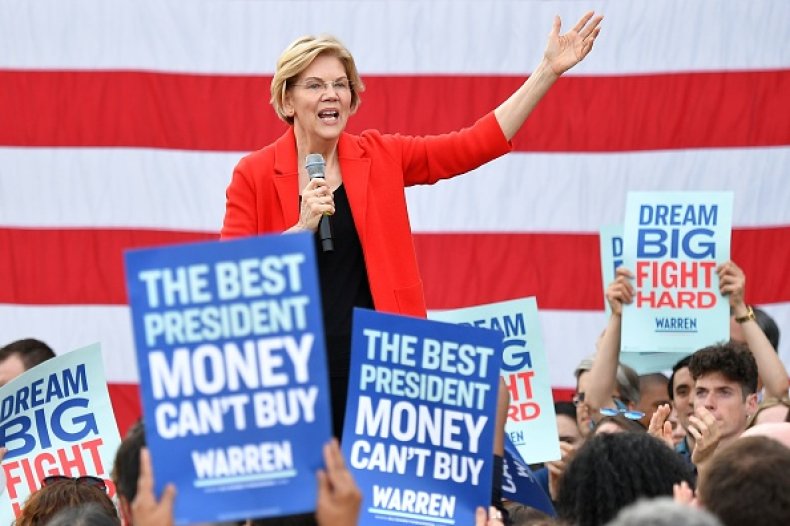 Plus, Warren's bold proposal is overwhelmingly popular. According to a recent survey by Morning Consult, 61 percent of all voters polled were in favor of Warren's ultra-millionaire tax. Seventy-four of Democrats and 50 percent of Republicans supported the legislation.
Here's a closer look at the policies Warren's ultra-millionaire tax would help pay for:
Universal Child Care
"In the wealthiest country on the planet, access to affordable and high-quality child care and early education should be a right, not a privilege reserved for the rich," Warren wrote in a Medium post outlining her vision for universal child care.
Under her plan, the federal government would partner with states, cities, school and other local organizations to establish a network of child care options. Those options would be largely funded by the federal government.
Any family making less than 200 percent of the federal poverty line would have access to those child care options for free. For any family that is over that 200 percent threshold, the child care rates would be capped at seven percent of that family's income.
Student Loan Forgiveness
According to the information on Warren's campaign website, the amount of debt that would be eligible for forgiveness varies by income.
For borrowers making under $100,000, the government would cancel $50,000 in student loan debt. For those making between $100,000 and $250,000, there would be "substantial debt cancellation." No one making over $250,000 would be eligible for debt forgiveness.
Warren said her plan would cancel at least some debt for 95 percent of people with student loans. For 75 percent of Americans, their student loan debt would be cancelled entirely.
Universal Free Public College
"College shouldn't just be a privilege for those who can afford to take on the significant expenses associated with higher education. Like K-12 education, college is a basic need that should be available for free to everyone who wants to go," Warren writes in a Medium post on her higher education proposals.
In the second step of her higher education proposal, Warren wants to make all two-year and four-year public colleges tuition-free by splitting the cost of operation between federal and state governments.
She would also invest $100 billion in Pell Grants, which are federal subsidies awarded to undergraduate students who need it to pay for college. Unlike loans, grants do not need to be repaid.
But economists worry that colleges will raise tuition to benefit from the federal subsidy. Enrollment would also likely rise, as would the cost of the institution. "The plan would need to be accompanied by regulations and other cost-containment measures on higher education, for sure," Bivens said.