Senator Elizabeth Warren wished college students good luck as they returned to classes with a photo of herself as a freshman at George Washington University.
On Monday, Warren shared a photo of herself at George Washington University, a private research university in Washington, D.C. In the photo, she was wearing what appeared to be a blue dress, which she said she made herself. At the time, she was a freshman.
"Good luck to all the college students heading back to class this week," Warren wrote on Twitter. "You've got this! Know I'm fighting for you all the way—from canceling student loan debt to making public college and technical schools free."
Class start dates vary based on the college or university, but the end of August has traditionally marked the beginning of the fall semester for many students. The start of the semester came about two weeks before the upcoming democratic presidential debate, which was set to be hosted at Texas Southern University.
Given the location of the debate, the cost of higher education would likely be a topic of discussion among presidential candidates and Warren was among the first to debut her plan.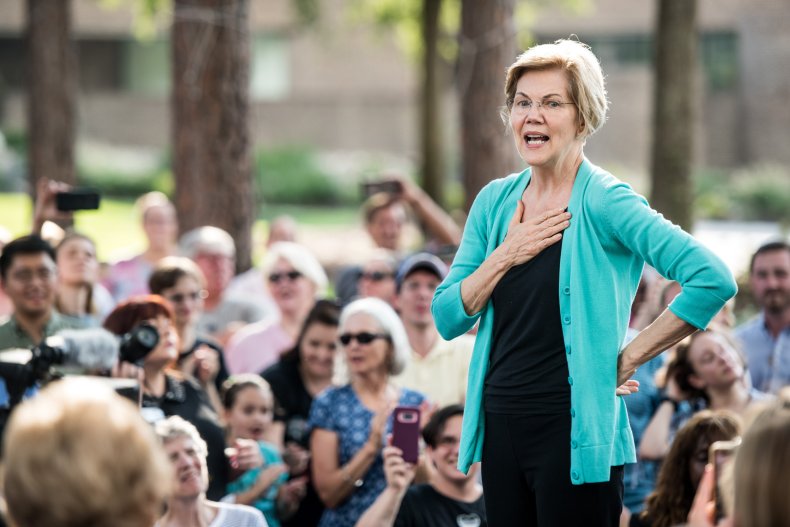 If elected president, Warren would forgive student debt on an income-based scale and create free college options. With her plan, every American would have the opportunity to attend a two-year or four-year public college without paying tuition or fees.
Warren attended George Washington University for about two years before she dropped out to marry the first boy she ever dated who, as she put it, "swooped back" into her life. Warren later picked her education back up at the University of Houston, where she was able to attend for $50 a semester.
"This was a quality, public education — and I could afford it on a part-time waitressing salary," Warren wrote in a post for Medium. "This time, I had the good sense to grab my chance at college with both hands. I got my degree and I got to live my dream: I became a teacher for students with special needs."
Warren has been very outspoken about the need to make a college education affordable, a talking point she reiterated at the recent Iowa State Fair. Her plans for education seem to be winning over college students who identify as Democrats, who put her as a top contender for president.
A recent poll conducted by Chegg, an education technology company, and College Pulse, a research and data analytics company, found 23 percent of students polled pick Warren as their candidate. This placed her in second, only six points behind Senator Bernie Sanders.