Elizabeth Warren 'Hates Michael Bloomberg More Than She Wants To Win', Says Democratic Strategist James Carville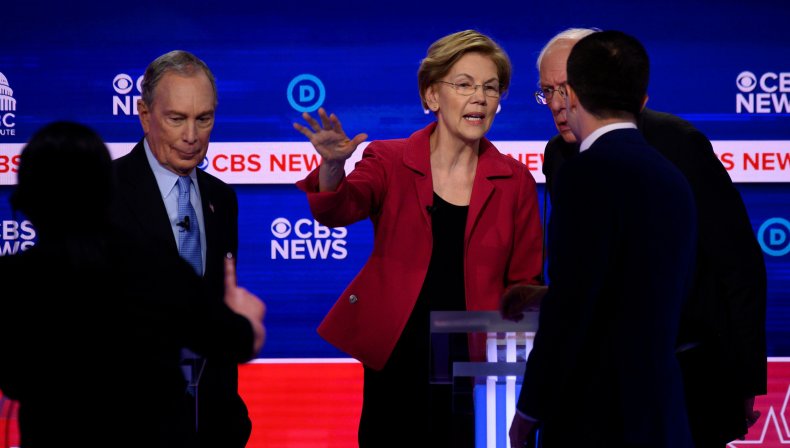 Democratic strategist James Carville said the "takeaway" from the latest Democratic debate is that Massachusetts Senator Elizabeth Warren hates former New York City Mayor Michael Bloomberg and is willing to lose the party's nomination over it.
"Elizabeth Warren hates Michael Bloomberg more than she wants to win," Carville said while appearing Wednesday on MSNBC's Morning Joe. "I think she doesn't want to attack Bernie [Sanders] because she's scared she'll get primaries in 2024 and her attacks on Bloomberg probably help her raise money, maybe she just genuinely dislikes him, but it wasn't to any fruition to her getting any more votes. It was maybe to stay alive a little bit longer."
Carville's comments come a day after the Democratic debate in South Carolina, which many considered to be a tumultuous event. Despite the chaotic nature of the debate, one of the more consistent aspects was Warren's criticism of Bloomberg.
Warren's criticism of her fellow Democratic candidate began with a mention of alleged sexist remarks he made in the past to female employees at Bloomberg LP, the media company he founded. ABC News first reported the allegations in December 2019. The report noted that Bloomberg faced many allegations regarding sexist comments, including one from 1990 where he allegedly told an employee who just announced she was pregnant to "kill it," a comment that became a major point of emphasis for Warren.
During the debate, Warren told a story about how as a 21-year-old teacher, she was visibly pregnant, and her principal let her go, giving her job to someone else.
"Pregnancy discrimination, you bet," Warren said. "At least I didn't have a boss who said to me, 'kill it,' the way that Mayor Bloomberg is alleged to have said to one of his pregnant employees."
Bloomberg responded to Warren's criticism, saying, "never said it. Period. End of story."
Warren then brought up the nondisclosure agreements Bloomberg has with women who previously worked for him.
"They are bound by nondisclosures so that they cannot speak. If he says there is nothing to hide here, then sign a blanket release form and let those women speak out so that they can tell their stories," Warren said.
"And the trouble is with this Senator [Warren], enough is never enough," Bloomberg said in response. Bloomberg has confirmed that the company signed three NDAs over a 30-year period, but said he would release those women from the agreements if they ask.
Later, Warren called Bloomberg the "riskiest candidate" because she believes the Democratic Party will never trust him.
"I don't care how much money Mayor Bloomberg has. The core of the Republic – of the Democratic Party will never trust him. He has not earned their trust. I will. And the fact that he cannot earn the trust of the core of the Democratic Party means he is the riskiest candidate standing on the stage," Warren said.