Fox News Contributor Jason Chaffetz Poses With Wooden Indian Statue, Says He's With Elizabeth Warren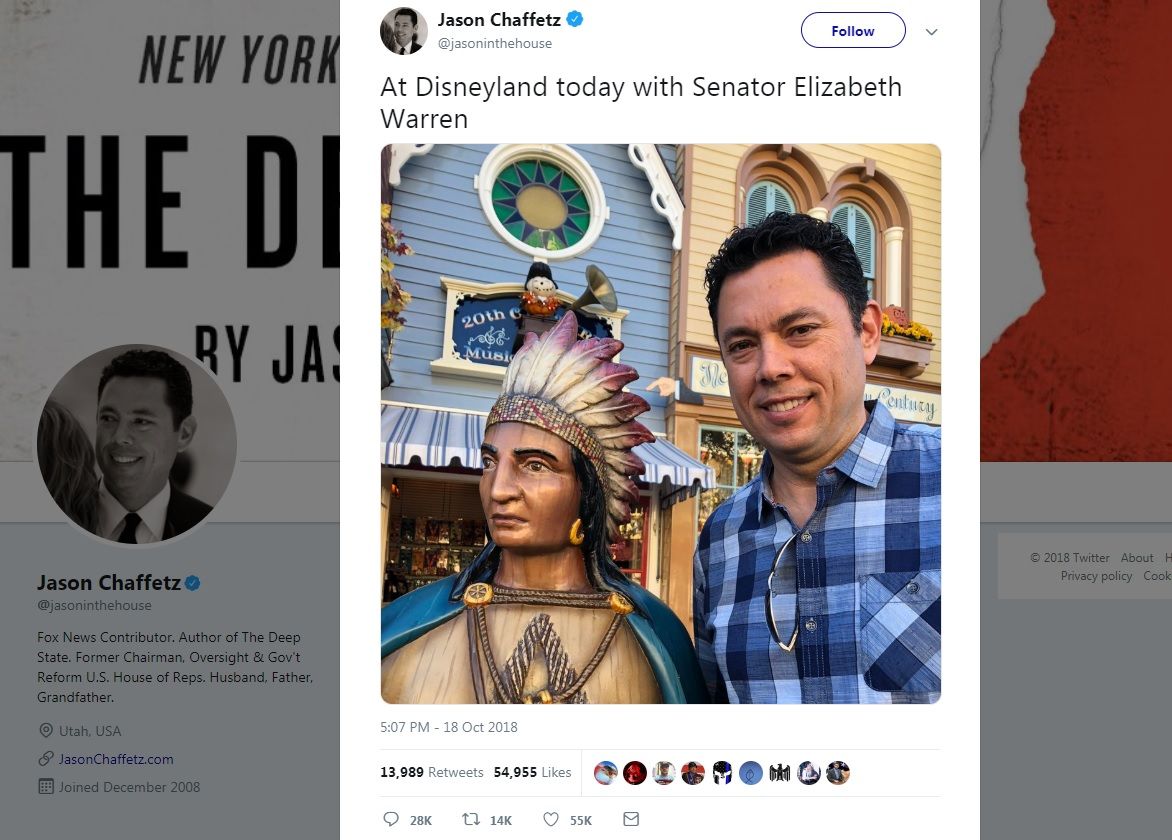 Fox News contributor and author of The Deep State Jason Chaffetz posted a picture to Twitter of himself and a wooden statue of an Indian with the caption: "At Disneyland today with Senator Elizabeth Warren."
Chaffetz is a former Republican Congressman from Utah who sat in the House of Representatives from 2009 to 2017, before working for Fox.
Warren, the Democratic senator for Massachusetts, has been widely mocked in conservative circles after releasing the results of a DNA test to prove a long-running and often derided claim that she has Native American heritage.
The results showed "strong evidence" that Warren is somewhere between 1/64 and 1/1,024 Native American. Warren has long said she believes she has an ancestor who was Cherokee based on a family story she was told while growing up.
Her critics accuse her of using the claim to Indian ancestry to advance her career, an allegation she strongly denies. While Warren was a professor at Harvard Law School, the college referred to her as a "woman of color" and listed her as a minority member of staff.
President Donald Trump had ridiculed Warren about her claim to Native American ancestry. At one rally, he offered to test her himself and said he would donate $1 million to her favorite charity if it "shows you're an Indian."
Warren, who is considering a run for the presidency in 2020, accused Trump of using her to mock Native American people.
During his show on Monday, Fox News host Tucker Carlson labelled Warren "Fauxcahontas" and called her the self-appointed head of the "#MeSioux Movement," a riff on the #MeToo campaign against the sexual exploitation of women.
"Who's mocking Native Americans?" Carlson asked. "Well, if anyone's doing that it's Elizabeth Warren. She's the one who's stolen their identity and leveraged their suffering to climb the greasy pole of our fake meritocracy. No high plains whiskey trader ever acted with more ruthless cynicism than she has."
The Cherokee Nation put out a statement criticizing Warren over her test results. "Using a DNA test to lay claim to any connection to the Cherokee Nation or any tribal nation, even vaguely, is inappropriate and wrong," Cherokee Nation Secretary of State Chuck Hoskin Jr. said.
"It makes a mockery out of DNA tests and its legitimate uses while also dishonoring legitimate tribal governments and their citizens, whose ancestors are well documented and whose heritage is proven. Senator Warren is undermining tribal interests with her continued claims of tribal heritage."
After the DNA test results were released, Trump laid into Warren on Twitter. "Pocahontas (the bad version), sometimes referred to as Elizabeth Warren, is getting slammed," Trump wrote.
"She took a bogus DNA test and it showed that she may be 1/1024, far less than the average American. Now Cherokee Nation denies her, 'DNA test is useless.' Even they don't want her. Phony!
"Now that her claims of being of Indian heritage have turned out to be a scam and a lie, Elizabeth Warren should apologize for perpetrating this fraud against the American Public. Harvard called her 'a person of color' (amazing con), and would not have taken her otherwise!"
Trump later added: "Elizabeth Warren is being hammered, even by the Left. Her false claim of Indian heritage is only selling to VERY LOW I.Q. individuals!"
Warren hit back on Twitter: "Millions of people watched you, @realDonaldTrump, as you fumbled and lied on your $1 million pledge. It then took a day for your handlers to tee up this recycled racist name-calling.
"I won't sit quietly for @realDonaldTrump's racism, so I took a test. But DNA & family history has nothing to do with tribal affiliation or citizenship, which is determined only – only – by Tribal Nations. I respect the distinction, & don't list myself as Native in the Senate.
"Speaking of family stories, @realDonaldTrump has one, too. It's the story of a second-generation tax cheat who was handed a $413 million inheritance through rich-guy loopholes and outright criminal fraud.
"At the end of the day, I trust the people of Massachusetts to look at the facts about who I am and how I've lived my life and make their own judgment about me. But remember: @realDonaldTrump doesn't have the same kind of faith in you."