Joe Biden Calls Elizabeth Warren Out For Wanting to Raise Taxes On Middle Class Americans
As Senator Elizabeth Warren's profile continues to grow in the 2020 presidential primaries, she's gained more attention from a certain adversary: Democratic frontrunner and former Vice President Joe Biden.
Biden slammed Warren on Friday for her Medicare for All plans while speaking to voters in Cedar Rapids, Iowa.
"It's going to cost a lot of money and she's going to raise people's taxes doing it," he said of the plan.
Warren, who has been steadily rising in the polls to second place in the primaries, has artfully dodged the question of whether her plan would raise taxes on multiple occasions. When asked about Biden's comments Friday, Warren told a CNN reporter that, "giant corporations are going to see their costs go up. But costs, for middle class families, for working-class families, for the people that are squeezed so badly, are going to go down."
However, that was not a direct answer about taxes explicitly, with Warren instead focusing on overall household costs.
During the September Democratic primary debates, Warren also dodged questions asked by George Stephanopoulos about whether her Medicare for All plan would raise taxes. "Direct question," he began. "You said middle class families are going to pay less. Will middle class taxes go up to pay for the program? I know you believe the deductibles and premiums go down."
Warren replied by saying that "what families have to deal with is cost, total cost," again avoiding a discussion of raising taxes. "The answer is on Medicare for All costs are going to go up for wealthier individuals and for large corporations."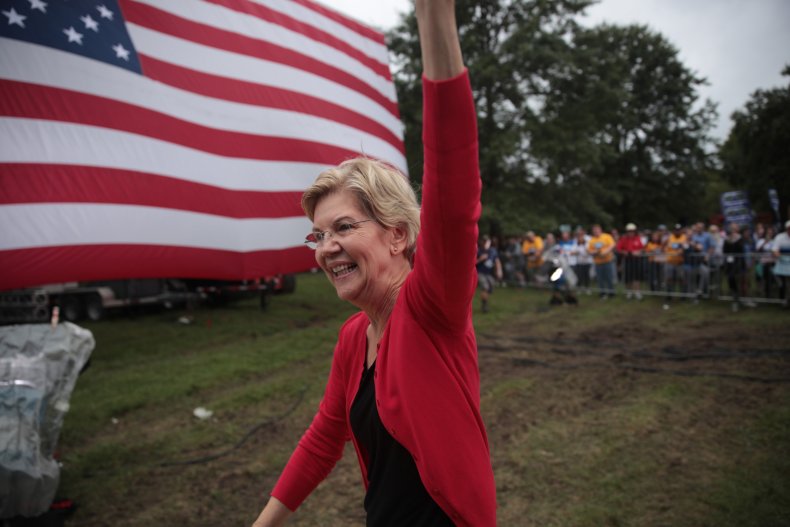 During the June Democratic debate Senator Bernie Sanders said that his Medicare for All plan would raise taxes on middle class families.
Biden isn't the only candidate to call Warren out. South Bend, Indiana, Mayor Pete Buttigieg, who raised the most money of all candidates last quarter and is currently polling in fourth place, also criticized Warren last week.
"I think that if you are proud of your plan and it's the right plan, you should defend it in straightforward terms," Buttigieg said during a CNN interview. "And I think it's puzzling that when everybody knows the answer to that question, of whether her plan and Senator Sanders' plan will raise middle-class taxes, is 'yes,' why you wouldn't just say so and then explain why you think that's the better way forward."
On Monday morning, former New Jersey Governor and 2016 Republican presidential candidate Chris Christie predicted that the Democratic primary would come down to Warren and Biden. "I think the polls are right," he said from the stage at the Concordia Summit in Manhattan. "It's going to be a Warren versus Biden, Moderate Democrat versus Progressive Democrat ballot."
Christie said he believed Sanders wouldn't make it to the end of the race. "The nominee is either Warren or Biden," he said.