Watch: Elizabeth Warren's Takedown of Michael Bloomberg Set to 'Ether' by Nas
Senator Elizabeth Warren held no bars when taking on fellow presidential candidate Michael Bloomberg at the Democratic debate on Wednesday.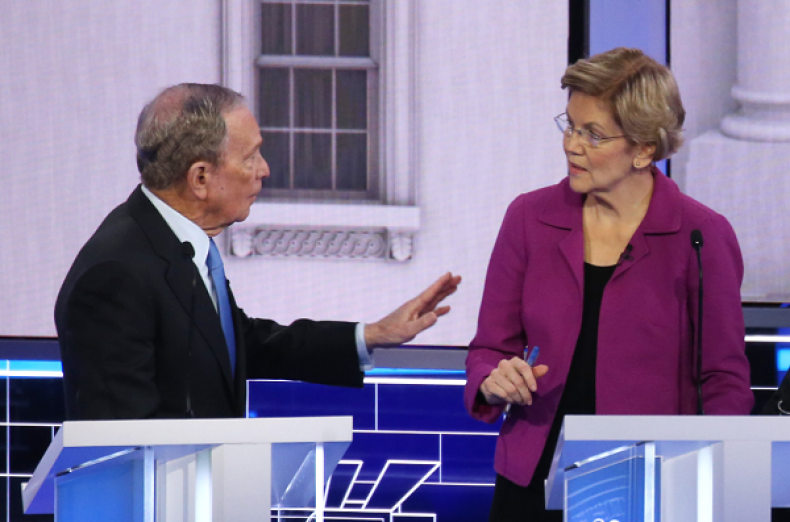 Warren delivered a scathing takedown of the billionaire candidate, pointing out his history of misogynistic commentary and the racist policies he implemented while serving as the mayor of New York City. Her blitz of Bloomberg was well received by viewers online, however, one person on Twitter amplified her message by setting a clip of Warren's debate speech to Nas' iconic 2001 track, "Ether."
"I'd like to talk about who we're running against: A billionaire who calls women fat broads and horse-faced lesbians. And no, I'm not talking about Donald Trump. I'm talking about Mayor Bloomberg," Warren said. "Democrats are not going to win if we have a nominee who has a history of hiding his tax returns, of harassing women and of supporting racist policies like redlining and stop-and-frisk."
Twitter user @AyoTristan laced the intro of "Ether" over Warren's speech, which flowed in perfect harmony with the song's notable beat. "Get his a**," read the video caption.
"Ether," featured on Nas' fifth studio album Stillmatic, was the rapper's famous diss track against hip-hop superstar Jay-Z.
The tweet went viral almost instantly, racking up thousands of retweets and responses from others online. People were tickled by the clip but felt it was the perfect song choice to highlight Warren's comments against Bloomberg. "The Ether was priceless," one Twitter user wrote.
"Tweet of the year and it's February," wrote another.
"Ether" was the Jay-Z takedown that seemingly ended the rappers' age-old feud, with Nas coming out as the winner.
The men had been at odds since 1996 when Nas allegedly failed to show up for a recording session with Jay-Z, who was working on his debut album Reasonable Doubt. Nas was supposed to appear on Jay-Z's track, "Bring It On," but since he never came to the studio, producer Ski Beatz sampled a line from Nas' "The World is Yours," and placed it on Jay-Z's "Dead Presidents II."
After years of tit-for-tat, sampling each other's lyrics and taking shots in songs, Jay-Z escalated their feud when he fired off a freestyle directly targeting Nas during the Hot 97 Summer Jam in 2001, calling the rapper a "has-been" and claiming Nas had a "one hot album every ten-year average." That freestyle was later turned into track, "Takeover," which appeared on Jay-Z's album, The Blueprint, released that same year.
Nas responded with, "Ether," which famously opened with him calling out Jay-Z specifically and yelling, "F**k Jay-z!" multiple times in the intro. Later in the song, Nas referred to the rapper and his Roc-A-Fella Records company as "Gay-Z" and "Cock-a-Fella Records" while accusing him of being a sellout and trading his soul for riches.
See a few more reactions to Warren's "Ether" takedown of Bloomberg below.