Elizabeth Warren Says Mike Pence Is 'Not an Honorable Person,' Accuses Him of Homophobia
Senator and 2020 presidential candidate Elizabeth Warren said Vice President Mike Pence was "not an honorable person" and accused him of engaging in homophobia on MSNBC's Morning Joe early Wednesday.
"Is Mike Pence an honorable man?" Morning Joe co-host Mika Brzezinski asked.
"No," Warren said straight away.
"OK, would you like to expound upon that?" Brzezinski said.
"Anyone who engages in the kind of homophobia and attacks on people who are different from himself is not an honorable person," Warren replied. "That's not what honorable people do."
As governor of Indiana, Pence opposed same-sex marriage and allowing openly gay people to serve in the military. He was the first vice president to speak at a conference by the Christian activist group Family Research Council, which the Southern Poverty Law Center has classified as an "anti-LGBT hate group." Pence spoke at a panel titled "How Gender Ideology Harms Children" alongside Michelle Cretella of the American College of Pediatricians, also designed an "anti-LGBT hate group" but the law center.
The vice president also pushed back on criticism surrounding his wife and second lady Karen Pence's decision to work for a school that bans LGBT students, families and employees.
In Waterloo, Iowa earlier this month for a campaign rally, Warren disagreed with the flattering picture former Vice President Joe Biden painted of Pence's character.
"I'm sorry, I followed Pence's history on LBGTQ Americans and I don't think that is a decent position," Warren said.
"You don't think the vice president is a decent man?" a reporter asked her.
"No," Warren said.
In July 2016, after the Trump-Pence Republican ticket was announced, Warren said Pence "is famous for trying to control women's bodies," and that the two men with their "sexism" are "in line with the party platform."
"Terrifying to think of @mike_pence being a heartbeat from presidency," Warren tweeted at the time. "But the direction @GOP wants to take our country is MORE terrifying."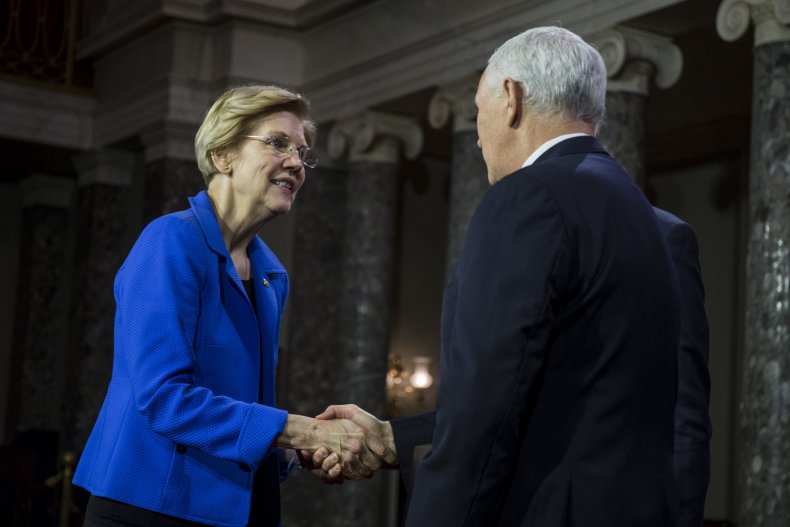 Warren, who officially announced her presidential bid early last month, has long been an ally of the LGBT community. The Massachusetts senator posted a video clip of herself dancing at Boston's Pride parade and footage of same-sex marriages late last year, as a rebuttal to what she considers divisive policies by the Trump administration.
"Every person in America should be able to work hard, play by the same set of rules, and take care of themselves and the people they love," she said.
Warren on Morning Joe also said, "I am not afraid of anyone, and particularly not Donald Trump," who has relentlessly criticized with the nickname "Pocahontas" for claiming Native American heritage.