Deepfake Video Shows Elizabeth Warren Saying Republicans Shouldn't Vote
A deepfake video purporting to be of Elizabeth Warren speaking on MSNBC appears to show her claiming that Republicans should be barred from voting in the 2024 presidential election.
The video—made with artificial intelligence technology to make it appear as if the Democrat senator for Massachusetts is genuinely making the claims—racked up around 189,000 views on Twitter in a week.
Many users realized that the video was not real, and Twitter has labelled it as "altered audio."
However, some appeared to be duped into believing it was authentic.
In the deepfaked video, the CGI version of Warren can be seen claiming that "allowing Republicans to vote could threaten the integrity of the election and the safety of the electorate."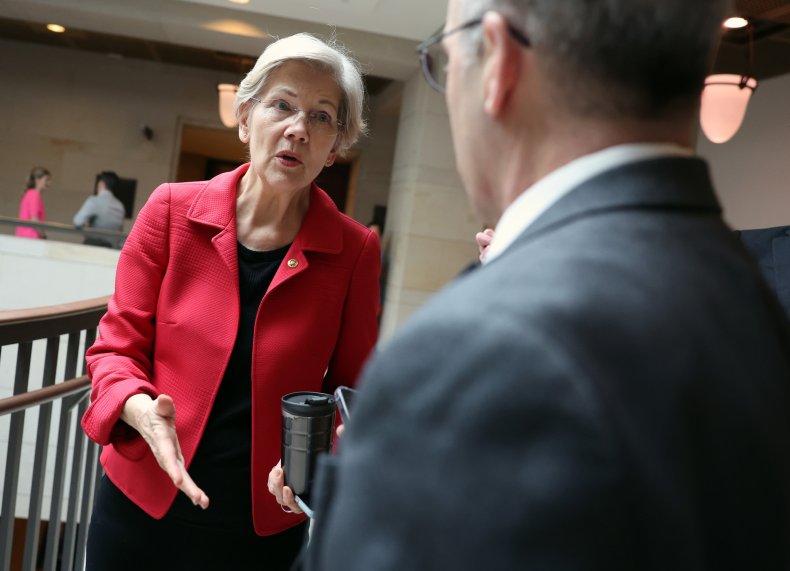 "Since Republicans have a history of promoting policies that undermine the public's trust in the government, allowing them to vote could lead to an outcome that does not accurately reflect the will of the people," it purports her saying.
"Furthermore, allowing Republicans to vote could result in a surge of voter suppression tactics and voter intimidation, which could compromise the security and fairness of the election," it adds. "For these reasons it is necessary to restrict Republican voting in the 2024 election."
The faked claims not only seem to conflate the Republican party with its voters, but paradoxically claims that disenfranchising tens of millions of voters would lead to a democratic result.
Newsweek has reached out to Warren's office for comment.
The video appears to have originated on TikTok, where it has just over 800 views as of 10:15 a.m. ET on Monday, but has reached far more people on Twitter. The person who tweeted the video confirmed it was made using artificial intelligence.
The original video, of Warren appearing on MSNBC in December to discuss the Midterms and the support many Democrats running saw in the election, confirms that the statements in the doctored clip are false.
"You know, for so long, the Republicans have run on the notion that government is bad, government is terrible—at best government is inept, at worst its really actually doing harm," she said during the interview.
"We're out there demonstrating exactly the opposite. We are showing that government can be on your side," she added.
Deepfakes—a portmanteau of 'deep learning', a form of artificial intelligence information acquisition, and 'fake'—have emerged in recent years as part of the explosion of AI technology. However, they can be used to create sources of disinformation as well as revenge porn.
The faked video appears to play into the notion that Democrats are looking to stop Republican candidates from winning through democratic means—something Donald Trump and pro-Trump candidates have claimed has taken place to prevent them from winning.
Officials have found no evidence of voter fraud in these cases.
Republican lawmakers have been accused of disenfranchising voters, usually with a disproportionate effect on ethnic minorities, through suppressive laws aimed at curbing voter fraud.
Others have stressed the need for these laws, describing voter suppression as a "myth."
A 2021 survey by the Pew Research Center found that whether Americans believe voting is a right or a privilege largely depends on their political leaning. While 78 percent of Democrat or Democrat-leaning citizens believe it is a fundamental right that should not be restricted, 67 percent of Republican or Republican-leaning individuals believe it is a privilege that comes with responsibilities and can be limited.
Overall, a majority of 57 percent of the 10,221 adult U.S. citizens surveyed believe it is a fundamental right, the poll suggested.