Elizabeth Warren Opens CNN Town Hall by Reading a Proposed Contract Freeing Women From Bloomberg's NDAs
Massachusetts Senator Elizabeth Warren asked former New York City Mayor Michael Bloomberg to release his former employees from nondisclosure agreements at a CNN Town Hall in Nevada Thursday night.
Stories of past improprieties have swirled around Bloomberg during his presidential campaign, including a lawsuit in which a former employee of the mayor's eponymous company alleged that, when she told Bloomberg that she was pregnant, Bloomberg told her to "kill it." The lawsuit was settled out of court.
Newsweek reached out to the Bloomberg campaign for comment but did not receive a response in time for publication.
Warren brought along a copy of the release, which she constructed herself, telling the audience, "I used to teach contract law and I thought I would make this easy."
"Mike Bloomberg can easily release the women who have accused him of sexual harassment—and who voluntarily want to speak about their experiences—from their non-disclosure agreements," Warren tweeted Thursday. Embedded in the tweet was a copy of Warren's release and covenant not to sue.
"Take a look at how simple and straightforward it would be," Warren added.
"Under this release, it is now the other person's choice to disclose such information or not," the document reads in part, referring to "information relating to sexual harassment, discrimination, or other misconduct at the Company or by Bloomberg himself."
"All that Mayor Bloomberg has to do is download it," Warren said on the Town Hall stage. "I'll text it. Sign it and then the women or men will be free to speak and tell their own stories."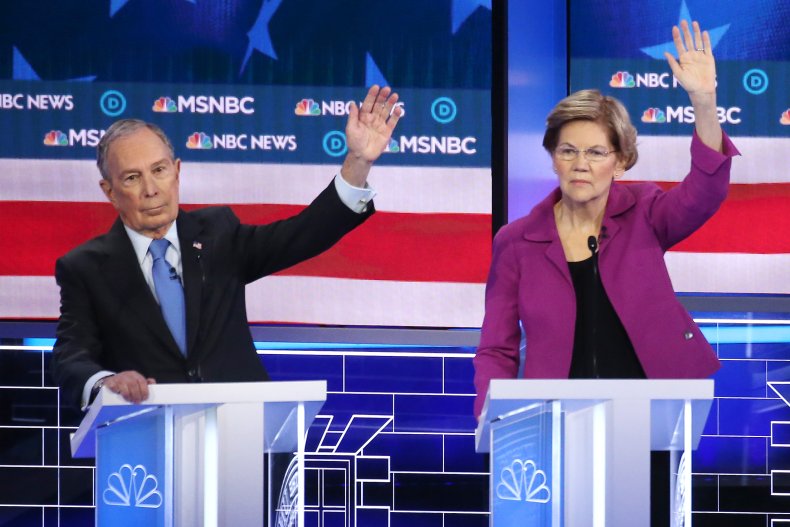 During the Democratic debate in Nevada Thursday night, Bloomberg seemed to brush off Warren's question about the NDAs.
"He has gotten some number of women—dozens, who knows—to sign nondisclosure agreements, both for sexual harassment and for gender discrimination in the workplace," Warren said. "So, Mr. Mayor, are you willing to release all of those women from those nondisclosure agreements so we can hear their side of the story?"
"None of them accuse me of doing anything other than maybe they didn't like a joke I told," Bloomberg said.
Bloomberg did not commit to releasing those people who had signed NDAs but he did admit those agreements existed.
"There's agreements between two parties that wanted to keep it quiet," Bloomberg said. "And that's up to them. They signed those agreements and we'll live with it."
Warren directed her opening debate salvo at Bloomberg Wednesday night by calling him a "billionaire who calls women 'fat broads' and 'horse-faced lesbians.'"
"Look, I'll support whoever the Democratic nominee is, but understand this," Warren continued. "Democrats take a huge risk if we just substitute one arrogant billionaire for another."
Warren and Bloomberg are expected to meet on the debate stage again at the Democratic debate in South Carolina, scheduled to occur four days before the South Carolina primary in February.