Elizabeth Warren Outlines Plans for Fighting Racism and Police Violence in Virtual Zoom Meeting
During a Wednesday evening Women for Biden event on Zoom, Massachusetts Democratic Senator and former presidential candidate Elizabeth Warren advocated for increased federal oversight of law enforcement practices, policies meant to reduce racial economic inequality and asked all Americans to actively educate themselves about how to be anti-racist.
While Warren's comments occurred during an event meant to boost enthusiasm for presumed Democratic presidential nominee, former Vice President Joe Biden, she couched her remarks in the context of the ongoing racial justice protests sparked by the May 25 death of black Minneapolis resident George Floyd.
"The idea that communities of color alone are responsible for fighting against racism every single day is misguided," Warren said, "and as we have seen, it can have really dangerous consequences."
"As white Americans in this, we need to ask ourselves: What we are doing proactively every day to dismantle systemic racism in our communities in our workplaces and in our circles of influence?" Warren continued.
Specifically, she highlighted Biden's desire to strengthen federal oversight by expanding independent investigations of law enforcement practices and establishing federal standards for the use of force.
"Racism for generations has shaped every crucial aspect of our economic system and our political system," Warren said. "We need to root it out."
Her plans for rooting it out include canceling student loan debt and establishing a first-time downpayment assistance program for people who lived in redlined communities that denied access to blacks and other people of color. She also said that she wants to ensure all students have access to high-quality public education.
Saying that it's not enough to "stand by as an ally," Warren encouraged people to educate themselves, listen and learn everything possible about the history of racial injustice in America, through books, and through the lived experiences of African Americans.
She also encouraged people to donate money and resources to help continue the fight for justice, both by leaders on the front lines and in local communities nationwide.
"Center black voices," Warren said, "Uplift their voices of black activists, of black leaders, of black elected officials."
As such, Warren prefaced her comments by mentioning Breonna Taylor was an EMT who was shot and killed in her apartment last March by Louisville, Kentucky police. She also mentioned how black transgender women are uniquely targeted for violence—at least 10 trans people have been murdered in the U.S. and Puerto Rico thus far in 2020.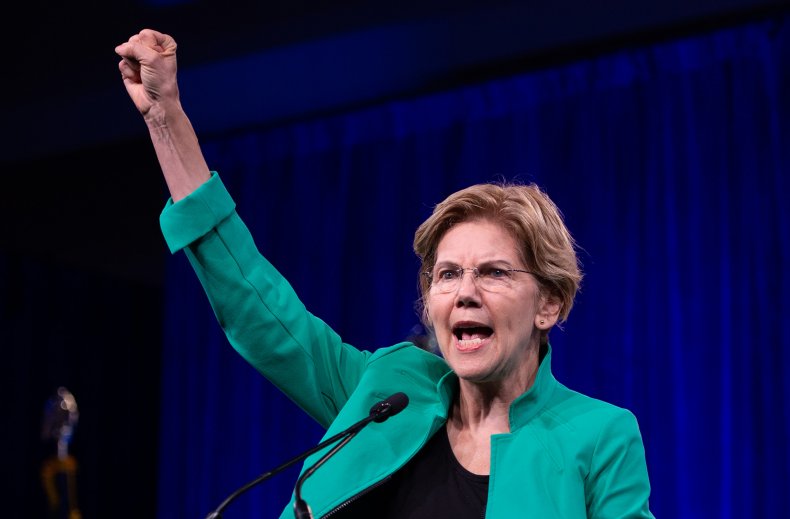 In a speech Tuesday, Biden outlined police reforms he would instate during the first 100 days of his presidency if elected.
He pledged to ban chokeholds by police, develop a model use-of-force standard for law enforcement officers nationwide, create a national police oversight commission, end the transfer of military weapons to police forces, improve oversight and accountability, and conduct a comprehensive review of police hiring, training and de-escalation practices in police departments across the country.
"Most cops meet the highest standards of their profession," Biden said. "All the more reason that bad cops should be dealt with severely and swiftly. We all need to take a hard look at the culture that allows for these senseless tragedies to keep happening."
Biden added his belief that looting and destroying businesses have no place in the protest.