College Students Favor Elizabeth Warren Over Bernie Sanders for the First Time in 7 Months
After trailing narrowly behind Senator Bernie Sanders for seven months, Senator Elizabeth Warren has become college students' number one choice for president, according to a poll released on Tuesday.
College Pulse, a data and survey analytics company, and Chegg, an education technology company, launched an "Election Tracker" in March. Since its launch, they've asked college students on a weekly basis to select the candidate they'd most like to see as the Democratic nominee for president.
Sanders was college students' top pick since polls were first released on March 26, but he fell to second place on Tuesday, being replaced by Warren as students' first choice. Of the 1,500 students that were polled, 32 percent chose Warren and 27 percent selected Sanders.
When College Pulse and Chegg first surveyed college students for the Election Tracker, Warren only had five percent support. It wasn't until the July 2 poll that she started to join Sanders in breaking away from the rest of the pack, which coincided with the same time former Vice President Joe Biden saw a sharp decline in college-aged voter support.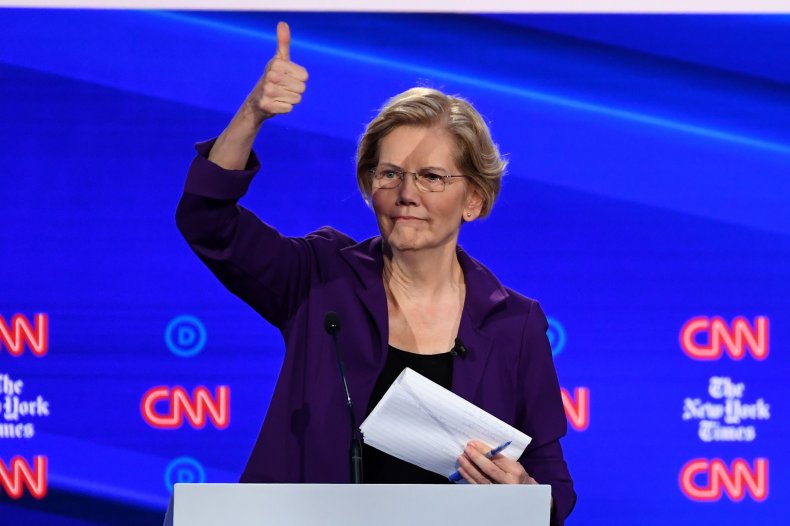 The poll didn't ask students to elaborate on why they selected the candidate they did, but both Sanders and Warren have made issues that are important to college voters central to their campaigns. For starters, both Senators have plans to reduce student debt and the cost of higher education. They vocalized their plans early and continue to do so often.
Sanders' plan would outright eliminate all $1.6 trillion worth of student loans, while Warren's plan would forgive student debt on an income-based scale. The lower the household income, the more student debt that gets wiped out.
"Good luck to all the college students heading back to class this week. You've got this! Know I'm fighting for you all the way—from canceling student loan debt to making public college and technical schools free," Warren wrote in an August tweet.
Along with forgiving student debt, both Sanders and Warren want to increase support for Historically Black Colleges and Universities (HBCUs) and establish tuition-free public colleges.
Yes, student loan debt is an important issue for college students, but similiarly to other voting groups, they're likely considering a candidate through the lens of multiple issues.
Barnes & Noble College released a survey of college students in July that identified the issues that mattered most to them. The ability to go to and pay for college was the fourth-highest concern among college students, preceded by immigration and the health of the environment. The issue at the top of their list of concerns? Gun violence and mass shootings.
Both Warren and Sanders have plans for all four of those issues listed on their campaign websites and have spoken out about the need for gun reform, the welcoming of immigrants and protecting the environment.
College-aged voters won't be the largest demographic to vote in the 2020 presidential election. However, it's the first time many of them will be able to cast a ballot and surveys show they're ready to make their voices heard.