Elizabeth Warren Has a Plan for Using Diplomacy, Not Wars, to Resolve Conflicts
Senator Elizabeth Warren has based her campaign for president on the fact that she, a former Harvard professor, has a detailed plan for a variety of policy problems. She even made "I have a plan for that" her campaign slogan. On Friday, Warren released her plan to revitalize a State Department that has been decimated under President Donald Trump.
Since Trump took office in 2017, the State Department has been plagued by hundreds of longstanding vacancies after long-term civil servants and career ambassadors left their jobs and were not replaced.
A recent report from the U.S. Government Accountability Office noted that the vacancies would "adversely affect State's ability to carry out U.S. foreign policy." The vacancies also "increase workloads, contributing to low morale and higher stress," the report concluded.
Now Warren has pledged to turn all of that around.
Newsweek subscription offers >
"But while Trump may have accelerated the exodus from the State Department, he didn't start it," Warren wrote in her plan released Friday. "Years of hiring freezes and spending cuts have caused many talented diplomats to head for the doors. China's spending on diplomacy has doubled under President Xi Jinping — while America's spending on core diplomatic capability has declined over the last decade."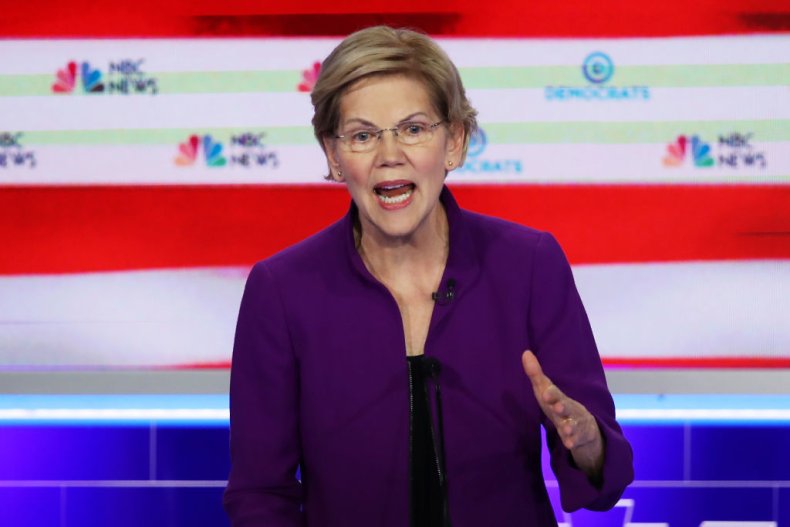 Continued the senator: "The Pentagon is nearly 40 times bigger than the State Department — we employ more people to work in military grocery stores than we do foreign service officers. That has real consequences. Too often, our underinvestment in diplomacy and development causes our leaders to default to military action, instead of treating it as a last resort. Our foreign policy should not be run out of the Pentagon. Under a Warren administration, it won't be," Warren pledged.
She promised to double the size of America's foreign service and to increase the U.S. presence in underserved parts of the world by opening new diplomatic posts.
Newsweek subscription offers >
"Achieving that goal means we'll need to recruit a new generation of foreign service officers while retaining the talented service we currently have," Warren explained.
The Senator also took aim at the fact that many of the diplomats appointed under the Trump administration are not experienced civil servants but wealthy donors who effectively paid for their positions.
"The State Department has lost 60% of its career ambassadors and 20% of its most experienced civil servants. And too often, these skilled diplomats have been replaced with totally unqualified campaign donors and other Trump cronies," Warren wrote.
"Trump has perfected the act of selling swanky diplomatic posts to rich buffoons. In the Trump administration, $1 million buys you an appointment to the Bahamas — even if you're not quite sure what that means. For $2 million, you can become Ambassador to the United Nations. Trump nominated a real estate lawyer accused of sexual harassment as ambassador to Romania. His South Africa nominee is a handbag designer," Warren's State Department treatise reads. "The practice of auctioning off American diplomacy to the highest bidder must end."
Elizabeth Warren Has a Plan for Using Diplomacy, Not Wars, to Resolve Conflicts | World