Elizabeth Warren Praised for Preaching 'Compassion Instead of Cruelty' When It Comes to Curbing Undocumented Immigration
Massachusetts Senator Elizabeth Warren has received praise for her platform on immigration, after she touted her approach of "using compassion instead of cruelty" to address undocumented immigration to the U.S. during a CNN town hall in New Hampshire.
Warren joined three other Democratic presidential candidates—former Vice President Joe Biden, entrepreneur Andrew Yang and billionaire Tom Steyer—in speaking at a CNN town hall in Manchester, New Hampshire, on Wednesday ahead of next Tuesday's primary.
"When asked how she would curb undocumented immigration, [Warren] didn't pivot to right-wing talking points—she talked about using compassion instead of cruelty," said Sawyer Hackett, the communications director for Julián Castro, who recently dropped out of the 2020 Democratic presidential race and threw his support behind Warren.
Noting that Warren had shared a story of her high-profile visit to a detention facility in Texas, Hackett added that her account had been "heartbreaking."
In a series of tweets, Warren reiterated her stance on immigration, asserting that it "does not make this country weaker. Immigration makes this country stronger."
"This so-called crisis at our border is one that Donald Trump helped blow up," she said. "He did it in part by disrupting aid for Central American countries. We need to restore that aid and help stabilize those governments so people don't feel they need to flee for their lives."
"We cannot be a nation that takes away children from their families, or that takes people who come to us who are desperate and treat them with anything other than humanity," Warren asserted, adding: "We have a moral responsibility to them and to each other to live our values every day."
Warren's platform on immigration calls for the act of crossing the border without proper documentation to be decriminalized, in addition to seeking to increase funding for aid to Central American countries, while also looking to change the U.S.'s approach to immigration detention.
The 2020 Democratic hopeful has said she would end government contracts with private detention facilities and seek to avoid using detention for migrants awaiting immigration proceedings.
Warren's push for compassion in addressing immigration issues also spoke to her campaign team members, with one member of her team, tasked with creating content in Spanish for the senator's campaign, taking to Twitter to talk about how important it was to take "people out of the shadows."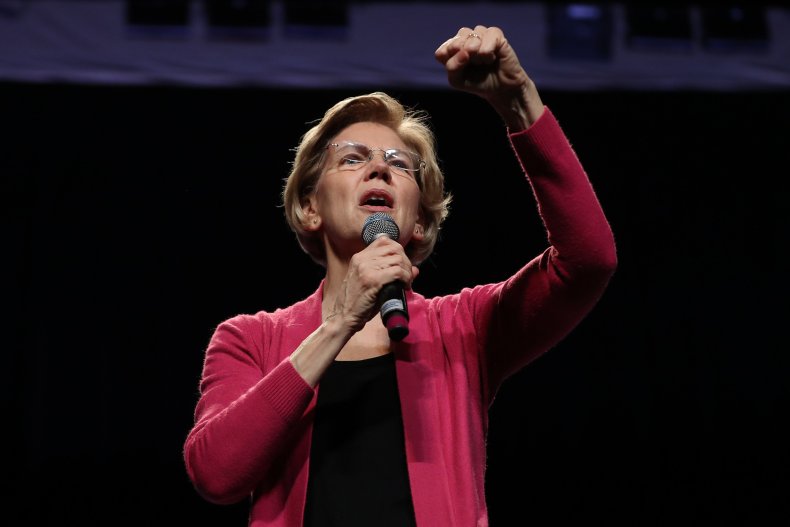 "Immigrants make our country stronger. ABSOLUTELY," the campaign worker said.
Warren also received praise for her comments addressing questions on whether a woman can beat President Donald Trump.
Asked by a CNN town hall attendee whether a male candidate would have a better chance of defeating Trump in the upcoming 2020 election, Warren said: "I believe they think so, but they'd be wrong."
"Understand this," she said. "Democrats took back the House of Representatives in 2018...because of women candidates and women and friends of women who were energized by those candidates."