Elizabeth Warren Promises to Fire Betsy DeVos, Replace Her with with an Education Secretary Who 'Will Listen to Our Public School Teachers'
To live up to the "promise of a good public education," as president, Senator Elizabeth Warren would replace Education Secretary Betsy DeVos with someone who will "listen" to public school teachers, parents and students.
On Monday, Warren targeted DeVos in a series of tweets highlighting her plans for public education. Along with improving funding for public schools and the treatment of teachers and staff, she would nominate someone to the position of Education Secretary that had experience as a public school teacher.
Days earlier, on Friday, DeVos told Fox News host Brett Baier that America was "failing" too many kids. She criticized the amount of money that was spent on education since the Department of Education was created given the gap in achievements between students on the low and high end of the spectrum. She called for a pivot in the approach America takes to education, claiming the solution was school choice.
Education from the K-12 level to higher education has been a main part of Warren's presidential platform. The candidate published a link to her campaign website on Monday explaining her plan for public education.
"I'll start–as I promised in May–by replacing DeVos with a Secretary of Education who has been a public school teacher, believes in public education, and will listen to our public school teachers, parents, and students," Warren wrote.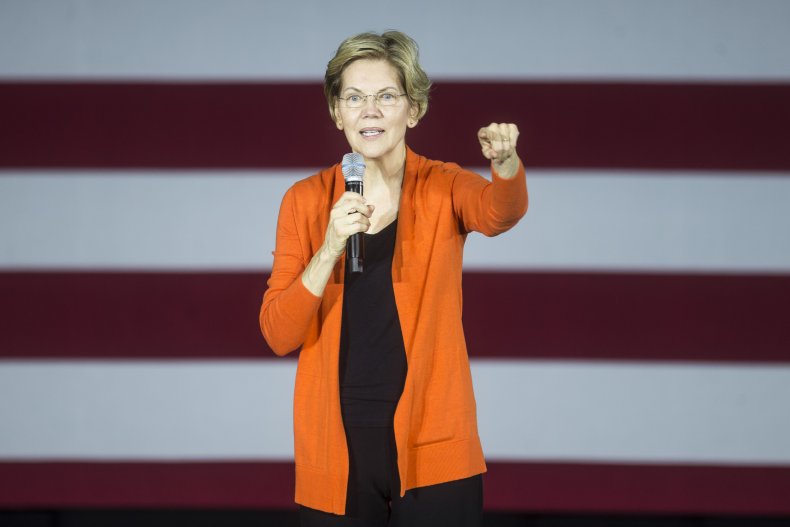 Warren has advocated for adequate and equitable school funding, fighting segregation and discrimination, establishing a warm, safe, nurturing climate for kids and ending the privatization and corruption of the public school system. She also criticized the current way teachers and staff are treated, saying it was time to treat them like the "professionals they are."
"It's time to live up to the promise of a high-quality public education for every student. My plan makes big, structural changes that would help give every student the resources that they need to thrive," Warren wrote.
DeVos disagreed with Warren on the need for an increase in funding, paraphrasing the Albert Einstein quote that insanity is "doing the same thing over and over again and expecting different results."
Beginning with her confirmation hearing, Democratic members of congress, including Warren, called out DeVos for a lack of experience both in higher education and the public school system.
In August, Warren posted a video on Twitter of a campaign event, during which a supporter asked her how many days she would wait before getting rid of DeVos. Warren, in response, asked if there was a number smaller than zero and committed to appointing an Education Secretary who previously worked as a public school teacher.
"Betsy DeVos need not apply," Warren told event attendees.