Elizabeth Warren Responds To Concerns She Will Be 'Hillary'd' In 2020 Election: 'You Persist'
During a CNN Town Hall on Monday, 2020 Democratic presidential candidate Elizabeth Warren was asked a question that was less about policy and more about sexism.
Harvard student Elli Taylor asked the Massachusettes senator about her concerns regarding being 'Hillary'd' during the 2020 election, meaning that individuals would focus on things like Warren's haircut or clothing rather than her policies and capabilities to hold the nation's highest elected office.
"What lessons have you learned from 2016 that will help you to kind of navigate these situations when you might be criticized for something that's partially motivated by sexists?" Taylor asked.
Warren replied that sexism in politics didn't begin in 2016, and talked about her experience running against former Republican Sen. Scott Brown in 2011 who had defeated a woman in the previous election.
Warren said Democrats called her an encouraged her to run, telling her she would lose the race but should do it anyway. "People said to me: you're gonna lose because Massachusettes in 2011, according to conventional wisdom, was not ready to have a woman senator or governor. We never had, and people said it's just not gonna happen, not at least for another generation. Now, you can imagine how I heard that. I heard that as, 'Get in this race, right now.' Which is what I did," she said.
Warren highlighted how early coverage of her campaign included what she was wearing, how her hair looked, how her voice sounded and if she smiled enough. "This kept on and I thought, 'look, I'm gonna be in this race so I'm gonna make something count every single day.'"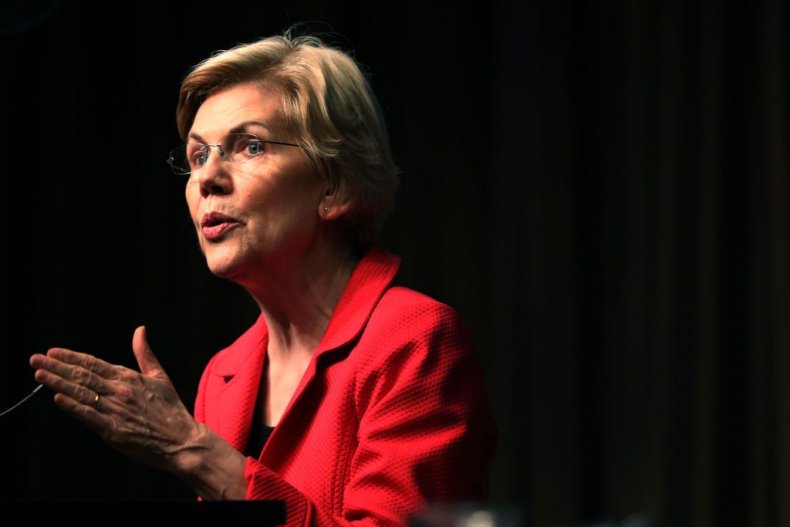 The senator then told how she would approach little girls on the campaign trail and introduce herself, telling them that she was running for U.S. Senate "because that's what girls do." Afterward, Warren and the girl would pinky swear to remember that girls could also be senators.
"Every night when I went home, no matter what the day had been like, I would count up how many pinky swears we had done during the day," Warren said.
Warren went on to defeat Brown by seven and a half points. The senator told the crowd that she did so by repeating her message about fighting back against Washington lawmakers who only serve "the rich and the powerful."
"So the way I see it is here we are in a presidential (campaign), and it's the same kind of — you stay after it every day," Warren said. "One might say you persist and that's how I'm going to be the first woman elected president of the United States," she added.
The reference to persistence has a history with Warren, who drew national attention in October 2017 when she objected to former Alabama Sen. Jeff Sessions being confirmed as Attorney General. As part of her objection, Warren took to the Senate floor to read a letter written in 1986 by Coretta Scott King, the widow of Civil Rights activist Martin Luther King Jr., about Sessions record of voter suppression in his home state.
Warren was interrupted as she read the letter by Senator Steve Daines (R-MT) and Senate Majority Leader Mitch McConnell (R-KY) who both asked her to stop talking. Daines later asked if anyone objected to Warren continuing her speech and McConnell objected, leading the Senate to vote along party lines to end her time at the podium.
After the vote, McConnell told the Senate, "Senator Warren was giving a lengthy speech. She had appeared to violate the rule. She was warned. She was given an explanation. Nevertheless, she persisted."
The final sentence became a rallying point for many feminists in the United States, sparking numerous hashtags on social media and stories shared by women of others who would not let themselves remain silent.
Later in Sessions confirmation hearings, Oregon Senator Jeff Merkley read King's letter in its entirety without objection from any other members.