Elizabeth Warren Officially Enters 2020 Presidential Race, Promises to Combat System 'Rigged by the Wealthy'
Democratic Senator Elizabeth Warren is officially running for president.
Walking onto a stage in Lawrence to the tunes of Dolly Parton's "9 to 5," the Massachusetts senator made her announcement Saturday morning. With Everett Mills as the backdrop, where women and immigrant cotton weavers in 1912 went on strike for higher pay, she used the story of combating big business and fighting for workers' rights to announce her candidacy a little more than a month after forming her 2020 exploratory committee.
"It is a story about power—our power when we fight together. Today, millions and millions and millions of American families are also struggling to survive in a system that's been rigged—rigged by the wealthy and the well-connected," Warren told the crowd of supporters.
"This is the fight of our lives, the fight to build an America where dreams are possible and an America that works for everyone," she continued. "And that is why I stand here today to declare that I am a candidate for president of the United States of America."
A leader within the progressive wing of the Democratic Party, Warren often projects a populist message aimed at combating income inequality and the rising costs of higher education and health care. She's long advocated for more aggressive action to combat climate change and for higher taxes for the nation's wealthiest.
"The rich and powerful seem to break the rules and pay no price. No matter what they do, they grow richer and more powerful," Warren said. "Bailouts for bankers that cheat. Tax cuts for companies that scam. Subsidies for corporations that pollute. That's what a rigged system looks like. Too little accountability for the rich, too little opportunity for everyone else."
In order to hold large American corporations accountable, she suggested putting workers in "corporate boardrooms where the real decisions are made," break up monopolies when they "choke off competition," take on Wall Street banks and to prosecute companies that "rob their workers."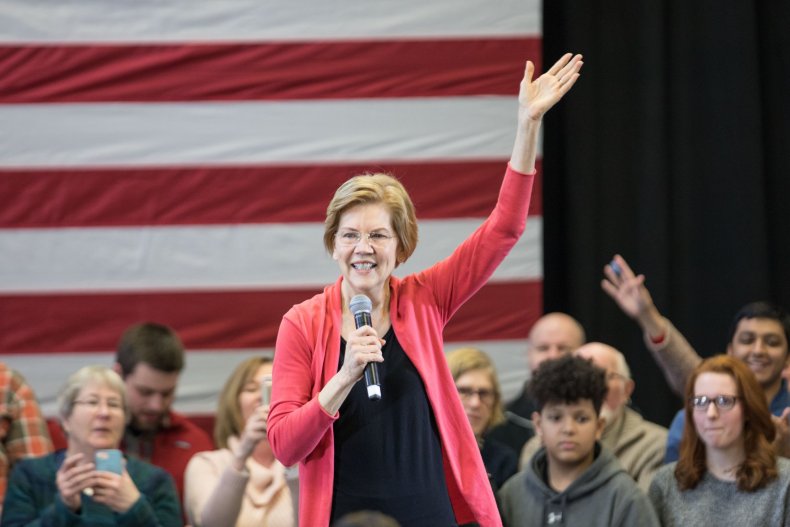 Although dominating headlines with criticism of President Donald Trump, whose administration she labeled Saturday the "most corrupt in living memory," the senior senator has some political baggage of her own. Her past claims to Native American heritage, including a controversial DNA test to prove she had distant Native American ancestry, landed her in hot water with the Cherokee Nation. She later apologized to the tribe's chief and reaffirmed she is not a citizen of any tribal nation.
"I can't go back," Warren told The Washington Post. "But I am sorry for furthering confusion on tribal sovereignty and tribal citizenship and harm that resulted." The paper reported Tuesday that Warren listed her race as "American Indian" on her registration card for the State Bar of Texas dated April 1986.
Trump and conservatives have long called Warren "Pocahontas" for her Native American ancestry claims.
"Elizabeth Warren has already been exposed as a fraud by the Native Americans she impersonated and disrespected to advance her professional career and the people of Massachusetts she deceived to get elected," said Brad Parscale, Trump's 2020 re-election campaign manager, in a statement prior to Warren's announcement. "The American people will reject her dishonest campaign and socialist ideas like the Green New Deal that will raise taxes, kill jobs and crush America's middle class.
Warren's candidacy makes her the eighth Democrat officially running for president, joining the likes of Senator Cory Booker of New Jersey, former Secretary of Housing and Urban Development Julián Castro, Congresswoman Tulsi Gabbard of Hawaii, Senator Kamala Harris of California, Senator Kirsten Gillibrand of New York, former Congressman John Delaney of Maryland, Spiritual author Marianne Williamson of Texas and businessman Andrew Yang of New York.
However, when all is said and done, nearly two dozen Democrats are expected to enter the fray, with others like Vermont Senator Bernie Sanders, former Vice President Joe Biden, Ohio Senator Sherrod Brown, Oregon Senator Jeff Merkley, California Congressman Eric Swalwell and former Texas Congressman Beto O'Rourke having signaled they're considering a run.