Elizabeth Warren Says Bernie Sanders Told Her Privately in 2018 That a Woman Can't Win 2020—He Denies It
Senator Elizabeth Warren on Monday confirmed a report detailing a 2018 exchange she had with her 2020 progressive rival Senator Bernie Sanders about a potential female Democratic nominee. She said he disagreed with her belief that a woman could win against President Donald Trump—he denies he said such things.
Warren and Sanders, two longtime friends, met privately in Washington D.C. in December 2018 to discuss the possibility that they would be running against each other for the 2020 Democratic nomination, CNN reported earlier today. The senators discussed how they would refrain from attacking each other to safeguard the progressive movement, strategies to defeat Trump and whether a woman could win. According to the report, Sanders said he didn't believe it was possible.
Hours after the report was published, Warren confirmed the meeting took place and reiterated that they disagreed about a female candidate for the Democratic 2020 nomination.
"Bernie and I met for more than two hours in December 2018 to discuss the 2020 election, our past work together and our shared goals," she said in a statement. "Among the topics that came up was what would happen if Democrats nominated a female candidate."
"I thought a woman could win; he disagreed," Warren continued. "I have no interest in discussing this private meeting any further because Bernie and I have far more in common than our differences on punditry."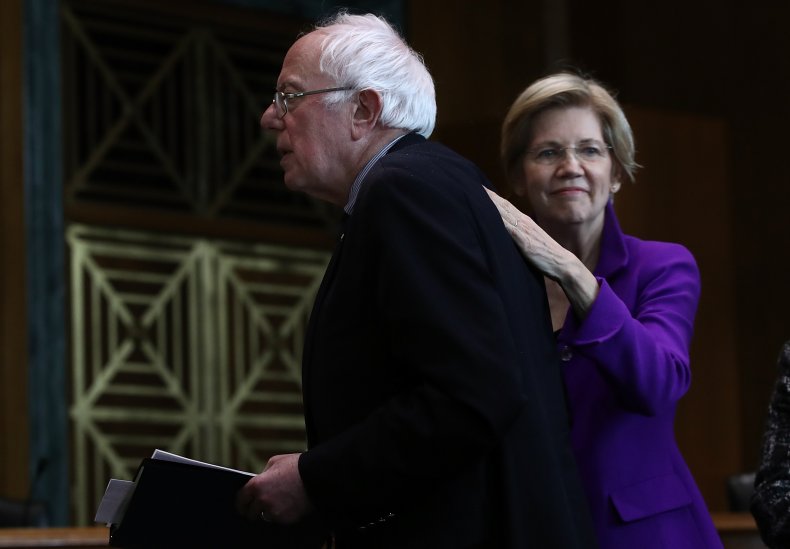 In response, Sanders denied Warren's claim that he told her he didn't believe a woman could win 2020. "It is ludicrous to believe that at the same meeting where Elizabeth Warren told me she was going to run for president, I would tell her that a woman couldn't win," Sanders said. "It's sad that, three weeks before the Iowa caucus and a year after that private conversation, staff who weren't in the room are lying about what happened."
He added: "What I did say that night was that Donald Trump is a sexist, a racist and a liar who would weaponize whatever he could. Do I believe a woman can win in 2020? Of course! After all, Hillary Clinton beat Donald Trump by 3 million votes in 2016."
Newsweek reached out to Warren for comment but did not receive a response in time for publication.
In recent weeks, Sanders has experienced a surge in many national polls, placing him ahead of Warren for the progressive vote. The two candidates are largely competing for the same pool of voters. Polls show a majority of both Warren and Sanders supporters have indicated the other would be their second choice.