Elizabeth Warren Says Biden Plan to Tax Wealthy Doesn't Go Far Enough Yet
Senator Elizabeth Warren (D-MA) said Friday that President Joe Biden's plan to increase taxes for the wealthy does not go far enough yet, and avoided giving him a performance grade for his first 100-plus days in office.
Speaking on PBS NewsHour, Warren praised Biden for helping Democrats pass "the most progressive rescue package in American history," but added that he's fallen short on the issue related to tax increases for the rich.
"He's in the right direction again because he's talking about taxing the wealthy. He's got a little bit around the wealthy," Warren said Friday, while adding that his plan is "not yet" where it should be.
Last month, Biden proposed nearly doubling the current capital gains tax rate of 20 percent to 39.6 percent for those earning more than $1 million. Combined with an existing surtax on investment income, the new rate could be as high as 43.4 percent, making it the highest tax rate on investment gains since the 1920s.
According to the White House, the plan "will not only reverse the biggest 2017 tax law giveaways, but reform the tax code so that the wealthy have to play by the same rules as everyone else."
"The plan will also eliminate long-standing loopholes, including lower taxes on capital gains and dividends for the wealthy, that reward wealth over work. Importantly, these reforms will also rein in the ways that the tax code widens racial disparities in income and wealth," the White House added.
The tax revenue would help fund Biden's American Families Plan, which would expand new skills training for workers, child-care subsidies and help establish tuition-free community college.
But Warren, one of the most vocal progressive voices in the Democratic party, told PBS Friday that she believes a higher, alternative tax plan with an approach toward corporate tax increases would be more beneficial to the economy.
"If we put a wealth tax in place, 2-cent tax on fortunes above $50 million, a little bit more for billionaires, and a 7 percent tax on real corporate profits, flat, across-the-board, for these companies making more than $100 million — this catches companies like Amazon and FedEx, Nike that make millions in profits and pay nothing in taxes," she said.
"And if we step up enforcement of current tax laws, those three changes, we would bring in $6 trillion over the next 10 years. That would be enough to pay for all of President Biden's infrastructure plans, all of his family caregiving plans, and still have a couple trillion dollars left over," she added.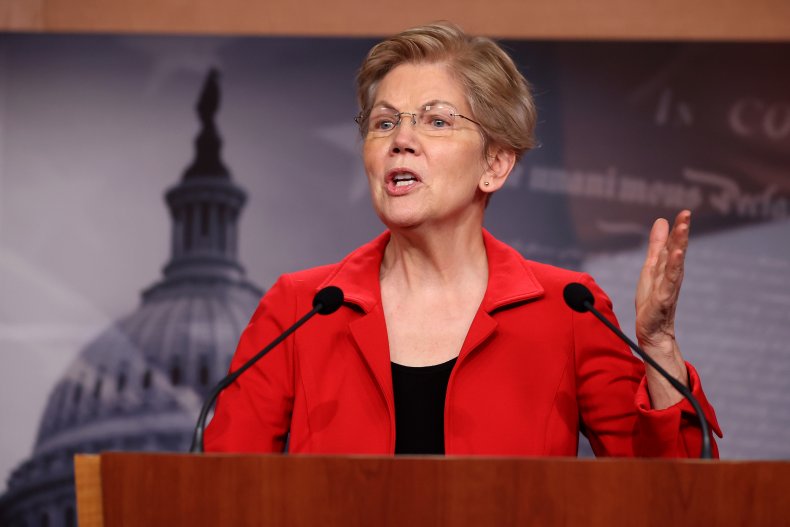 Warren went on to compliment Biden for working with Democrats and seeking a bipartisan approach to pass the American Rescue Plan, a coronavirus stimulus package that provided millions of eligible Americans with $1,400 direct payments in March.
"I actually want to pass out some praise here, he helped us pass the most ambitious, the most progressive rescue package in American history," Warren said Friday.
"He invited the Republicans in to negotiate. When they said, nope, they wanted no part of it, he talked to the American people and he saw the support from Democrats, Republicans and independents. He said that is bipartisan. And all of the Democrats in the Senate linked arms, and we passed it. We got it through. That's momentous," she added.
However, when asked to give the president a "grade" for his first 108 days in office, the Massachusetts senator declined.
"Now, you know, Judy, that professors never give a grade until the end of the term," Warren said to PBS NewsHour host Judy Woodruff.
Newsweek contacted the White House for an additional comment, but did not hear back in time for publication.