Elizabeth Warren Says Fox News Looks Like Trump 'Propaganda Machine,' Gets Why DNC Barred It From Debate
Senator Elizabeth Warren said she understood the decision of the Democratic National Committee (DNC) to not permit Fox News to host a presidential primary debate and criticized the network for being a "propaganda machine."
On Friday, Warren, who is a 2020 presidential contender, told MSNBC host Ari Melber that ultimately, the decision whether to allow Fox News to host a presidential primary debate rested on the shoulders of the party. However, she said she understood why the DNC would be concerned about the coverage.
"When more and more keeps coming out about how Fox News was just operating as an arm of the Trump campaign and then the Trump administration, boy that doesn't much look like we really have a free and independent press," Warren said.
She added that it looks like "a propaganda machine," and reiterated that she understood why the Democratic Party didn't want to be a part of it. Although, as a candidate, Warren expressed the hope that she'll be able to connect with a wide range of people.
"I want to be able to get out and talk to everyone," Warren said. "I want to be in everybody's living room. I want a chance to reach out to everyone."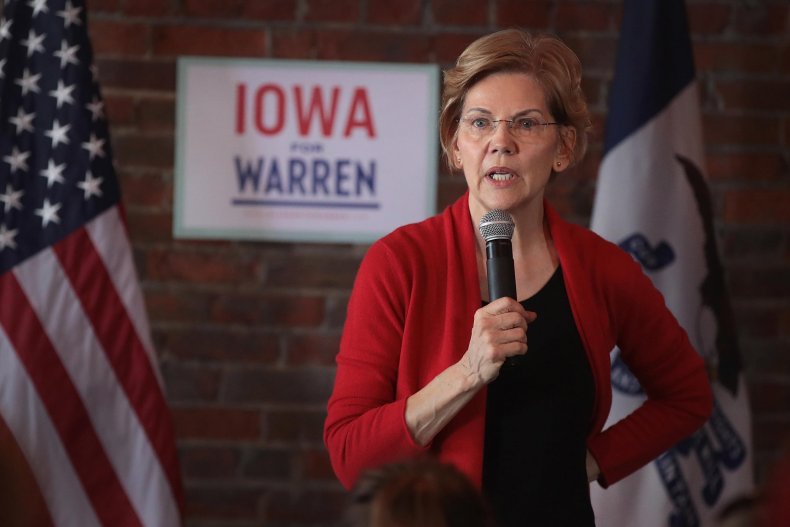 Warren announced her campaign for president on February 9 and called it the "fight for our lives." A Morning Consult poll released in February put Warren in fourth place in the bid for the White House. Leading the pack was former Vice President Joe Biden, followed by Senators Bernie Sanders and Kamala Harris.
In March, The New Yorker published an article outlining connections Trump had to Fox News, including hiring several people who were alumni of the network and that former Fox News CEO Roger Ailes told Trump ahead of a debate that former Fox News host Megyn Kelly would ask about his calling women "fat pigs," "dogs," "slobs," and "disgusting animals."
It also claimed the network decided to not run an article about Trump's alleged relationship with adult film actress Stormy Daniels because executive co-chairman Rupert Murdoch "wants Donald Trump to win."
Former Fox News editor Ken LaCorte later said he killed the Daniels story because it wasn't properly corroborated and "wasn't close to being publishable."
"I didn't do it to help Trump and never said nor implied otherwise," LaCorte wrote in an op-ed for Mediaite. "It was such an easy call that I never even informed my direct boss or anyone in management about it."
Shortly after The New Yorker article was published, DNC Chairman Tom Perez announced the network would not be a media partner for the 2020 Democratic primary debates. He cited the article as a reason for his decision and said he concluded that Fox News is "not in a position to host a fair and neutral debate for our candidates."
Fox News Senior Vice President Bill Sammon expressed his hope that the DNC would reconsider and commended the network's debate team, which includes, Chris Wallace, Bret Baier and Martha MacCallum, for embodying "the ultimate journalistic integrity and professionalism."
CNN host Anderson Cooper echoed Sammon's comments and complimented the network for having "responsible journalists who could ask questions." He specifically pointed to Wallace, who he applauded for being a "tough interview." Maggie Haberman, the White House correspondent for the New York Times, posted on Twitter that the DNC's decision sends the message "of being afraid of something," which, she claimed, is what Trump feeds off of in his opponents.
Baier, MacCallum and Wallace also spoke out about the DNC's decision. Wallace said that even though it's known that he Baier, MacCallum and would be fair, the Democratic Party was "looking for an excuse" to not allow them to host a debate because they work for Fox News.
Baier acknowledged Perez's decision in a post on Twitter on Wednesday and called it a "shame." He said the network's news product "speaks for itself" when it comes to the issue of fairness and added that he'll continue to cover the 2020 bid for the White House fairly.
"Our large audience deserves to hear ALL the candidates who are running for the Presidency of the United States," MacCallum posted on Twitter. "We welcome them all, with our continued commitment to fair, professional journalism. I hope the #DNC will reconsider this decision."