Elizabeth Warren Says Republicans Have 'Tilted' the U.S. Supreme Court
Massachusetts Senator Elizabeth Warren said Monday that some health care laws could be in danger if President Donald Trump places another appointee on the U.S. Supreme Court.
Many Republicans want the Trump administration to quickly fill the vacant Supreme Court seat left by Justice Ruth Bader Ginsburg's death. Meanwhile, some Democrats want to wait until after the November election to appoint a new Supreme Court Justice. President Trump said he would nominate a woman to fill Ginsburg's seat and would "probably" announce the nominee's name on Saturday.
If a Trump nominee is confirmed, she would be the third Supreme Court Justice appointed by President Trump. That would increase the conservative majority in the U.S. Supreme Court to six justices who would hear cases along with three liberal justices.
"What the Republicans have done is they have tilted the Supreme Court," Warren told Rachel Maddow on her MSNBC program. "They want to tilt it further so that it doesn't reflect the values of the majority of Americans."
Warren said a Trump appointee to the Supreme Court could pave the way for the loss of Roe v. Wade and the Affordable Care Act. According to Warren, nearly 3 out of 4 Americans want to see Roe v. Wade, which gives women the right to choose to have an abortion, "preserved as the law of the land."
"And yet by carefully filtering who gets nominated to the United States Supreme Court, by stealing a second seat on the United States Supreme Court, what Donald Trump and the Republicans are planning to do is to have that court impose a will on the American people that is not who we are and not the America that we want to be," Warren added.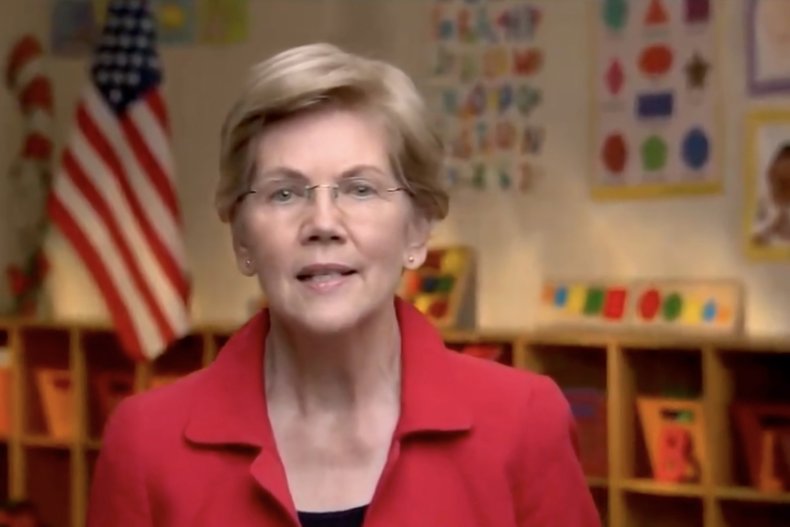 Senate Majority Leader Mitch McConnell said Friday that President Trump's nominee would "receive a vote on the floor of the United States Senate."
Warren decried McConnell's statement during a candlelight vigil for Ginsburg on Saturday. "Mitch McConnell believes this fight is over," Warren said. "What Mitch McConnell does not understand is this fight has just begun."
Newsweek reached out to Leader McConnell's office for comment.
McConnell's determination to install a new justice seemed to go against his own actions during the Obama administration. When then-President Barack Obama nominated Judge Merrick Garland to the U.S. Supreme Court in 2016, McConnell blocked Garland's confirmation for nearly a year.
"The American people should have a voice in the selection of their next Supreme Court Justice," McConnell said at the time. "Therefore, this vacancy should not be filled until we have a new president."
When Trump won the presidency, his administration nominated Republican Judge Neil Gorsuch to the U.S. Supreme Court. Gorsuch was approved while Garland did not receive a confirmation hearing.
According to a statement from her family, Justice Ginsburg's most "fervent wish" before she died was that she not be replaced "until a new president is installed." Trump told reporters Monday he did not believe Ginsburg actually made that statement.
"It just sounds to me like it would be somebody else," Trump told reporters Monday. "I don't believe—it could be and it might not be. It's just too convenient."