Elizabeth Warren Slams 'Bizarre' Right-Wing Claim Infrastructure Bill Designed to Indoctrinate Kids
Democratic Massachusetts Senator Elizabeth Warren has called a right-wing conspiracy theory about Democratic President Joe Biden's $1.8 trillion American Families Plan "bizarre." The theory claims that the plan will force children to undergo indoctrination in federally mandated preschools.
Biden's plan would provide universal preschool for millions of three and four-year-old children nationwide. Right-wing conspiracy theorists have claimed that the preschool will be mandatory and used to brainwash children into hating America and becoming social justice activists, according to The Guardian.
MSNBC host Chris Hayes asked Warren about the conspiracy theory during the Monday's All In With Chris Hayes.
"I think the attack is frankly just bizarre," Warren said. "We've been investing in infrastructure for decades."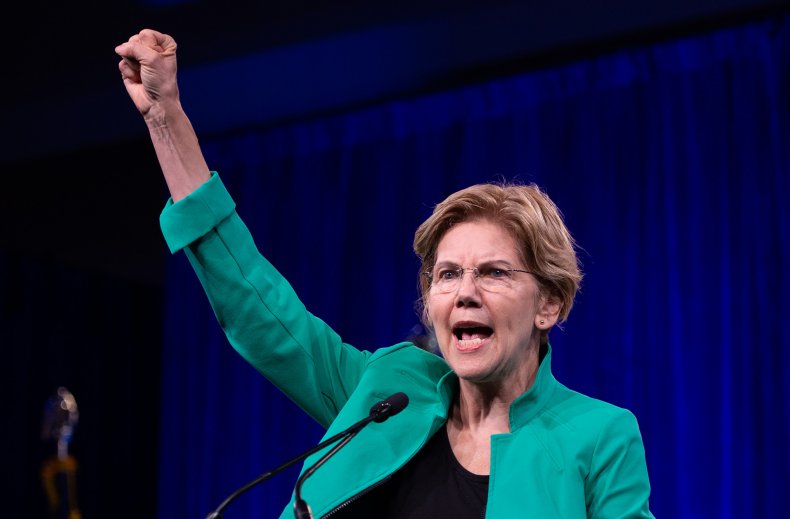 Warren said that investing in childcare is just as vital to the nation's future as investing in construction jobs to rebuild roads and bridges.
"When we make these investments in child care, we can track the data. These are babies who do better as children and do better as adults when they have a chance to get high-quality care early on," Warren said. "[We] should have started doing a long time ago. Other countries did, and we haven't ... We need to do this for our whole country."
A version of the right-wing theory was tweeted on April 28 by Republican Georgia Representative Marjorie Taylor Greene.
In Greene's tweet, she wrote, "Biden's $1.8 trillion #AmericanFamiliesPlan will raise taxes to put children in federal childcare. Do you want the same people that put men in girls bathrooms and sports, force mask on children, teach the critical race theory, and deny gender training your children all day?"
Biden's plan would pay for preschool by raising the current capital gains tax rate from 20 percent to 39.6 percent for Americans earning over $1 million a year. The tax revenue would also help fund new skills training for workers and help establish tuition-free community college for all.
Right-wingers have increasingly suspected public schools of using critical race theory (CRT) to indoctrinate students into becoming social justice activists. CRT examines how policies and laws have worsened racial disparities and discrimination among Black, brown and Native American communities. Right-wingers sometimes negatively refer to CRT as a form of "cultural Marxism."
Republican former President Donald Trump described CRT as "racist" and "teaching people to hate our country." In January, Biden signed an executive order reversing Trump's 2020 ban on federal funding any CRT-based diversity training.
Republicans in state legislatures have been trying to ban CRT-based teaching in public schools. Educators have said such laws aim to "gag" teachers from teaching about racial justice movements, freedom of speech and the social implications of U.S. history.
Newsweek contacted Warren's office for further comment.