Elizabeth Warren Slams 'Unqualified Billionaire' Betsy DeVos for Criticizing Student Debt Forgiveness
Democratic Senator Elizabeth Warren called Education Secretary Betsy DeVos an "unqualified billionaire" after DeVos criticized proposals calling for student debt forgiveness and tuition-free college.
DeVos criticized the proposals—which are stated parts of President-elect Joe Biden's economic recovery plan and among the legislative aims of congressional progressives like Democratic New York Representative Alexandria Ocasio-Cortez—during her speech at an Education Department financial aid conference on Tuesday.
"We've heard shrill calls to cancel, to forgive, to make it all free," DeVos said in her speech. "Any innocuous label out there can't obfuscate what it really is: Wrong."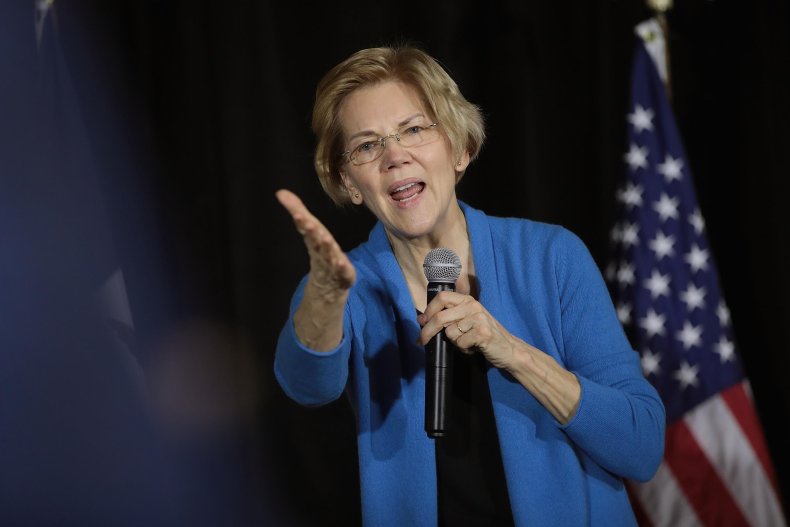 In response, Warren tweeted on Tuesday night, "Because we were all just dying to know what the unqualified billionaire who made this problem worse thinks about helping people."
Warren's response references DeVos' obstruction of a 1994 program called the "borrower defense to repayment," which allows students who obtain cancellation of federal loans when colleges use illegal tactics to persuade students into borrowing money.
Under DeVos' leadership, the Department of Education rolled back a rule adopted under former President Barack Obama's administration which made it easier for students to get their federal loans forgiven under the program.
The Trump administration has since widely denied program applications, refused to process them, and changed rules to limit applicants to those falling within certain incomes, all resulting in lawsuits from borrowers
DeVos called tuition-free college "a matter of total government control" and "a socialist takeover of higher education" on Tuesday. She said the policy is unfair to taxpayers and warned that their costs could "break our already fragile economy."
Newsweek contacted the Department of Education for comment.
Warren, Ocasio-Cortez, Senate Minority Leader Chuck Schumer of New York, Representative Ayanna Pressley of Massachusetts and other congressional Democrats are pushing Biden to use executive action to cancel $50,000 of individual student loan debts in order to stimulate the economy.
Some have criticized the proposal as elitist since it offers no equivalent debt relief to non-college-educated individuals who tend to work blue-collar jobs and have generally suffered greater economic hardship during the ongoing COVID-19 pandemic, according to Time magazine.
Part of Biden's economic recovery plan suggests the immediate passage of a congressional bill that would forgive only $10,000 individually for student loan borrowers.
Roughly 45 million Americans collectively hold $1.6 trillion in student debt. The average student loan recipient owes between $20,000 and $25,000 in loans, according to the Federal Reserve.
Biden's free-college plan would help students pay for two years at a community college or vocational program by subsidizing any tuition amount not covered by existing state or federal aid. Twenty-five states already have similar programs in place, according to CNBC.