Elizabeth Warren Is Polling Fourth In Iowa But Don't Count Her Out Just Yet, Strategist Says
Elizabeth Warren may be polling behind some of her top 2020 rivals in Iowa ahead of the state's first-in-the-nation caucus but voters shouldn't count her out just yet.
Iowans will cast their ballot for their preferred Democratic presidential nominee on Monday, February 3. According to a new batch of polls, Warren is steadily in third or fourth place behind competitors Joe Biden, Bernie Sanders and Pete Buttigieg.
But the top tier candidates are all so closely bunched together that it's still anyone's race. The most recent Monmouth University poll of likely Iowa caucusgoers showed Biden in the lead with 23 percent support followed by Sanders with 21 percent and Buttigieg with 16 percent support. Warren was in fourth with 15 percent support.
What's important for Warren is that she is polling at or above the state's 15 percent viability threshold. In Iowa, a candidate needs to get at least 15 percent of the votes in the first round of the caucus to move on to the final count. The final count will determine how the state's delegates will be distributed, which is a key part of the Democratic Party's national convention later this year.
Another good sign for the senator is that she is a top second-choice candidate for many Iowa voters. Thirty-four percent of likely caucusgoers surveyed said they'd pick Warren as their second choice. Nearly half of likely voters surveyed (45 percent) said they were still open to changing their minds when they show up to vote on Monday.
Veteran Democratic strategist Jeff Link told Newsweek that Warren "absolutely" has a chance to win on Monday night.
"She's had a strong organization in the state for the longest," said Link, who is one of the top strategists in Iowa. "That should account for something. If it's a tie going into caucus night and you have the best organization that's been in place the longest, I'd feel pretty good about that."
The Washington Post recently reported that Warren's campaign in Iowa is regarded as the best in the state. According to The New Yorker, she has 150 staff members in 26 field offices—more than her top rivals like Sanders and Biden.
Warren also got a last-minute boost from Iowa's most influential newspaper the Des Moines Register, which endorsed her for the Democratic presidential nomination last week. The paper called her "the best leader for these times."
"Warren's competence, respect for others and status as the nation's first female president would be a fitting response to the ignorance, sexism and xenophobia of the Trump Oval Office," the editorial stated.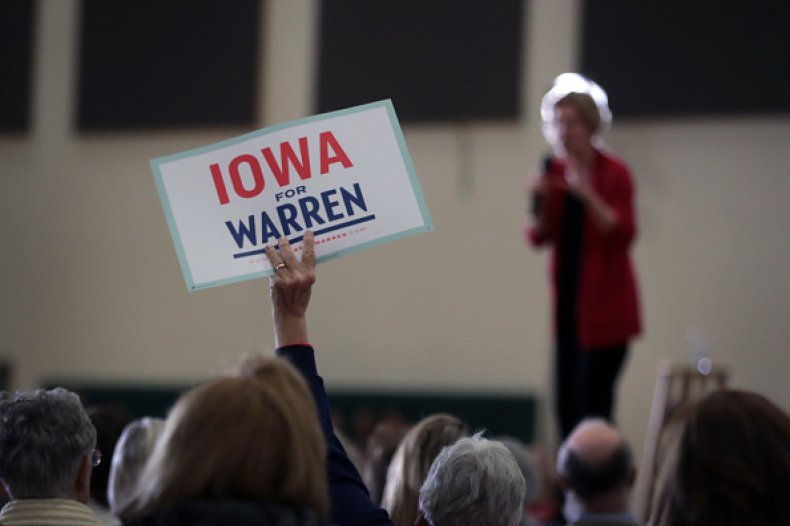 Despite a strong organization in Iowa, Warren herself has not been able to physically be in the state in the weeks leading up to the all-important caucus because of President Donald Trump's impeachment trial. Like the other senators running for president, she has to be in Washington D.C. to serve as a juror in the proceedings.
In her absence, Warren's presidential campaign is airing new ads to make a closing pitch to voters. According to Politico, the ads will make the case for why she's the best candidate to unite the country while also addressing the fears that a woman can't be elected president.
"Women have been doing really well since Donald Trump was inaugurated," Warren said in a tele-town hall on Thursday. She added that "2020 is not 2016."
The senator has also sent surrogates to Iowa to campaign in her place, including former candidate Julián Castro and her husband Bruce Mann. But arguably her most popular surrogate has been her dog, Bailey. Bailey's appearance at several events and his take over of Warren's "selfie line" prompted viral moments on Twitter and other social media.
Warren told reporters earlier this week that it feels "otherworldly" to be at Trump's impeachment trial during one of the most important moments in the 2020 race.
"I expected to be in Iowa doing town halls," she said. "But we are where we are. I took an oath of office to uphold the Constitution—and to get upstairs so I'm not late."
The Iowa caucuses will take place at 7 p.m. CT on Monday, February 3.