Impeachment, Student Debt Relief and Jail Time for CEOs: Elizabeth Warren's Policies Help Her Stand Out Among 2020 Field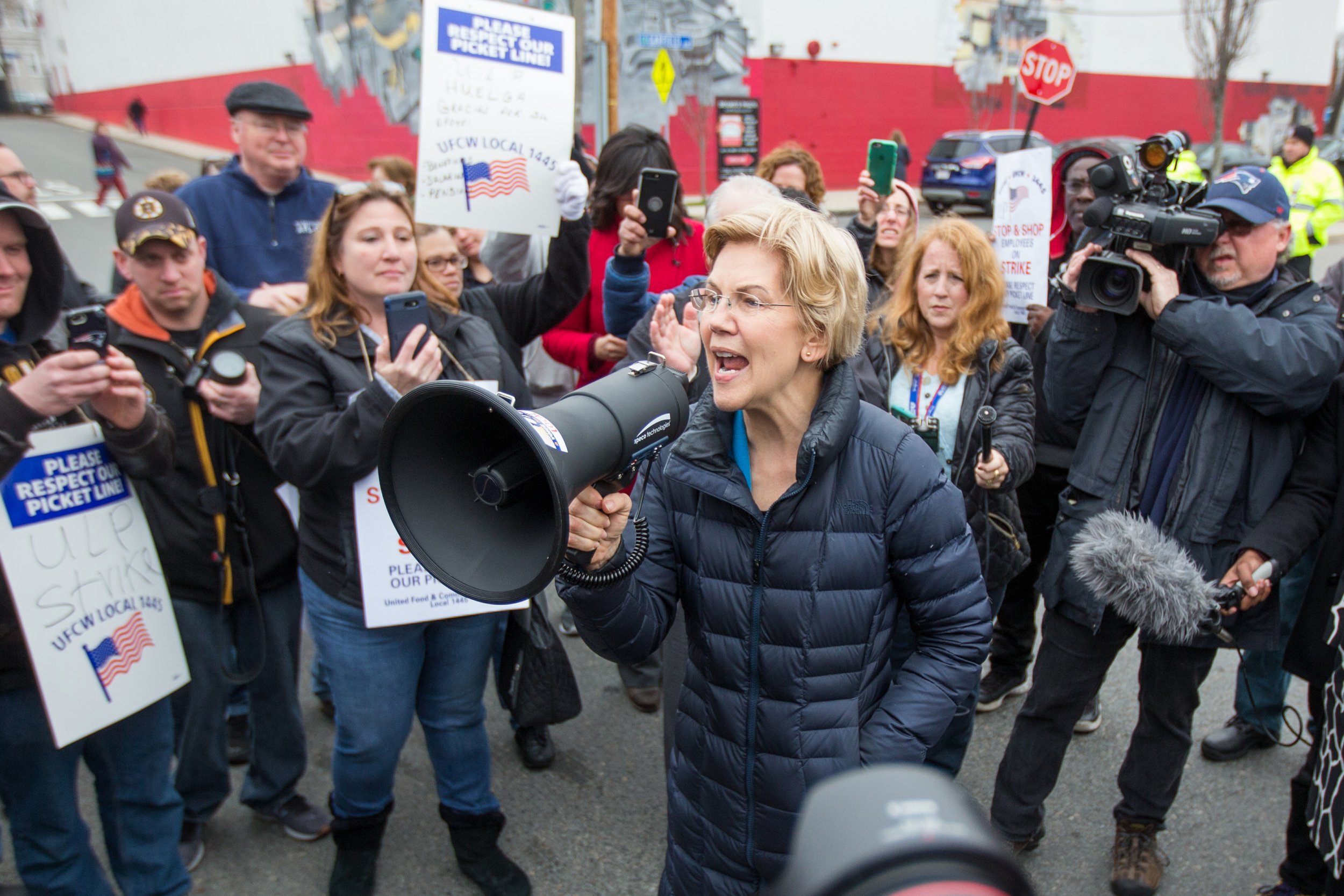 Massachusetts Senator and 2020 presidential candidate Elizabeth Warren has taken progressive but controversial stances on three major issues in past weeks, successfully setting herself apart from the nearly two dozen candidates she's currently competing against in the race for the White House.
This month, Warren introduced legislation that would make it easier to prosecute and jail corporate executives for white-collar crimes. This past Friday, she said President Donald Trump should face impeachment hearings, based on the findings in special counsel Robert Mueller's report. And, on Monday morning, Warren announced her support for a wealth tax that would effectively end student debt and tuition at public colleges.
Warren, who raised around $6 million but spent more than $5 million on fundraising and a campaign staff of 160 people during the first quarter of her campaign, has struggled to break out from the middle of the Democratic pack. She trails behind big names like Vermont Senator Bernie Sanders, still undeclared former Vice President Joe Biden, former Texas congressman Beto O'Rourke, California Senator Kamala Harris and South Bend, Indiana, Mayor Pete Buttigieg.
In an election starved for hard policy ideas, Warren is looking for a way to stand out, and she may have found it. Of the top 2020 contenders, only Sanders and Warren outline any policy initiatives on their election websites. Other candidates, like Buttigieg, O'Rourke and Harris, offer vague outlines of their views but have not presented any specific policies.
Warren's trio of announcements, however, has kept her on front pages around the country for days, and name recognition means a lot this early in the game. We'll soon find out if these rollouts boost her poll numbers, but these are just some of her policies so far.
Student Debt and College for All
Warren's new plan would spend $1.25 trillion over the next decade to eliminate up to $50,000 in student debt for those with household incomes under $100,000. It would give states the option to make their state colleges tuition-free and add $100 billion to the Pell Grant program to cover non-tuition costs associated with college.
In a Medium post, Warren wrote that she would pay for the program with a 2 percent annual tax on accumulated wealth of more than $50 million and a 1 percent tax on accumulated wealth over $1 billion.
"We got into this crisis because state governments and the federal government decided that instead of treating higher education like our public school system — free and accessible to all Americans — they'd rather cut taxes for billionaires and giant corporations and offload the cost of higher education onto students and their families," she wrote. "The student debt crisis is the direct result of this failed experiment."
She said she expects the proposal would cancel up to $50,000 of debt for 42 million Americans.
Warren's public college announcement is reminiscent of democratic socialist Bernie Sanders' proposals to make four-year public colleges tuition-free for some students. But Warren said in an interview with CNN that her plan is "bigger" and "goes further" because it "covers more and it addresses both the access question of going to college and the problem of the debt burden for our students."
Warren, along with Senators Harris, Cory Booker and Kirsten Gillibrand, are co-sponsors of the Debt-Free College Act, which would provide matching grants to states that help students get through four years of college without going into debt.
Other candidates, like Senator Amy Klobuchar, have more hard-line views. "I am not for free four-year college for all, no," she said recently at a CNN town hall.
Buttigieg said he believes free four-year colleges would result in lower-earning non-college graduates subsidizing the higher-earning graduates, but he does support an increase in Pell Grants.
Impeachment of Donald Trump
On April 19, Warren shocked the Democratic field by publicly calling for Trump's impeachment.
So far, the Democratic candidates have been more than willing to criticize the president but haven't uttered the "I" word. After reading special counsel Robert Mueller's report, however, Warren decided to go there.
"To ignore a President's repeated efforts to obstruct an investigation into his own disloyal behavior would inflict great and lasting damage on this country," Warren tweeted Friday. "The severity of this misconduct demands that elected officials in both parties set aside political considerations and do their constitutional duty. That means the House should initiate impeachment proceedings against the President of the United States."
She later sent out an email to her supporters about her position. Notably, she did not attempt to fundraise with the email.
"Not doubting her sincerity here but it's also probably a very shrewd primary move to leap out front on this," tweeted David Axelrod, former campaign and White House adviser to President Barack Obama.
A Warren campaign staffer told NBC News that the senator believed her tweet was the correct course of action and that there wasn't much political motive behind it.
Sanders, meanwhile, refused to answer questions about impeachment. O'Rourke said the decision should be left to Congress, and Harris said she wanted to wait to hear Mueller testify before making up her mind.
"I think you've seen all the senators are very cautious about talking about this, because we would be the jury if there was any kind of an action brought over from the House," Klobuchar told reporters in New Hampshire.
Buttigieg did say he was "pretty sure" the president "deserves to be impeached" but also noted that the decision was up to Congress.
Corporate Executive Accountability Act
Last week, Warren introduced a bill that would make it easier to prosecute business executives at companies with more than $1 billion in annual revenue. That would mean CEOs of major banks would no longer be shielded from crimes their companies commit. They would face up to one year in prison for their first violation and three years for the second.
"It's been 10 years since the financial crash cost millions of people their homes, jobs and savings. But not one big bank CEO has gone to jail," said Warren. "It's time to reform our laws to make sure that corporate executives face jail time for overseeing massive scams."
Land Use
Last week, Warren also proposed a plan to roll back much of Trump's land use policy.
On her first day in office, she said, she would ban drilling on any new public lands. She would then focus on clean energy production by requiring 10 percent of all energy created in the United States to come from natural, renewable resources on public lands. She also said she would employ 10,000 young people and veterans in a newly created 21st century Civilian Conservation Corps, fully fund the federal Land and Water Conservation Fund and restore the Bears Ears and Grand Staircase-Escalante national monuments.
Warren has announced at least 10 policy proposals since declaring her intention to run for president.