A new Reuters/Ipsos poll shows national support for presidential candidate Elizabeth Warren has dropped to a new low since August.
Though the Massachusetts senator continues to do well in Iowa, she slipped to just 13 percent support among Democrats in Thursday's survey. That compares with 26 percent for former Vice President Joe Biden and 19 percent for Senator Bernie Sanders of Vermont.
But when it comes to who, exactly, Democrats and independents do support, many are undecided. More than a third of these voters said they don't know which candidate to vote for, and support declined overall for each of the top candidates, according to the survey.
Since a similar poll in November, support for Warren decreased just 2 percentage points to 9 percent among 719 Democrats, Republicans and independents surveyed, according to Reuters. Biden saw the same decrease and landed at 19 percent. Support for Sanders decreased by 3 points to 14 percent.
Asked whom they would vote for if a Democratic primary were held today, 31 percent of respondents overall said they didn't know, but Democrats surveyed were slightly less confused, at 16 percent undecided.
The indecision isn't a good sign for a party scrambling to unite behind a single candidate in a crowded field. Recent entrants Michael Bloomberg, the billionaire businessman and former New York mayor, and Deval Patrick, a former Massachusetts governor, polled at 5 percent and 1 percent support, respectively, in Wednesday's poll.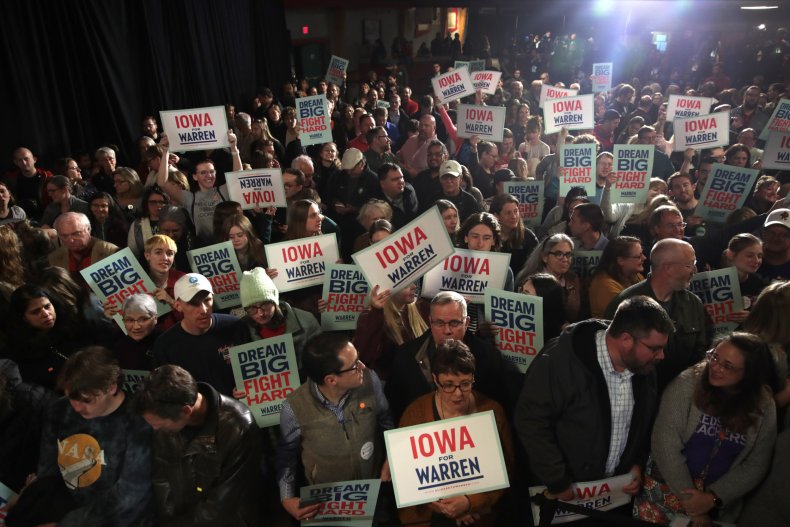 With the Iowa caucuses, in which only party members can vote, just around the corner, South Bend, Indiana, Mayor Pete Buttigieg has been topping many of the polls in that state, according to an analysis by FiveThirtyEight. He's followed closely by Warren, while Biden and Sanders have been competing for third place.
Warren seemed to be the front-runner just weeks ago, but recent polls show a similar story since the fourth debate, when her rivals for the Democratic nomination unleashed a steady wave of criticism about her health care and tax plans.
She's not too concerned with the results, though. Asked about a November survey by Quinnipiac University, which found her support had dropped by 14 points nationally, the senator told reporters, "It's the same answer it's always been. I don't do polls."
Speaking in Knoxville, Iowa, at a campaign event on Thanksgiving eve, she added, "I'm out here fighting every day on behalf of working families."