Video: Elizabeth Warren Supporter Assaults 'Real Indian' Senate Challenger Amid 'Racist' Rally Chant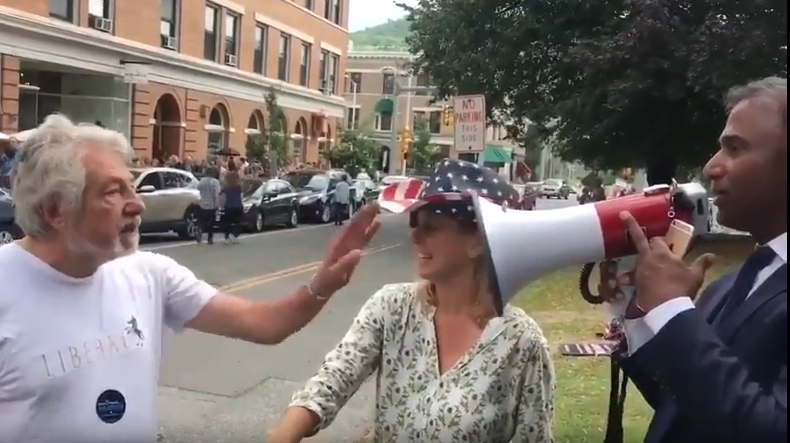 A 74-year-old supporter of U.S. Senator Elizabeth Warren was charged with assaulting a candidate who is challenging the Massachusetts senator for her seat.
Independent candidate Shiva Ayyadurai describes himself as a "real Indian" and has called for Warren, who claimed in college to be of Native American descent, to take a DNA test proving her dubious ancestry. President Donald Trump has repeatedly mocked Warren for claiming to have Native American roots. On Sunday, Warren supporter Paul Solovay, 74, was seen on video punching a bullhorn back into Ayyadurai's mouth at a Great Barrington, Massachusetts, town hall event. The Berkshire Eagle first reported that Ayyadurai received hospital treatment for minor abrasions and swelling after the incident.
Ayyadurai, an Indian-born scientist and MIT graduate who controversially claims to be the "inventor of email," can be seen speaking into the megaphone at a line of Warren supporters when Solovay suddenly begins pointing in his face as another woman tries to separate the two.
"We don't produce enough engineers, we don't produce enough doctors, but what we do produce is a bunch of scumbag lawyer-lobbyists like Elizabeth Warren," Ayyadurai can be heard exclaiming to the town hall crowd across the street.
But when Ayyadurai begins repeatedly calling Solovay a "racist" into the megaphone, Solovay lashes out and shoves the device back into Ayyadurai's face. Two men wearing Shiva shirts and a police officer close to Ayyadurai immediately pursue the 74-year-old as he falls back onto the street and attempts to stop being hit himself. One of them standing in support of Ayyadurai is wearing a red "Make America Great Again" hat made famous during Trump's presidential campaign.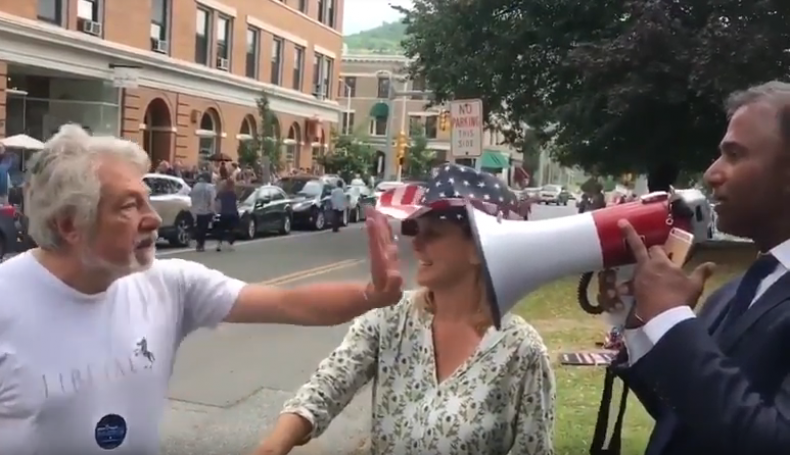 "That's racism right there," Ayyadurai responds into the bullhorn, as police handcuff and take Solovay away. "That's liberal fascists, you don't know what racism is, look at you. You've never experienced it...This is how these white privilege, white supremacists react."
Solovay, of Hillsdale New York, pleaded not guilty Monday to assault and battery charges and was released. Ayyadurai will face Democratic incumbent Warren in November along with eight other Republican and independent challengers for the U.S. Senate seat. Taking a page out of Trump's political playbook, Ayyadurai took to Twitter after the incident to call the major television networks part of the "racist liberal media" that is censoring news of the incident through a "brown out."
Ayyadurai appeared to be pleading with CNN host Chris Cuomo Monday for an interview, claiming that Cuomo's dismissive tweet about the so-called "punch" required a "real discussion about racism in America."