Elizabeth Warren Surpasses Joe Biden in Key 2020 States: New Poll
Senator Elizabeth Warren has surpassed rival Joe Biden in key battleground states Michigan, Pennsylvania and Wisconsin, according to recent polling by the Kaiser Foundation and the Cook Political Report (CPR), a daily newsletter with election analysis.
Among more than 3,000 registered voters, Warren seems to be the top choice in four states that experts call the "Democratic Blue Wall," a historically blue area of the Upper Midwest that largely went red for Donald Trump in the general election of 2016.
Warren's poll averages have plateaued in recent weeks, trailing the former U.S. vice president in national averages as of November 6, according to reporting by FiveThirtyEight. But the recent report by Kaiser and CPR demonstrates Warren's electability in highly coveted states ripe with undecided voters.
Warren trailed Biden in Michigan, Pennsylvania and Wisconsin prior to these numbers, according to recent surveys by Emerson Polling, Franklin & Marshall College and Marquette University Law School, respectively. She already topped him against Trump in Minnesota, according to polling by the Star Tribune last month.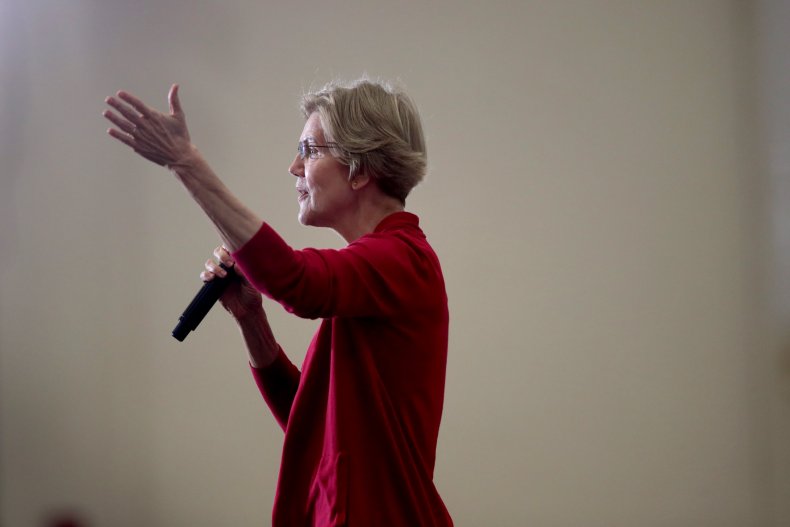 In 2016, Michigan turned red for the first time in nearly three decades, but one in five surveyed say defeating Trump is their top motivation to vote in 2020, according to today's poll. Four in 10 primary voters pick Warren as their first choice among Democratic candidates—that's about 6 percent more than Biden—while about 43 percent see her as their first or second choice.
Primary voters in Pennsylvania, a swing state that narrowly elected Trump last election, prefer Biden (27 percent) to Warren (18 percent) as their first choice, but Warren came out on top for voters' first or second choice (37 percent). About 22 percent want to defeat Trump come next November, and a majority disapprove of the president's handling of most national issues, according to the poll.
Warren bests Biden as Wisconsin voters' first choice after the state went red in 2016 for the first time in more than 30 years. They're largely split on the economy, but mostly disapprove of Trump's record on trade, immigration, health care and foreign policy. Nearly one in five voters say defeating Trump is their top priority.
Minnesota primary voters largely support Warren (25 percent) over Biden (15 percent) for their first choice among Democratic nominees, but only 18 percent of voters in general say their top priority is to defeat Trump. Democrats held Minnesota in 2016 with 46.4 percent voting for Hillary Clinton, according to data compiled by The New York Times.
Swing voters abound in each of these four states. A whopping 43 percent of Michigan voters surveyed say they're swing voters. Among them, a third intend to vote for the Democratic nominee, while 21 percent said they're "definitely" going to vote for Trump. There are similar breakdowns in the other states surveyed, with Minnesota swing voters demonstrating the strongest support for the president at 24 percent.
Similar to the last election, health care and the economy seem to be at the top of the minds for voters in these states. Overall, Trump gets OK scores on the economy's performance, but a larger share of voters "disapprove" than "approve" of the way he's handling health care. Among health care issues, many said lowering prescription costs for as many Americans as possible should be a top priority for Congress next year.
Elizabeth Warren Surpasses Joe Biden in Key 2020 States: New Poll | Politics