Elizabeth Warren Wants to 'Take Every Dime' Trump Is Spending on His 'Racist' Border Wall and Divert It to Fight Coronavirus
Sen. Elizabeth Warren has announced she will produce a plan to divert funds away from President Donald Trump's controversial border wall and instead commit the money to the coronavirus response.
Speaking at a CNN town hall in South Carolina on Wednesday, the Democratic 2020 hopeful suggested the Trump administration was bungling its response to coronavirus, of which there are now 60 confirmed cases in the U.S.
Warren told town hall host Don Lemon she would unveil a plan to "take every dime that the president is now spending on his racist wall at our southern border, and divert it to work on the coronavirus."
Trump announced Wednesday that Vice President Mike Pence would lead the administration's response to the outbreak. But Warren was among those who criticized the decision, pointing to his dismal record battling a HIV outbreak in Indiana when he was governor there.
Pence is accused of reacting slowly to the 2015 crisis, allowing more than 200 people to be infected with HIV through his inaction. When told that a needle exchange program could help slow the spread, he said he would "go home and pray on it." He eventually set up the exchange two months after the outbreak began.
Some years before the outbreak, Pence also oversaw budget cuts that forced several of the state's Planned Parenthood family planning clinics to close. One—in Scott county—doubled as the area's only HIV testing center.
When the HIV outbreak took hold, Scott county was among those in which Pence declared a state of emergency.
Warren said Pence's track record meant he should be "actively disqualified" from leading the effort. She accused the vice president of putting "politics over science" and costing lives in the process. "He is not the person who should be in charge," Warren added.
She warned that the administration should already be planning for the economic impact coronavirus could bring, as supply lines are constricted by travel disruption and closing factories.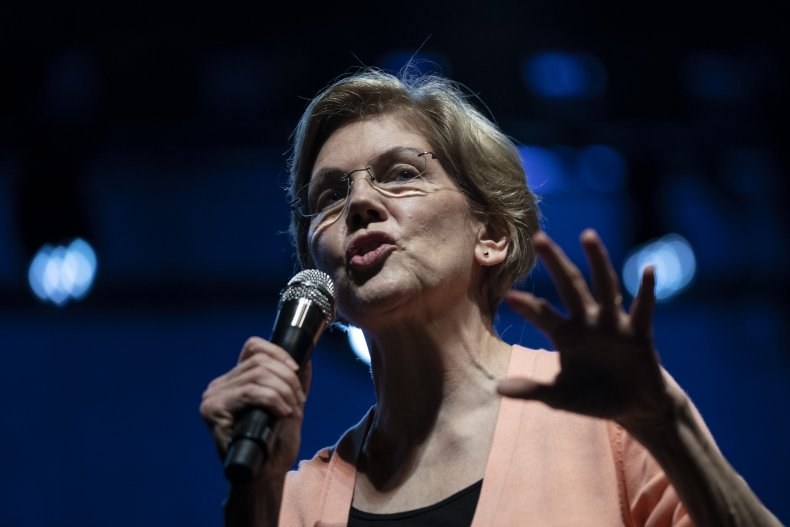 "Manufacturers right here in South Carolina are going to start running out of the parts they need, the ones that come from China or come from other nations that are affected," she said. "You don't wait until the factory is shut down before you start responding."
Ultimately, Warren said Trump's response is "all about himself." The Massachusetts senator said she wants to be "a president who gets the job done for the American people."
The U.S. has reported 60 cases of coronavirus, officially known as COVID-19, though no deaths have yet been reported in the country. As the below infographic from Statista shows, there have now been more than 82,000 infections and more than 2,800 deaths worldwide, the vast majority in mainland China where the virus originated.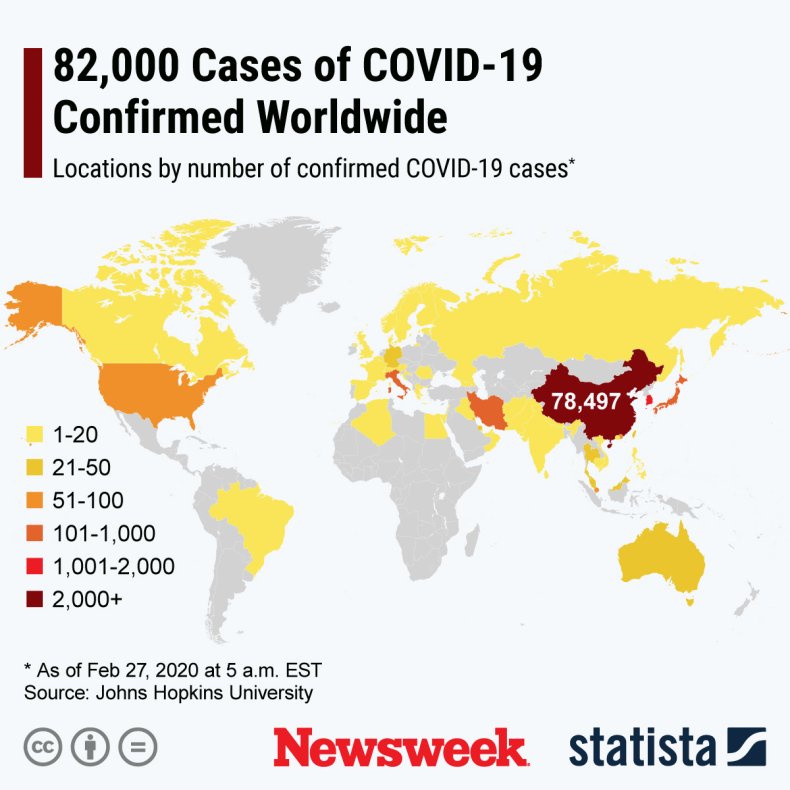 The Centers for Disease Control and Prevention has said that further spread of the virus is now "inevitable," though Trump disagreed with the agency's conclusion. The CDC said Wednesday it had identified what could be the first U.S. case in someone who had not visited an affected region, suggesting human-to-human transmission is occurring.