Elizabeth Warren Takes Aim at Trump-Clinton 2016 Debate Moment: No One's 'Doing a Handsy Thing'
Senator Elizabeth Warren, who launched her presidential bid in February, took a veiled jab at former first lady and Democratic nominee Hillary Clinton this weekend, over her performance against President Donald Trump on the debate stage in 2016.
During a campaign event in Seattle on Sunday, Warren asserted that she will not allow Trump to disrespect her on the debate stage in 2020. "I know how to fight and I know how to win. Nobody's getting behind me on a debate stage and doing a handsy thing. That's not happening," she said, in reference to Trump's bizarre performance during a 2016 debate in St. Louis when he appeared to follow and lurk behind Clinton as she answered questions.
Clinton addressed the president's behavior in her 2017 book, What Happened. "We were on a small stage and no matter where I walked, he followed me closely, staring at me, making faces," she wrote. "It was incredibly uncomfortable. He was literally breathing down my neck. My skin crawled."
Warren urged her fellow Democratic candidates to focus on garnering votes in 2020 by pushing policies that will help the country, rather than run a campaign solely on opposing the current president.
"It's not enough to be 'not Trump.' A country that elects Donald Trump is a country in serious trouble," she said. "We need to pay attention to not just what's been broken in the last two and a half years, but what's been broken for decades."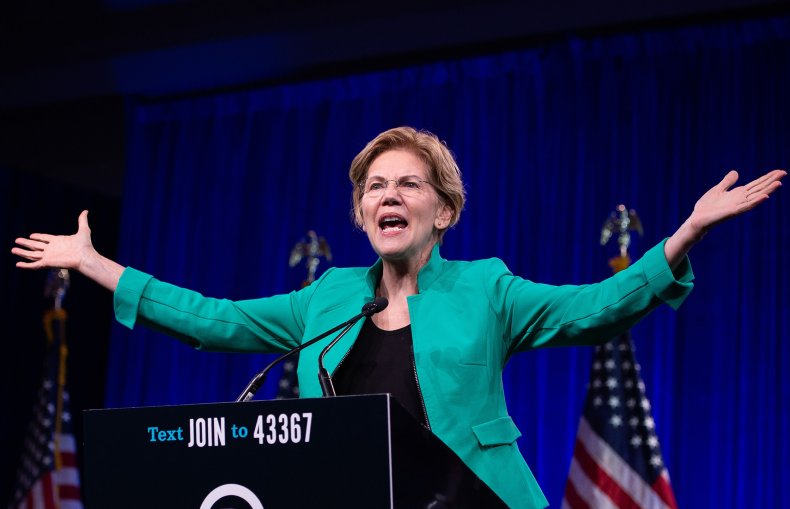 A new Monmouth University Poll, released on Monday, showed Warren and Sen. Bernie Sanders surging past former Vice President Joe Biden, garnering 20 percent of votes among Democratic respondents. Biden fell one point behind with 19 percent. No other candidate polled in the double digits; Sen. Kamala Harris came in fourth place, at eight percent.
Compared to the same poll in June, Biden plummeted 13 points, Warren rose by five and Sanders by six.
Patrick Murray, director of the Monmouth University Polling Institute, said the "key takeaway from this poll is that the Democratic race has become volatile."
"Liberal voters are starting to cast about for a candidate they can identify with," Murray said. "Moderate voters, who have been paying less attention, seem to be expressing doubts about Biden. But they are swinging more toward one of the left-leaning contenders with high name recognition rather than toward a lesser known candidate who might be more in line with them politically."