Elizabeth Warren Trends on Twitter After Announcing Intentions To Investigate Crimes Against Immigrants If Elected President
With just under 16 months until the 2020 presidential election, some Twitter users like the sound of President Elizabeth Warren so much that the Massachusetts senator became a trending topic on the social media platform.
Over 30,000 tweeted using #PresidenElizabethWarren on Saturday night, prompted by comments the Democratic candidate made during an appearance at the Netroots Nation conference in Philadelphia earlier in the day.
Warren's campaign tweeted out a short video of some of her comments where the 70-year-old referred to herself as President Elizabeth Warren, while comparing herself to President Donald Trump's policies on immigration.
"To anyone out there who's working in this system, understand you abuse immigrants, you physically abuse immigrants, you sexually abuse immigrants, you fail to get them medical care that they need, you break the law of the United States of America and Donald Trump may be willing to look the other way, but President Elizabeth Warren will not," Warren said. "On my first day, I will empower a commission in the Department of Justice to investigate crimes committed by the United States against immigrants."
Warren's comments come days after she revealed an immigration plan as part of her 2020 campaign that would revamp Immigrations and Customs Enforcement, decriminalize illegal border crossings and implement the aforementioned committee to investigate crimes against immigrants.
"I'll hold immigration enforcement to the same due process standards as other law enforcement agencies — no more warrantless arrests or stops deep in the interior of our country. I'll reshape CBP and ICE from top to bottom, focusing their efforts on homeland security efforts like screening cargo, identifying counterfeit goods, and preventing smuggling and trafficking. And to change the culture, I'll insist on transparency and strengthen the authorities of independent internal watchdogs to prevent future abuses," Warren said in a column posted to Medium that outlined her plan.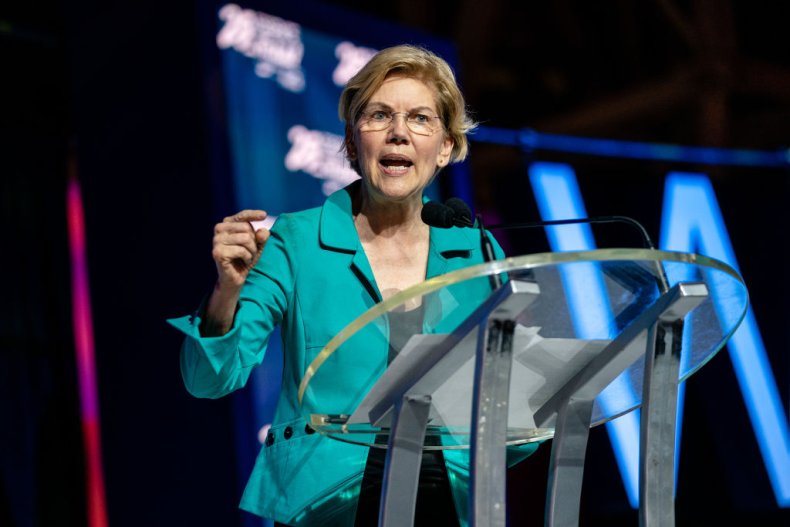 Warren's comments, and her plan, come days before ICE will carry out raids in 10 cities across the United States in an effort to round up thousands of illegal immigrants. The raids were announced by Trump on Twitter last month, but then postponed after Speaker of the House Nancy Pelosi requested that the president pause the operation.
"At the request of Democrats, I have delayed the Illegal Immigration Removal Process (Deportation) for two weeks to see if the Democrats and Republicans can get together and work out a solution to the Asylum and Loophole problems at the Southern Border. If not, Deportations start!," Trump wrote on Twitter on June 22.
Warren's question and answer session — one of several with Democratic candidates including Julian Castro, Kirsten Gillibrand and Jay Inslee during the conference — was interrupted by several people holding a large banner that blocked the view of the cameras live streaming the event.
While the comments from the interuptor could not be heard, it was clear from the reaction of Warren and the panel moderators that the individual was questioning the senator about immigration.
"I'd like to talk about undocumented immigrants," Warren continued over the shouts of the individual. "I'd liked to talk about mixed-status families. I would like to talk about an overhaul of our immigration system because that's what we need. And it starts with the premise that immigration is good for this country. It makes us stronger. It makes our economy stronger and it ties us to families all around the world."
She added that she had released her immigration plan and encouraged the panel crasher to look at it before outlining some points of the plan.