Elizabeth Warren Is Beating Donald Trump on Health, Age Concerns Among Voters: 2020 Poll
Massachusetts Senator Elizabeth Warren is the only candidate of the three currently leading the Democratic Party's 2020 race beating President Donald Trump on voter perceptions of how health and age would impact their ability to lead the White House, according to a poll.
The HuffPost/YouGov internet poll of 1,000 adult U.S. citizens asked if they thought Trump, Warren, former Vice President Joe Biden, and independent Vermont Senator Bernie Sanders had a physical condition good enough to serve effectively as president.
Among registered voters, 66 percent said Warren's physical condition is good enough against 12 percent who said it was not, with 21 percent unsure. For Trump, the results were 53 percent good enough, 33 percent not, and 14 percent unsure.
Biden was 43 percent good enough, 34 percent not good enough, and 22 percent not sure. Sanders, who recently had a heart attack while campaigning but has recovered, was the worst performer on this question.
Of the registered voters polled, 19 percent said Sanders's physical condition was good enough, 59 percent not, and 22 percent were unsure. The graphic below, provided by Statista, illustrates the perceived health of presidential candidates.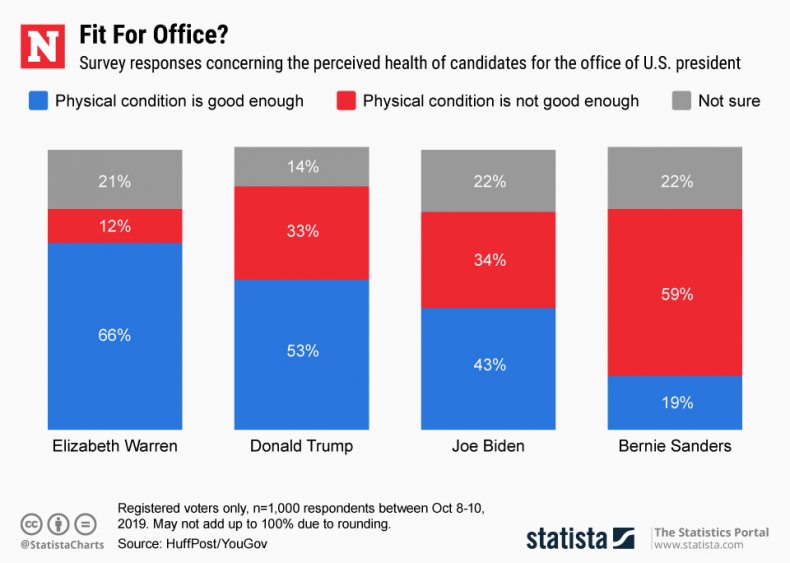 The poll also asked if voters thought the age of each individual would make it difficult for them to be an effective president for the next four years. Trump, Warren, Biden, and Sanders are all in their seventies. Trump is 73, Warren is 70, Biden is 76, and Sanders is 78.
Again, Warren came out on top, with just 16 percent of registered voters saying her age would make it difficult, 66 percent that it would not, and 18 percent were not sure.
For Trump, who has been subject to speculation in the media about the deterioration of his mental fitness, 33 percent said his age would make the presidency difficult for him, 53 percent that it would not, and 14 percent were not sure.
Biden, who has a reputation for being gaffe-prone, and who has had several stumbles in his campaign, was a net negative on the age question. The poll showed 44 percent that it would be a problem against 38 percent that it would not, and 18 percent were unsure.
Sanders, the oldest of the group, was the worst performer again. Of registered voters polled, 56 percent said his age would make it difficult, 27 percent said it would not be an issue, and 17 percent were not sure.
Despite the questions around his health and age, Sanders has sought to reassure his supporters that he has no plans to drop out of the 2020 race.
"When you hear the word 'heart attack', you're thinking of somebody lying on the ground in terrible pain. Wasn't the case, OK," Sanders said this week, Politico reported. "I have not an ounce of pain. ... I'm confident we're going to be running a very vigorous campaign."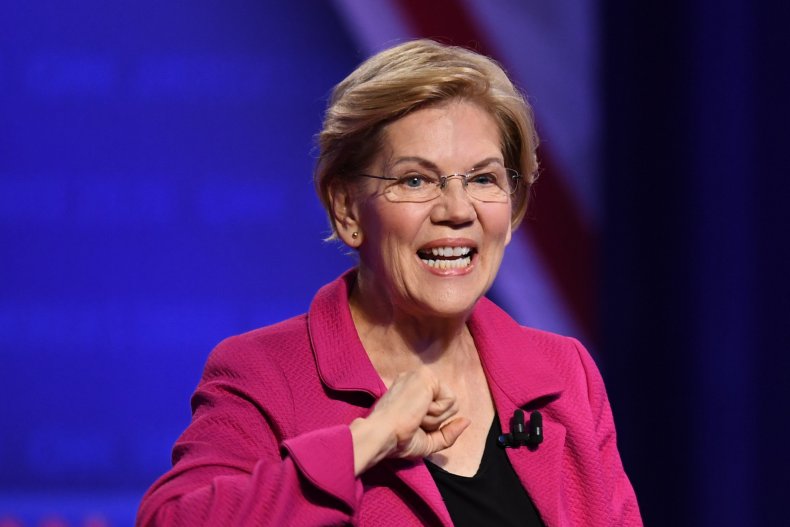 This article was updated to include an infographic.