Elizabeth Warren Gaining Ground on Joe Biden In 2020 Democratic Primary Race, New Polls Show
Former Vice President Joe Biden has been the early frontrunner of the 2020 Democratic primary for president, but the latest polling shows Massachusetts Senator Elizabeth Warren is not too far behind.
CBS News/YouGov Battleground Tracker found that Warren has gained territory on Biden in an estimate of Democratic National Convention delegates. The former vice president had 600 delegates, compared to Warren's 545. Bernie Sanders rounded out the top three candidates with an estimated 286 delegates.
When it came to specific early voting states, the tracker showed Warren to be slightly ahead of both Biden and Sanders in New Hampshire. But she was behind her male counterparts in Iowa, South Carolina and Nevada.
But Warren has benefited the most when it comes to voters switching alliances from other candidates. Twenty-nine percent of former Kamala Harris supporters switched to Warren, while Biden only gained 15 percent of former Harris supporters.
Plus, many of the latest national polls show Warren either in second place or tied with Sanders.
An Economist/YouGov weekly tracking poll from September 4 showed Biden leading Warren by just 4 percentage points. The former vice president led the field with 26 percent support, followed by Warren's 22 percent and Sanders' 14 percent.
Warren and Sanders were also tied in a HarrisX poll conducted from September 2 to 5. Both senators had 15 percent support, compared to Biden's 33 percent. The next closest candidate, Harris, had just 7 percent support.
One Monmouth University poll released in late August drew headlines when it showed a virtual three-way tie nationally among Biden, Warren and Sanders. Warren and Sanders each had 20 percent support among Democratic voters, compared to Biden's 19 percent. Biden's support had declined an astonishing 13 percent from when the Monmouth survey was taken in June. But the poll's director later acknowledged that the results had split from the polling consensus and that the survey was an "outlier."
"It occurs very infrequently, but every pollster who has been in this business a while recognizes that outliers happen. This appears to be one of those instances," Patrick Murray, director of the Monmouth University Poll, said in a statement.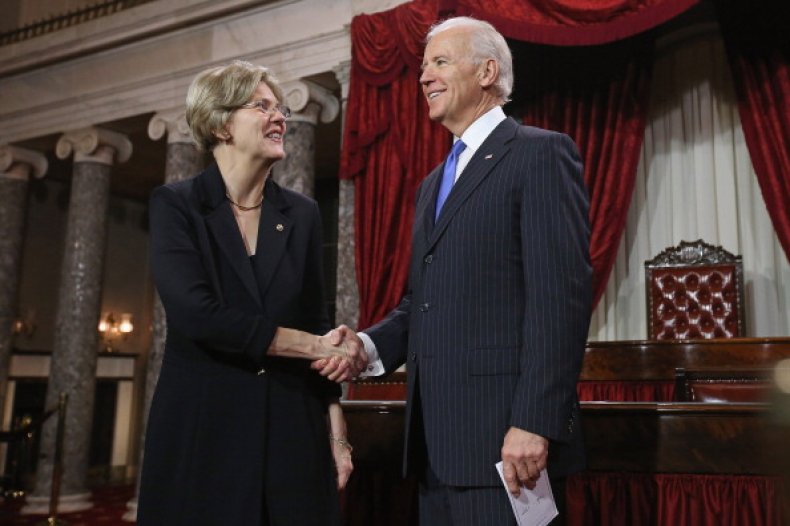 When asked about what she would say to voters who aren't sure she can take down President Donald Trump in the general election, Warren told CBS News over the weekend that she knows "how to fight and I know how to win."
"When I ran for the Senate I'd never run for public office before and people said to me, 'A woman can't win this seat,'" Warren told CBS News' Caitlin Huey-Burns. "A very competent woman had just lost it."
Biden has maintained that he is the only candidate who can defeat Trump in 2020. Real Clear Politics average of national polling shows Biden leading Trump in hypothetical head-to-head match-ups, in some cases by double digits.
But with Warren's recent gains, Trump's advisers are reportedly more worried about the Massachusetts senator than any other Democratic contender. New York Times reporter Maggie Haberman tweeted that the president's team "don't share POTUS conviction that he can hate-tweet her away, and see her ability to capitalize on the populist/outsider energy he ran on in 2016."
Biden and Warren will finally face off for the first time during the third official Democratic debate on Thursday.
Update (9/10/2019, 3:00 p.m.): This story has been updated to reflect that the Monmouth University poll from August, which showed Biden, Sanders and Warren to be in a three-way tie, was later recognized as an outlier.