Elizabeth Warren Wants 'Rules of the Road' for Big Tech
Massachusetts Senator Elizabeth Warren believes "unregulated" tech platforms need rules amid Elon Musk's deal to take over Twitter.
The Tesla CEO earlier this week—pending regulatory approval—bought Twitter for $44 billion. Warren said the deal was dangerous for America's democracy and is now calling for new rules to govern social media platforms.
On Wednesday's episode of MSNBC's The Beat With Ari Melber the senator said "we need rules of the road" for social media and added that big decisions for platforms used by millions of people should be made democratically, not by billionaires.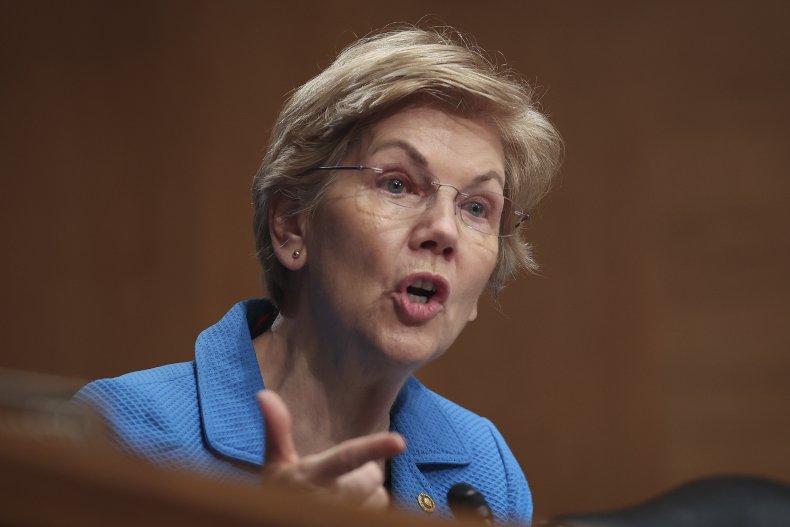 "The tech platforms have created something that is different, and right now it is just basically unregulated," Warren said. "It's just out there for Elon Musk to make up the rules, and that's why it is that we need to step in and say, 'Platforms like this need rules of the road on communication,' and so that there will be competition with other platforms."
Warren has previously warned about the power of Big Tech companies and following Musk's acquisition of Twitter, the senator says two big changes need to happen for social media to be regulated.
"I see that we need to make two big changes," Warren said. "The first one is we need a wealth tax in America. And let's talk about how Elon's purchase here was subsidized by tens of millions of people who've paid their taxes every year."
Warren took a jab at Musk referencing her previous claims that the billionaire doesn't pay taxes. She claimed Musk and Amazon founder Jeff Bezos avoid the system by using stocks to show they have no official income to be taxed. Musk denied the accusation saying he paid $11 billion in taxes in 2021 after trading Tesla shares.
The second change Warren wants to see happen is regulating the control of tech companies. Warren believes decisions regarding widely used tech sites should be made democratically.
"The second part is we need rules of the road for Big Tech. But ultimately what all of this boils down to is power," she added. "Who's going to have the power in our country?"
Warren claims that if only Musk has power over Twitter, his decisions will affect millions of users.
"Are we going to make these decisions as a democracy, or is this going to be Elon Musk all by himself—off in a room, a bazillionaire—who just plays by his own set of rules? That's really what's at stake here."
Warren added that large platforms like Twitter don't have much competition. She referenced that people aren't able to interact with Twitter users unless they have a Twitter account.
She argued that people should be able to go to a competitor's website and still be able to reach another person.
Newsweek reached out to Musk and Warren for comment.