Elizabeth Warren Welcomes Bloomberg to 2020 Race By Sharing Her 'Ultra-Millionaire Tax' Calculator
Senator Elizabeth Warren welcomed billionaire Mike Bloomberg to the Democratic presidential race by telling him how much tax he would pay under her Ultra-Millionaire Tax plan.
Bloomberg would pay $3.079 billion if Warren's tax were enacted next year, according to the Calculator for Billionaires found on Warren's website. Bloomberg's net worth is listed as $52 billion.
"Don't worry too much about Mike Bloomberg," says the website. "If history is any guide, if billionaires do nothing other than invest their wealth in the stock market, it's likely that their wealth will continue to grow."
While Bloomberg has not officially entered the presidential race, reports indicate that the former mayor of New York is preparing to file for the Alabama primary. The deadline for filing is November 8, according to NPR.
Bloomberg has reportedly been in contact with top Democrat, including Harry Reid. He has also allegedly sent staff members to Alabama to gather the needed signatures that would allow him to qualify for the primary, according to The New York Times.
Warren's apparent dig at Bloomberg's wealth comes as her proposed wealth tax has gotten some pushback from Microsoft co-founder Bill Gates.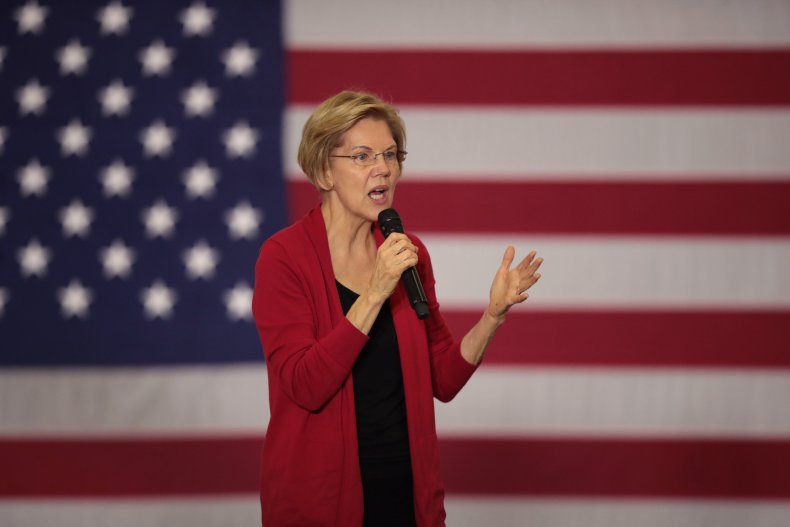 "I've paid over $10 billion in taxes," Gates said at the New York Times DealBook Conference November 6, according to Market Watch. "If I had to pay $20 billion, it's fine. But when you say I should pay $100 billion, then I'm starting to do a little math about what I have left over."
Warren's calculator says Gates would pay $6.379 billion under her tax on the wealthy against a net worth of $107 billion.
Democratic candidate Bernie Sanders has also been for the redistribution and reintegration of wealth. After news broke of Bloomberg's potential entry into the race, Sanders tweeted, "The billionaire class is scared and they should be scared."
Sanders' tax on extreme wealth would apply to "the wealthiest 180,000 households in America," according to his website. His plan would top out at an eight percent tax on wealth over $10 billion, lowering incrementally to a one percent tax on wealth equalling $32 million for a married couple.
Warren proposes a two percent tax on every dollar of net worth greater than $50 million and a three percent tax on every dollar of net worth above $1 billion, according to her website.
Data from Warren's campaign indicates that "the richest 130,000 families in America now hold nearly as much wealth as the bottom 117 million families combined." She claims that her plan which would only impact 75,000 households will generate $2.75 trillion over the span of a decade.