How Elizabeth Warren Plans to Limit the Pay Gap For Women of Color
Massachusetts Senator and 2020 hopeful Elizabeth Warren announced Friday that if elected president she would sign an executive order to address the race and gender pay gap.
"Our economy should be working just as hard for women of color as women of color work for our economy and their families," Warren wrote in a Medium post. "For decades, the government has helped perpetuate the systemic discrimination that has denied women of color equal opportunities. It's time for the government to try to right those wrongs—and boost our economy in the process."
The plan would recruit for federal jobs from historically black colleges and other institutions that serve minorities, establish a paid fellowship program for those jobs for minority and low-income applicants and require all federal agencies to consider diversity when creating strategic plans.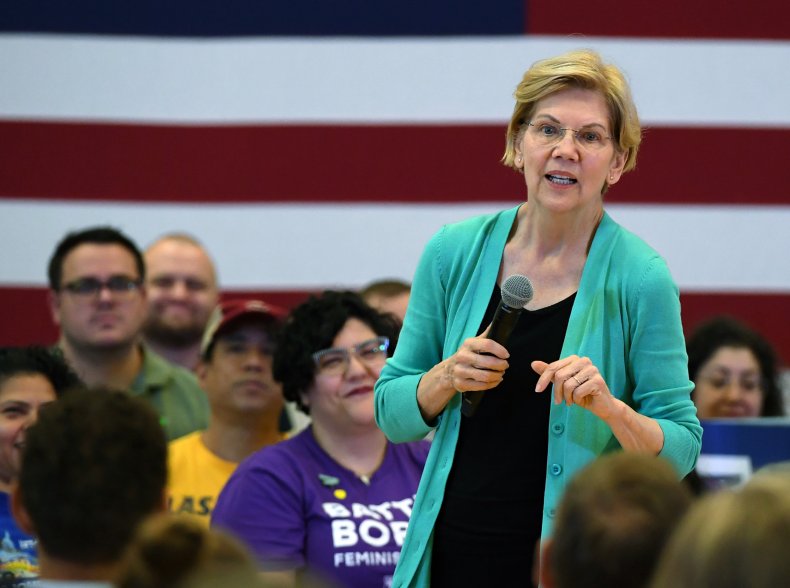 Under Warren's plan, the federal government would deny contracts to outside agencies and companies that have bad records on diversity and equal pay, and would ban companies looking for federal contracts from using non-compete clauses and forced arbitration. Additionally, companies who seek to contract with the federal government will have to pay all employees at least $15 an hour as well as benefits like paid family leave. They will also be unable to ask about salary or criminal history during the hiring process.
"It's time to build an America that recognizes the role that women of color play in their families and in the economy, that fairly values their work, and that delivers equal opportunity for everyone," wrote Warren.
Warren is currently polling in 4th place amongst Democratic voters, behind former Vice President Joe Biden, California Senator Kamala Harris and Vermont Senator Bernie Sanders, with about 14 percent of the vote. Among African American voters, however, Warren lags behind her party-mates with just 4 percent support, according to a recent ABC News/Washington Post poll.
Last weekend, Warren spoke at the Apostolic Faith Church to a mostly African American crowd, where she received a standing ovation. When her 10 minutes were up, Reverend Jesse Jackson, who invited her to speak as part of his Rainbow PUSH Coalition convention, allowed her to continue on because of crowd enthusiasm. There are also reports that Warren has reached out to a number of African American leaders quietly and behind the scenes.
The question is whether she can turn in-person enthusiasm into real poll numbers, especially in the early South Carolina Democratic primary, where African Americans make up 60 percent of the electorate.