Elizabeth Warren's 2003 Book Advised Women 'Don't Have Children,' Now She's Calling For Universal Child Care
Among 2020 Democratic candidate Elizabeth Warren's many plans is an "ultra-millionaire tax" that could be used toward universal child care – but more than two decades ago, the mother of two advised women, "don't have children" because doing so could put them in "financial collapse."
Warren, 70, a former law professor who specialized in bankruptcy law, on Tuesday tweeted that her proposal for a two-cent tax on America's 75,000 richest families would produce trillions of dollars that could be put toward programs including universal child care for all babies up to 5 years old.
Warren's inclusion of child care in her plan to rebuild the middle class reflects a shift from her views in 2003, when she penned a book along with her daughter warning women that having children could devastate them financially.
In The Two Income Trap: Why Middle-Class Parents Are (Still) Going Broke, Warren and her daughter Amelia Warren Tyagi argue that double-income couples began a middle class "bidding war" that raised the cost of living and that some women found a "cost-free and highly effective" way to avoid the two-income trap. "Their solution?" they wrote, "Don't have children."
Warren and her daughter offer data showing that having a child is "the single best predictor that a woman will end up in financial collapse" and that a divorced mother is nearly "three times more likely to file for bankruptcy than her single friend who never had children," according to excerpts cited by the Washington Examiner on Tuesday.
The mother and daughter wrote that "a few generations ago, advising women not to have children would have seemed ridiculous" and that "children are still economic assets," but that the benefits of having children "will go to society at large, not to specific parents."
Warren had two children, Tyagi and Alexander Warren, with her first husband Jim Warren, whom she divorced after 10 years. Two years after her divorce, Elizabeth Warren married Bruce Mann. She has three grandchildren.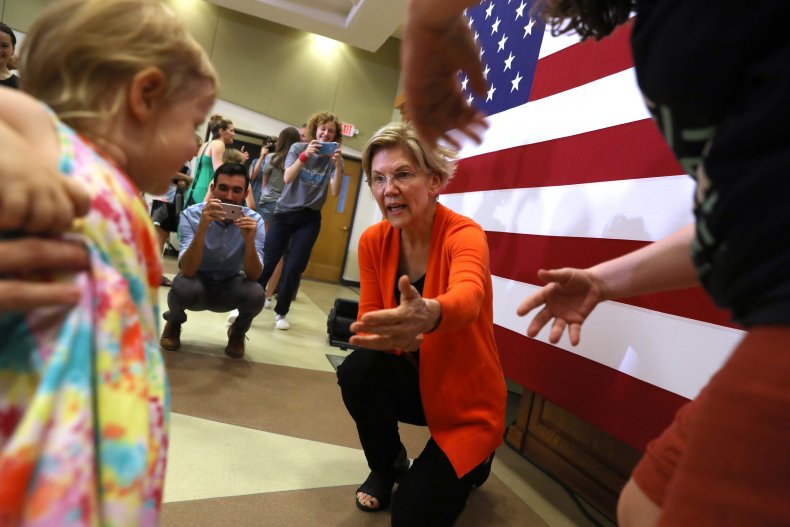 Elizabeth Warren taught at Harvard Law School, which in its faculty profile of her stated she is "recognized as one of the nation's top experts on bankruptcy and the financial pressures facing middle-class families." She assumed office as a Massachusetts senator in 2013, and is a progressive top-tier candidate in the crowded Democratic field.
The senator rolled out her universal child care plan in February and brought the idea to Congress in June with the Universal Child Care and Early Learning Act, which would create a network of federally-funded child care centers across the U.S. The centers would help ensure that make sure American families spent no more than 7 percent of their yearly income on child care.