Progressives' hopes that President-elect Joe Biden might appoint Massachusetts Senator Elizabeth Warren to a key Cabinet position appear to be hinged on a proposed amendment to a Massachusetts state law and the Democratic Party's ability to flip two Republican-held Senate seats headed for runoff elections in Georgia.
Both of these variables could affect the balance of power in the Senate, which is currently controlled by the Republican Party. If Republicans' majority in the Senate lasts through Georgia's runoff elections in January, Biden's first term will begin under divided government, which will impact the extent to which he can push through his administration's agenda.
Democrats were optimistic about their chances of flipping a handful of vulnerable Senate seats this election cycle, but that optimism receded as many state election results defied poll projections. By Tuesday, Democrats netted just one additional Senate seat, with the only remaining race that hasn't yet been called or conceded leaning heavily in the GOP's favor in Alaska.
The results of the election thus far shift the Senate's balance slightly from 53-47 to 52-48, with Republicans still in the majority and Kentucky Senator Mitch McConnell likely to retain his role as majority leader. Two seats currently held by Republicans could potentially still flip during Georgia's runoff elections scheduled to be held in January. If both seats go to the Democrats, that could put the parties on equal footing, with Kamala Harris able to break ties as the next vice president.
Warren, a progressive who ran for the Democratic Party's 2020 presidential nomination before suspending her campaign in March, was one of several politicians that Biden's campaign was rumored to be considering as a potential running mate once Biden declared he would pick a woman. After Biden announced in August that California Senator Kamala Harris would join his ticket, speculation began about which other roles Biden could award to satisfy the progressive wing of the party—and Warren's name came up in conversations about the Department of the Treasury.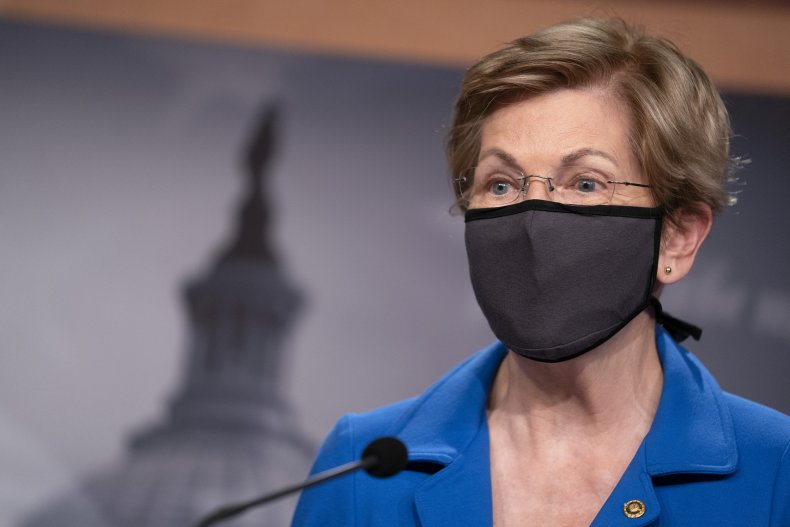 Before Warren was appointed to chair the Congressional Oversight Panel for the Troubled Asset Relief Program (TARP) during the Great Recession in 2008, she worked as a law professor specializing in bankruptcy law. Former President Barack Obama later made Warren an assistant to the president and called upon her to oversee the setup of the Consumer Financial Protection Bureau, an agency that was created to advocate for and protect American consumers. Part of her job overseeing the bureau was serving as a special adviser to former Treasury Secretary Timothy Geithner.
Following her work under the Obama administration, Warren became the first woman elected to represent Massachusetts in the Senate in 2012 and was re-elected in 2018. She campaigned for the Democratic Party's presidential nomination in 2019 and 2020 as a progressive whose policy goals included solving the student debt crisis, addressing climate change, implementing additional taxes for wealthy Americans and raising wages.
Warren's legal and economic background paired with her progressive priorities seemed to make her a solid choice for leading the Department of the Treasury if Biden's team decided to appoint some Cabinet roles to politicians whose views trend further left than his own. While a Republican-led Senate could present Biden with roadblocks as his administration tries to enact his agenda, so too could progressive Democrats in the House and Senate. Biden has tried to win over Vermont Senator Bernie Sanders' supporters in the months following Sanders' decision to suspend his own presidential campaign, but there are still some in Congress who had hoped the Democratic Party would choose a more progressive candidate than Biden.
Terry Sullivan, a political scientist at the University of North Carolina who advises incoming administrations on transition-related decisions, recently told Newsweek that Biden's willingness to compromise could be a troubling issue for progressives who are eager for fast change. Sullivan said that the decisions Biden makes regarding his appointments "are going to be a major challenge" as he chooses between progressives and moderates.
A congressional caucus call leaked last week highlighted the divide between the party's progressive and moderate wings. While House Speaker Nancy Pelosi warned that leaning into far-left positions could worry moderate Americans and potentially jeopardize the Georgia Senate runoff elections, Michigan Rep. Rashida Tlaib, one of the four progressive congresswomen who are together known as "The Squad," defended herself and other legislators "who are fighting for issues that matter to our communities."
A similar scuffle occurred last week between former Missouri Senator Claire McCaskill, a Democrat, and New York Rep. Alexandria Ocasio-Cortez, another member of "The Squad." McCaskill suggested that the reason Democrats did not win more seats in the House and Senate was because progressives pushed the party too far to the left on several key issues this election cycle. Ocasio-Cortez shared on Twitter a clip of McCaskill's comments and wrote, "Why do we listen to people who lost elections as if they are experts in winning elections?"
A former Sanders presidential campaign adviser also said earlier this week that progressives should try to make Biden's Cabinet selection process "one of the hardest that any president has ever experienced."
A Biden transition official recently told Newsweek that transition plans were complicated by the Democrats' lack of control in the Senate. Instead of a seamless First Hundred Days under a united, Democrat-led government—which they had believed was achievable—Biden's administration will likely have to rely on the power of executive orders and that of Cabinet officials. If the Democrats do not pick up both Senate seats in Georgia, they will have to compromise with Republicans more than they had hoped, which will mean ramping back some of the progressive policies on which Biden ran his campaign.
Though Biden will likely have to bargain with a Republican-controlled Senate, his Cabinet officials will have greater bandwidth to pursue progressive agendas, much as Trump's Cabinet officials took conservative approaches to running their departments. As a result, progressives in Congress will be looking for Biden to appoint like-minded officials who will have opportunities to guide policies to the left. Heather McGhee, who co-chairs the civil rights advocacy nonprofit Color of Change, recently told Newsweek that if Biden has to rely on executive orders to implement his agenda, his Cabinet appointments "need to be people with guts and vision."
Even if Biden picked Warren to lead the Department of the Treasury—a position that The New York Times reported Warren wanted—her seat in the Senate is still a potential problem. In Massachusetts, the sitting governor is tasked with appointing a temporary replacement when a congressional seat is vacated. That temporary senator would then serve until Warren's term expires in 2024, after which they would have the opportunity to campaign as an incumbent.
Since Massachusetts Governor Charlie Baker is a Republican, it is possible that his temporary replacement for Warren would be a member of his party. However, the Democrat-led state legislature is expected to debate an amendment to the Massachusetts House's proposed budget this week that, if passed, could limit Baker's options for Warren's seat to Democrats.
Massachusetts Rep. Mindy Domb proposed the amendment, which requires that the sitting governor fill any congressional vacancy that occurs with an appointee who is "of the same political party as the person vacating the office."
The amendment further clarifies, "If the person vacating the office changed political party affiliation after taking office, the person who is appointed to fill the vacancy shall be of the same political party that the vacating officeholder was when the vacating officeholder was elected or appointed to that office."
If passed, the amendment would resolve Democrats' concerns about a Republican temporarily filling Warren's Senate seat until voters choose her replacement in a special election.
The other variable weighing on the chances Warren has of scoring a Cabinet position is the predicament of the open Senate seats in Georgia. Both of the state's Republican incumbents, Senator Kelly Loeffler and Senator David Perdue, are heading to runoff elections in January after neither candidate won 50 present of the votes cast for them during the general election. Their Democratic competitors would need to pull off wins in both races in order to put Democrats on equal footing in the Senate.
Of the two incumbents, Loeffler's seat appears to be the most vulnerable. Georgia Governor Brian Kemp appointed Loeffler earlier this year to fill the seat left vacant when former Senator Johnny Isakson retired. Loeffler faced challenges from her own party as well as from multiple Democratic competitors, one of whom—Raphael Warnock, a pastor at the Ebenezer Baptist Church in Atlanta—won 7 percent more of the votes cast during the election than Loeffler did, according to the Associated Press. Loeffler received just shy of 26 percent of the votes cast, though her performance in the runoff election is likely to improve without Republican challengers in the mix.
In contrast, Perdue nearly won the majority of the votes needed to secure his seat for another six-year term. With about 49.7 percent of the votes cast for his re-election, Perdue led his Democratic challenger, Jon Ossoff, by a narrow 1.8 percent, with an additional 2.3 percent of the votes going to Shane Hazel, the Libertarian Party's candidate.
Georgia is typically a state that Republicans can count on, and its voting history suggests Democrats are unlikely to flip either or both seats. However, Biden had a lead of more than 11,000 votes over Trump by Monday evening, suggesting the state could turn blue for the first time in a presidential election since 1992. Official sources have not yet called the state for either presidential candidate, but Democratic candidates' momentum in the state means there is a chance Democrats could add another Senate seat—or two—if the runoff elections go their way.
Newsweek reached out to Warren's office for comment but did not receive a response in time for publication.