Ellen Barkin Calls Johnny Depp 'Jealous,' 'Controlling' in Trial Testimony
Actress Ellen Barkin testified on Thursday that Pirates of the Caribbean star Johnny Depp was "jealous" and "controlling" during their relationship in the late 1990s.
In a virtual deposition during the ongoing trial between Depp and his ex-wife, Amber Heard, Barkin spoke about her past relationship with Depp and was asked how it came to an end. According to Barkin, Depp was the one who broke off the relationship.
"I went to go home, there was a big goodbye, crying, a lot of jealous," Barkin said.
When further asked about her use of the word jealous Barkin said that Depp "is just a jealous man, controlling."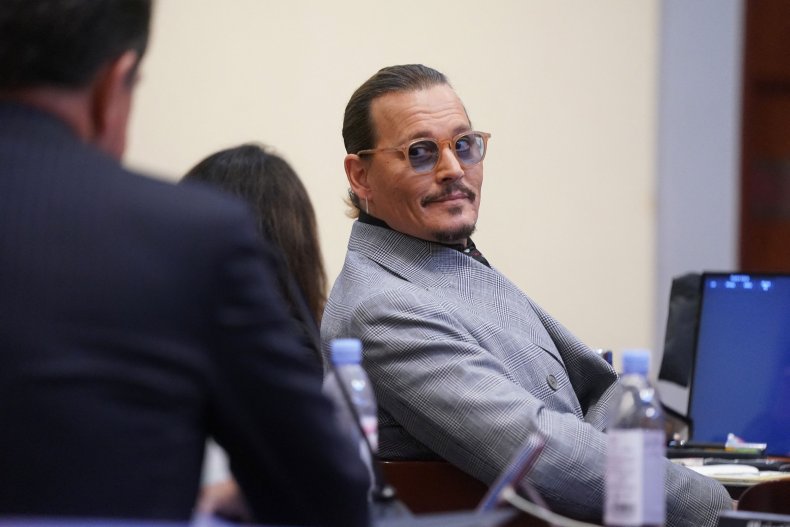 Barkin added that Depp would repeatedly ask "where are you going?" and "who are you going with?"
Thursday marks the 19th day of trial in the John C. Depp, II v. Amber Laura Heard case, after the Pirates of the Caribbean actor sued his ex-wife for an op-ed she wrote in The Washington Post in 2018. Depp claims that the op-ed, which detailed Heard's experiences with domestic violence, damaged his career as an actor, despite Heard never actually naming her ex-husband in the op-ed. Heard has since filed a countersuit against Depp for nuisance.
Barkin said that she first met Depp in 1990 and the two starred in the 1998 movie, Fear and Loathing in Las Vegas, based on the book written by Hunter S. Thompson.
During her testimony, Barkin also said that over the course of their relationship, it was "very common" for Depp to be controlling or jealous, adding that he became angry and "demanding."
"I had a scratch on my back once that got him very, very angry because he insisted it came from me having sex with a person who wasn't him," Barkin said on Thursday.
Barkin also spoke about Depp's use of alcohol and drugs during their relationship, saying that he would use "hallucinogenics, cocaine, marijuana" as well as drinking red wine.
Prior to the current trial, Depp unsuccessfully sued The Sun, a British tabloid in 2020 after it published a story calling him a "wife-beater." During the 2020 trial, Barkin also gave similar testimony and recalled an incident where Depp threw a wine bottle across a hotel room. However, Depp has disputed these allegations and claims that Barkin "wanted a proper relationship with" him.
"I did not want that," Depp said in 2020, in regard to the relationship that Barkin wanted. "I didn't feel the same about her as she did me, and I suppose from that moment on she became very, very angry."
Newsweek reached out to representatives for Depp for comment.
Updated 5/19/2022 4:40 p.m. EDT: This story has been updated to include more information about Barkin's testimony.